The deputy defense minister, Gen. Dmitry Bulgakov, was removed from his position on Saturday, the defense ministry announced via Telegram.
Vladimir Putin has dismissed the general in charge of the faltering logistics operations of the Russian military in Ukraine.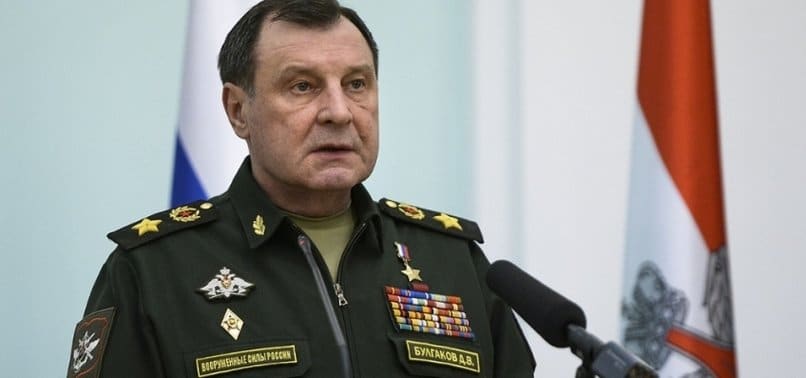 According to the ministry, the 67-year-old was "released" to assume a new position. Col. Gen. Mikhail Mizintsev, who oversaw Moscow's brutal siege of the port city of Mariupol, will replace him.
Since 2008, Gen. Bulgakov has been in charge of the military's logistics operations and was responsible for supplying Russian troops after their deployment to Syria in 2015.
Nonetheless, according to observers, he has fallen out of favor in Moscow in recent months, with many blaming him for the chaotic logistics operations that have plagued Russia's advance and left their troops undersupplied.
In recent months, the Kremlin has sought new artillery and drone supplies from North Korea and Iran, two of its only remaining allies.
The dismissal of Gen. Bulgakov follows the circulation of footage on social media showing newly drafted Russian soldiers equipped with rusty assault rifles.
The appointment of General Mizintsev, who was sanctioned by the United Kingdom for his role commanding the Mariupol siege and whose dismissal was applauded by pro-war figures in Russia, will likely be welcomed by hardliners.
Many Ukrainians dubbed Gen Mizintsev "the Butcher of Mariupol." He also led Russian forces in Syria and was accused of orchestrating a brutal bombing campaign that leveled Aleppo.
When announcing sanctions against the 60-year-old in March, the British foreign office cited his use of "reprehensible tactics" and "atrocities" in both the Ukrainian and Syrian conflicts.
The personnel changes made by Mr. Putin come amid reports that the Russian leader has taken personal charge of the war effort and begun issuing orders to generals in Ukraine.
US officials told CNN that Mr. Putin was compelled to take a more active role in the war due to Moscow's increasingly "dysfunctional command structure."
After senior defense officials began to mock the top general's "ineffective and out-of-touch leadership," it was speculated last month that Mr. Putin had removed his defense minister, Sergei Shoigu, from his position
The New York Times reported that Mr. Putin had denied his commanders permission to retreat from the southern city of Kherson, where Ukrainian forces are advancing slowly.
Russian troops in the city, who are largely cut off from their supply lines and rely on a series of pontoon bridges for resupply, reportedly have lower morale due to his refusal to consider a pullback, according to US intelligence sources cited in the article.
---