Abdel Fattah Al-Sisi, the incumbent President of the Arab Republic of Egypt is the chief guest for the Republic Day celebrations in New Delhi today – for which he arrived on Tuesday. The Chief-Guest invitation is an envelope that gets pushed by an intricate process of diplomatic foresight and strategic thinking – and this article explains the significance of such an invitation, the considerations behind it, and what Al-Sisi's visit means for India as it celebrates its 74th Republic Day.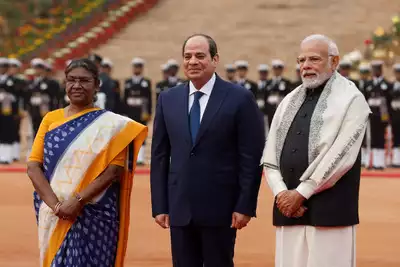 Article Review
India's 74th Republic Day Celebrations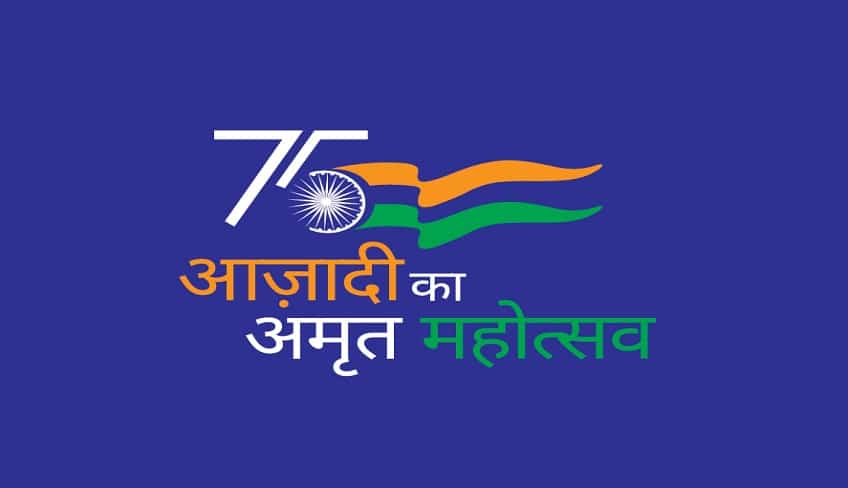 India's 74th Republic Day Celebrations are marked by a list of 'firsts' as it celebrates 75 years of Independence or Azadi Ka Amrit Mahotsav.
The Rajpath has been renamed 'Kartavya Path' in honor of our foundational principles of democracy – and the VVIP seats for today's parade, usually reserved for handed out to the families of the workers who toiled to give effect to the grand vision of the New Central Vista.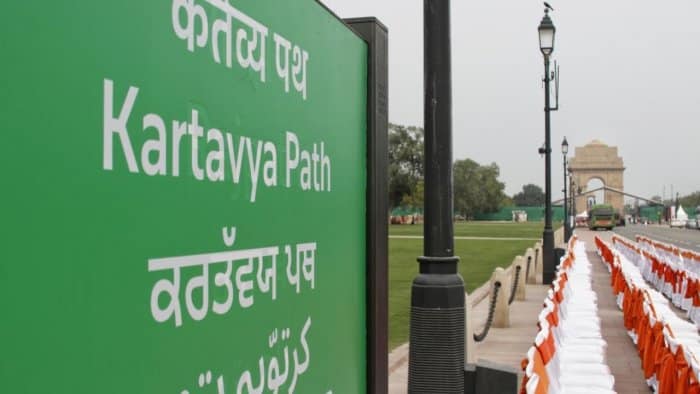 As part of another such 'first', the invitation of being the chief guest for the event has been extended to Abdel Fattah El-Sisi, the current President of Egypt – and his visit makes him the first Egyptian head of state to become a chief guest for India's R-Day celebration.
The honor of being a chief guest for this event is in no way an arbitrary symbolic gesture. As Mrs. Narinder Chauhan, former Indian Ambassador explains –
"The guest country is chosen after a deliberation of strategic, economic, and political interests."
How are the invitations significant?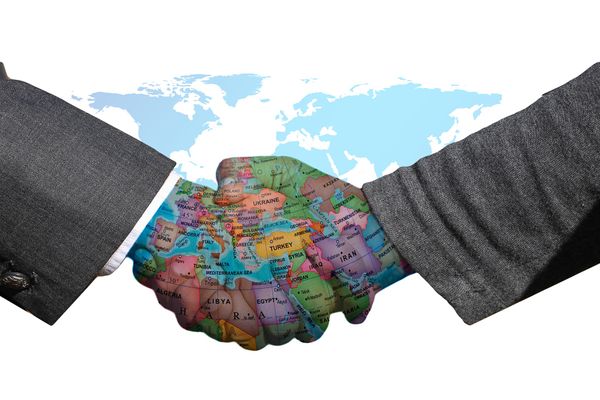 The invitation to be the chief guest at Republic Day celebrations is the highest honor a country accords, in terms of protocol. The parade and other ceremonial activities are conducted in a manner that keeps the chief guest in prominence and embeds him into the very fabric of the event.
The guest is also given the ceremonial guard of honor at Rashtrapati Bhavan and is hosted personally by the President, Prime Minister, Vice-President & External Affairs Minister in various receptions, lunches, and meetings.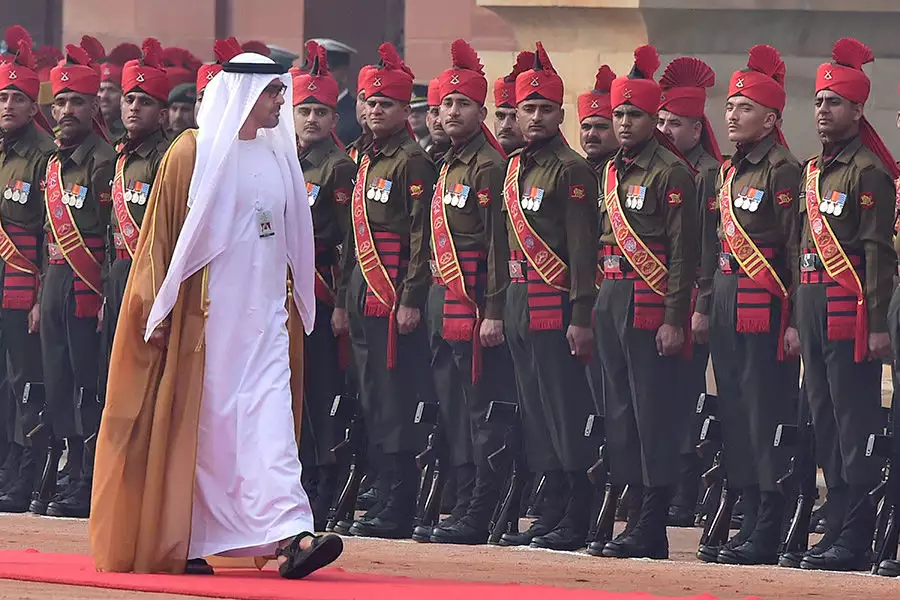 Ambassador Manbir Singh, who served as Chief of Protocol for the MEA between 1999 and 2002, reflected on the significance of the Chief-Guest visit –
"It portrays the Chief-Guest as participating in India's pride and happiness, and reflects the friendship between the two peoples represented by the President of India and the Chief Guest."
Symbolisms such as this signals greater diplomatic relations between the two nations and serves as a tool for forging meaningful bilateral ties.
Diplomacy is still a grandiose affair – especially when the Track-I order is concerned. Such a high honor, alongside a meticulously planned event of colorful, well-made tableaus and ceremonial displays of military prowess – all act as a warm prelude for meaningful dialogue.
India believes in the ideals of 'Atithi Devo Bhava', and thus realizes that shows of courtesies and extensions of honor such as this to guest countries can foster a greater admiration for India's traditions and culture in the guest country – which in turn act as tools of soft-power to facilitate better cooperation.
An event such as the Republic Day celebrations also ensures ample media coverage – and thus the programs and protocol keep this in view, as pointed out by Ambassador Singh. Not only does national media cover the proceedings, but so does the media entourage of the visiting head of state.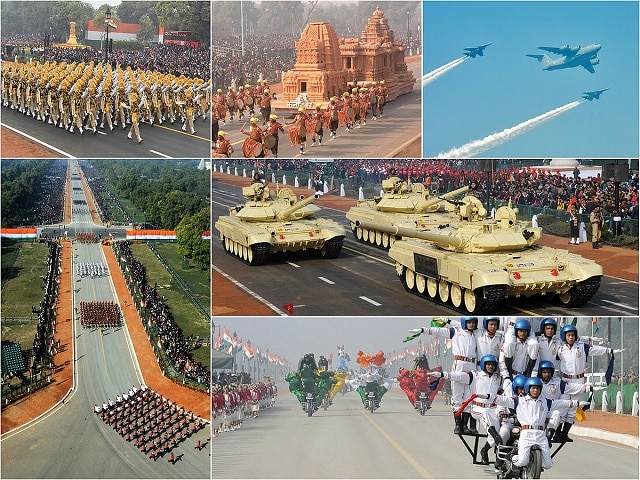 This allows visual transmission of symbols of Indian tradition, culture, history, honor and diversity – soft power showcases alongside weapon displays, shows of arms, and air-shows – hard power showcases, to the public of the guest-country, and shapes their perception about the host country.
What are the considerations behind the choice?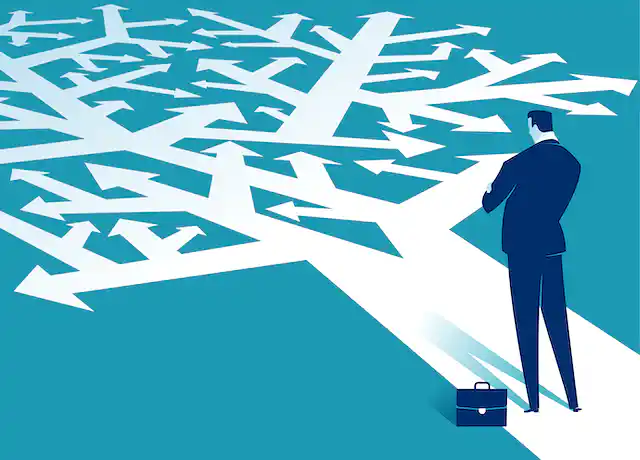 The extension of invitation is only the final step in an otherwise long and strategic selection process. The Ministry of External Affairs undertakes several considerations into account before it zeroes in on a potential chief guest.
At the core of this selection process, lies the idea that the visit acts as the 'ultimate sign of friendship between India and the country of the invitee', an MEA officer shares.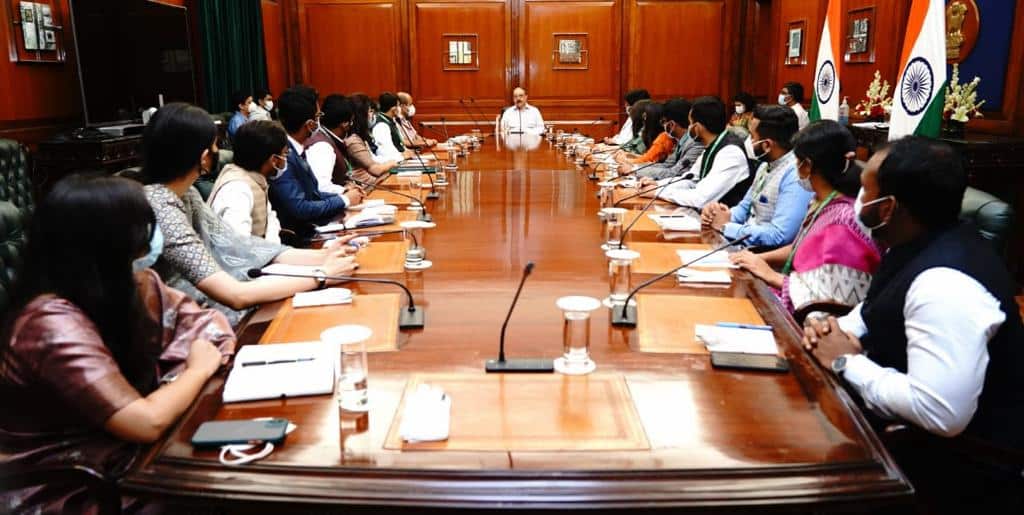 Usually, the shortlisted invitees represent nations with whom India shares, or wishes to share meaningful relations to serve its political, commercial, and strategic interests.
Historically, countries that are associated with regional or multilateral groupings that India prioritizes, go higher up the short-list.
Since the beginning, members of the Non-Aligned Movement (NAM) have been extended the honor of being the chief guest for this event. In 1950, President Sukarno of Indonesia, one of the five founding members of the NAM, was the chief guest for the first Republic Day celebration. Later, other key personalities such as Tito of Yugoslavia also were invited as chief guests.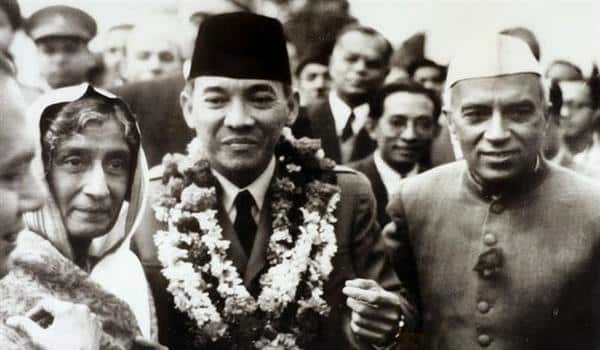 As India went ahead to become a major voice in South Asia, and with the formation of SAARC – this de-facto privilege was passed on to SAARC members. India has hosted heads of state from Pakistan, Bhutan, Nepal, Sri Lanka and all other SAARC members multiple times over.
With shifting tides of multilateral alliances, this privilege kept being extended to various groups and informal groupings – such as ASEAN, BRICS, QUAD & SCO.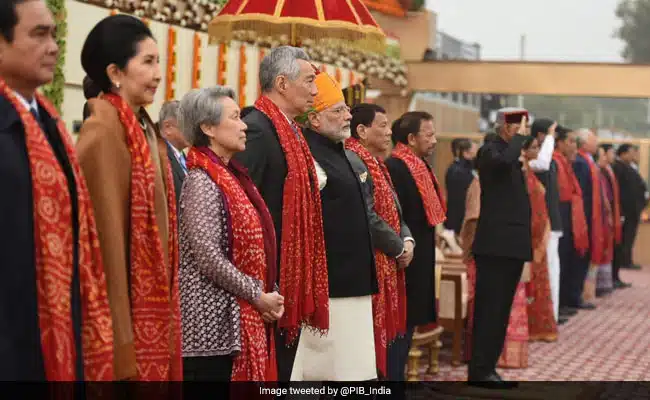 In terms of defense, the MEA short-lists nations which either wish to procure weapons and security cooperation from us ; or countries we wish to strategically ally with, and gather armaments from.
The military parades, air shows, weapon-displays act as both a show of force and capability – guest countries have communicated the message that India possesses a great array of weapons and a large capable contingent to put them to use, and also signals that India is stable enough to be engaged as a military ally.
Thus in this capacity, the Republic Day celebration acts partly as a Defense-expo and partly as a 2+2 diplomatic & defense summit.
It is said that Japanese Prime Minister Shinzo Abe's visit during the 2015 celebrations, and the visit of US President Barack Obama in the next year – led to a significant shift in their perception of India's defense potential, and paved the ground for the QUAD alliance.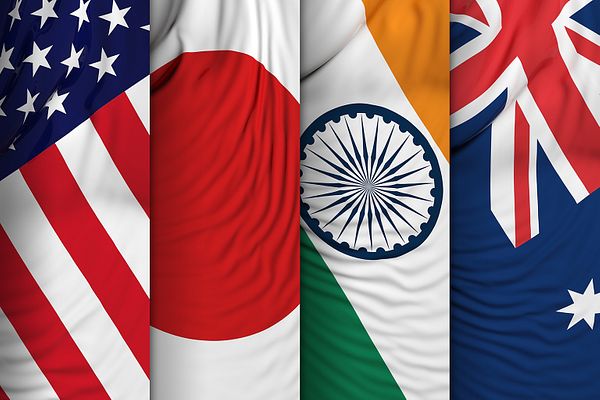 Similarly, French President Hollande's visit as chief guest for the 2016 Republic Day celebrations did ample for India's procurement of Rafale jets from France.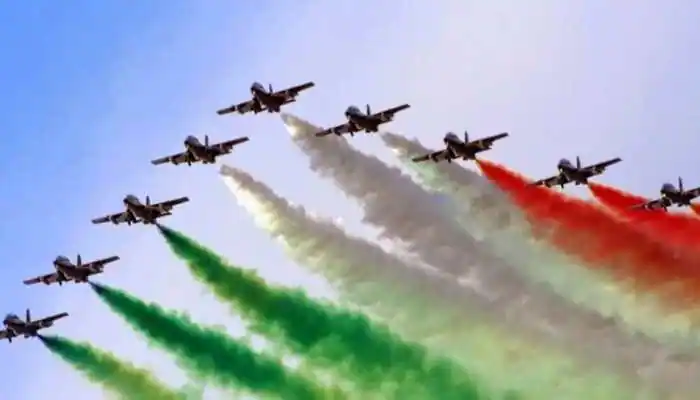 Visits by heads-of-state from Bhutan (2005), Mauritius (2002), Russia (2007), UAE (2017), and Brazil (2020), as the Chief-of-Guest for the respective year's celebrations, came with the background of these countries looking to import weapons and concluded with them procuring Brahmos missiles, Pinaka rocket launchers & Dhruv light helicopters from India in the same year.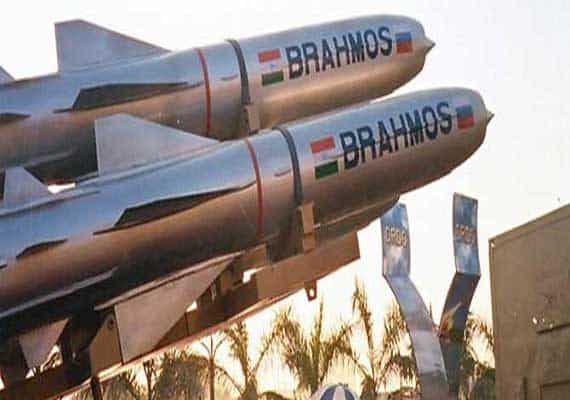 Commercial considerations, such as bilateral-trade relations, interest to procure a certain resource, the potential for economic cooperation on projects such as trade corridors, logistical zones, and greater multilateral initiative at WTO – all play a role behind the entries on the chief guest short-list.
Finally, the availability of the guest during this period also plays a very important factor. For this reason, the MEA provides a list of potential guests – upon which Indian diplomats can carry on communication and scheduling arrangements with the heads of state who can visit.
How important is Al-Sisi's Visit?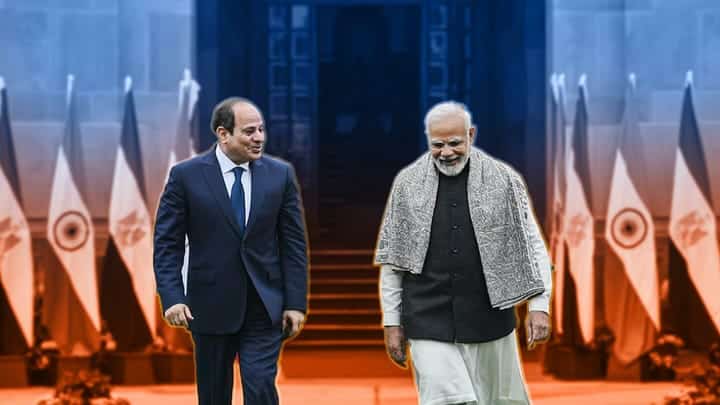 President Al-Sisi's visit as the chief guest for this year's Republic Day celebrations comes after a 2-year hiatus of not having any chief guests for the celebrations due to the pandemic. India & Egypt are also celebrating 75 years of diplomatic relations on this special occasion.
Immediately after the invitation was accepted, the glory days of the Non-Alignment Movement were recalled, as both India and Egypt were founding members of the NAM and have been closely related ever since.
Egypt & India share a 'time-tested' relationship, as expressed by Indian Prime Minister Narendra Modi, who also shared that his expectations for this visit are to develop a much more robust partnership between these two ancient civilizations.
Egypt was chosen as the guest country, as consensus gains ground in the MEA that Egypt is a key player in the Arab world – a strategic power in Africa and a 'gateway to the markets in Africa & Europe'. President Sisi's visit makes him the first Egyptian leader to grace the occasion.
The Egyptian president is accompanied by a high-level delegation including 5 ministers and senior officials, and ever since they landed on Tuesday, they have been part of important engagements, including a bilateral meeting with Prime Minister Narendra Modi on January 25, which addressed all issues of bilateral, regional and international significance.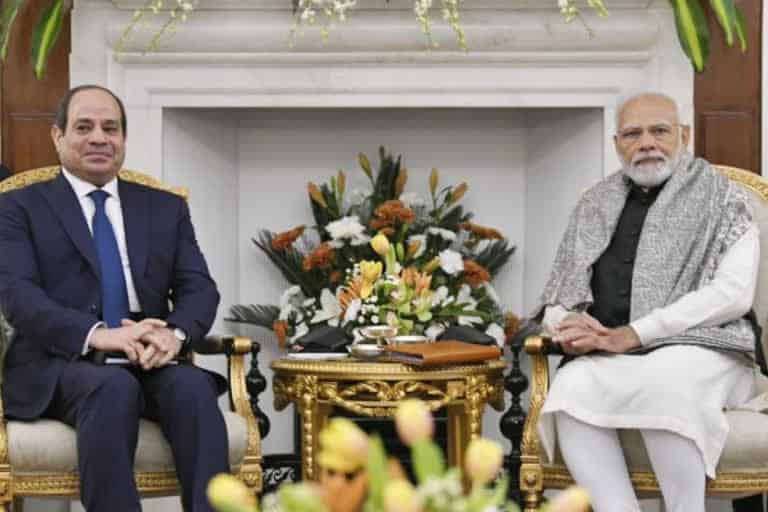 Commercially, India & Egypt share a close relationship. Egypt has traditionally been one of India's most important trading partners in the African continent. This relationship has seen greater trust-building, especially as Egypt became a patron for India's vaccine diplomacy during the pandemic – leading to a 75 percent increase in bilateral trade in FY 2021-22 as compared to FY 2020-21.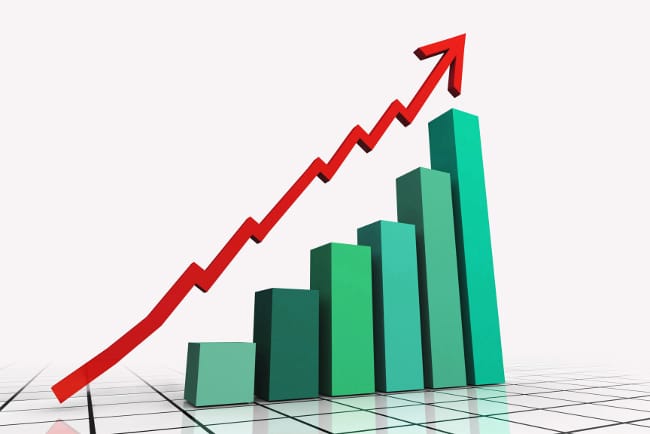 The two countries are likely to cooperate in the sector of agriculture. Recently, Egypt has been facing a shortage of food grains due to the Russia-Ukraine shortage and has expressed interest to procure more of the same from India. Trade talks around the same can facilitate exclusive scientific cooperation in the field of food security.
Experts from Carnegie inform that Egypt is currently facing a foreign exchange crisis – and might look at Indian investments in the country. India is also planning to increase its investments in infrastructure projects in the country, especially in and around the Suez Canal – which is growing in strategic significance for Indian businesses as well as the Indian Navy. This can also serve as an important area of cooperation during this visit.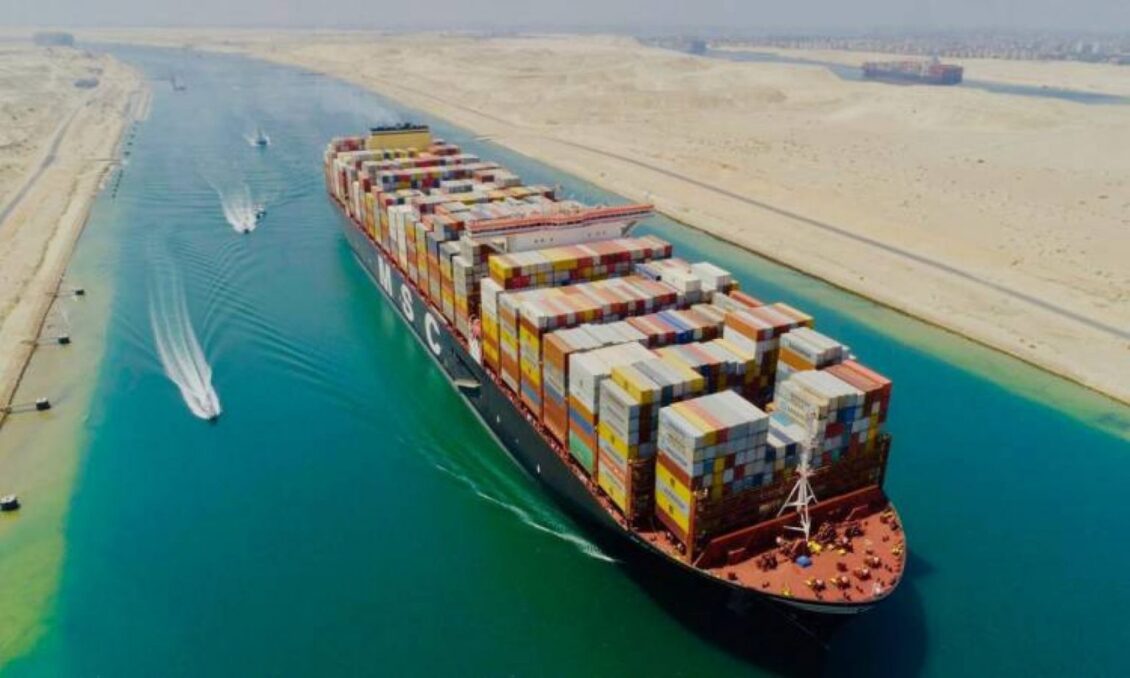 Additionally, increasing defense & Security cooperation between the two nations is also a major reason behind the invitation. Egypt wishes to procure Tejas light combat aircraft, Akash surface-to-air missiles, and Dhruv advanced light helicopters from India – all of which would be displayed in today's ceremony. Both nations have also been taking part in multiple joint military exercises and training missions.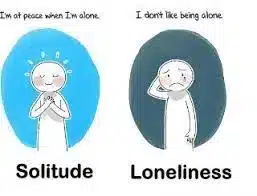 India's current Presidency of the G20 also plays a role in the invitation. Recently, India expressed that it wishes to be the 'voice of the global south' – and Egyptian cooperation is especially important for this, not only because it has emerged as a stakeholder in certain key areas of the Global South such as the Horn of Africa – but also because Egypt recently hosted the UN Climate Change conference, where major South-South cooperation was witnessed over the issue of 'loss and damage'.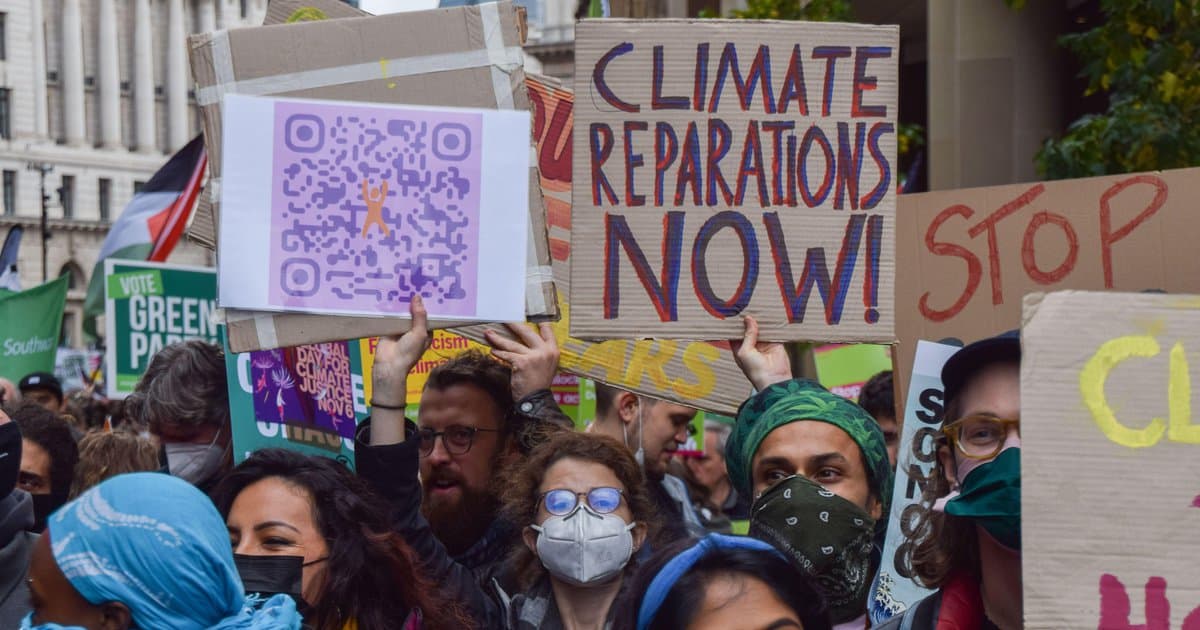 Egypt's influential membership in the Arab League & the African Union also allows India to make grounds in regional forums of the Global South where it cannot reach out directly.
Egypt is also a new member of the Shanghai Cooperation Organisation, which is currently chaired by India. India wishes to build meaningful cooperation with Egypt to keep Russia & China in check and to deliver on its aim to make SCO more 'SECURE' under its chairmanship.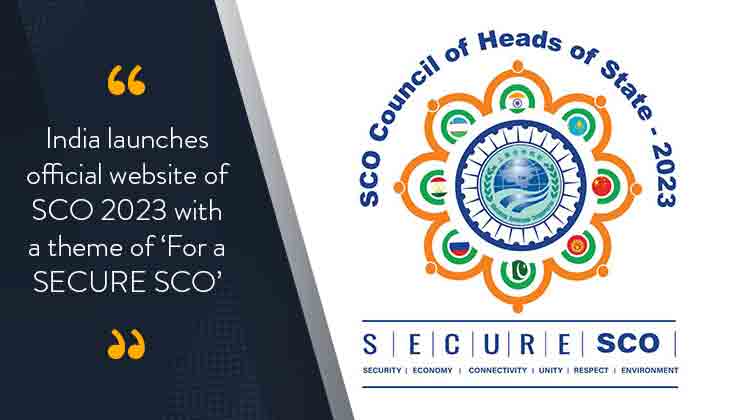 Subhajit Roy of the Indian Express also highlighted one more political significance behind the extension of the invitation to Egypt. As India's ties with Muslim-majority countries were threatened due to the recent controversy around the comments made by BJP spokesperson Nupur Sharma, the relationship with the Islamic nation of Egypt emerged more important.
Egypt was one of the few countries from the Arab world to not officially react to the remarks. This made the MEA look at Egypt as a 'moderate Islamic voice' – especially in the Organisation of Islamic Cooperation, where a strong partnership with Egypt allows India to indirectly counter its condemnation, led by nations such as Pakistan.
On a final note…

This makes President Sisi's visit extremely significant for India, and once again showcases the diplomatic relevance of the chief guest invitation for the Republic Day celebrations.
However, such significance also comes with a responsibility – for the MEA to invite a head-of-state who represents and abides by the democratic ideals of our constitution.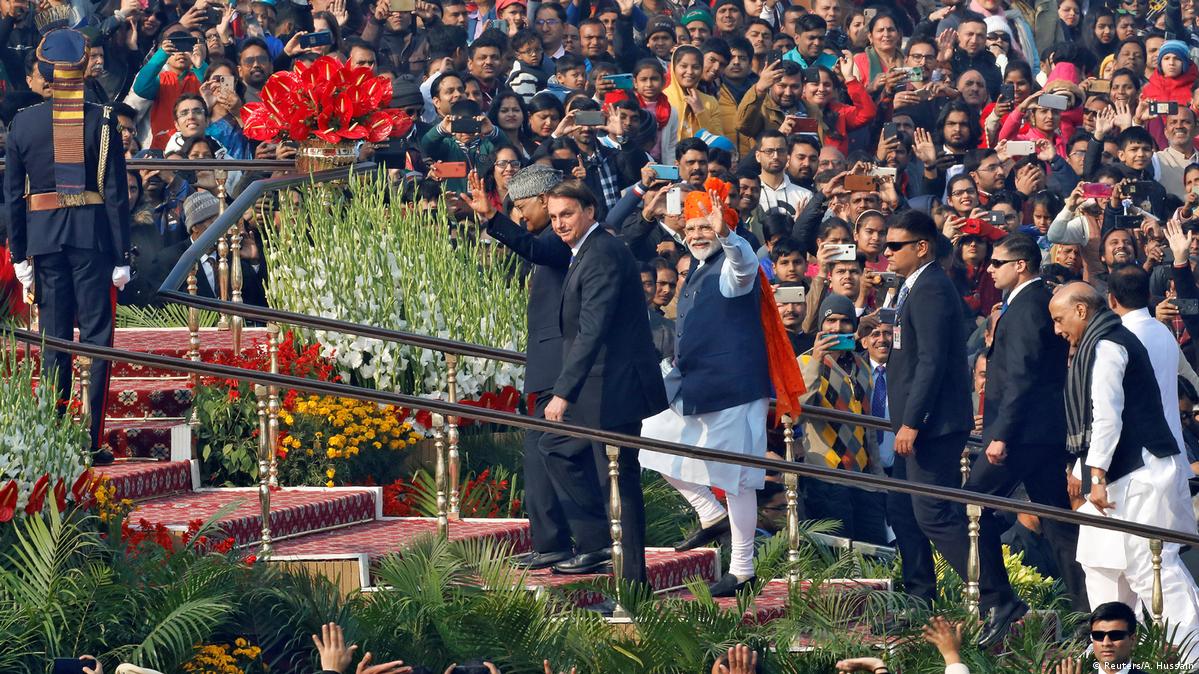 When Jair Bolsonaro was invited as the chief guest in 2020, New Delhi witnessed a range of protests and negative reactions against that invitation, majorly because Bolsonaro's policies and actions were perceived as authoritarian.
That is a reminder that needs to be internalized on the eve of India@75.