The ED, or the Enforcement Directorate, arrested Shiv Sena MP Sanjay Raut after raiding his residence. This was done in connection with the ongoing land scam case.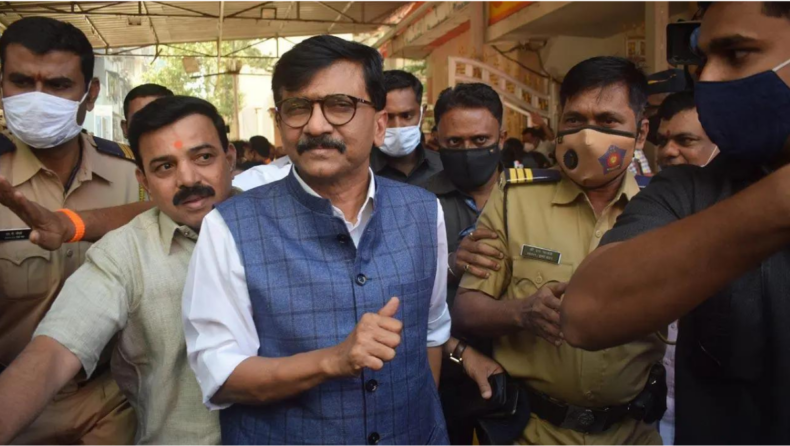 Shiv Sena Member of Parliament Sanjay Raut was detained and arrested by the Enforcement Directorate. The ED took this action due to the MP's alleged involvement in a money laundering case in connection with a plot of land in Mumbai.
The case is with regard to certain alleged irregularities in the rebuilding of a "chawl". Raut was initially detained on Sunday. This was hours after the ED arrived at his residence at 7 a.m. and conducted a raid.
Subsequently, the ED ushered Raut into the ED zonal office for an interrogation at 5 p.m. However, according to sources, Raut was not cooperating as per the agency's requirements. 
The Enforcement Directorate allegedly seized Rs. 11.50 lakh from the Shiv Sena leader's home.
Sanjay Raut's statements against the Enforcement Directorate .
During the interrogation, however, Raut denied any involvement in any crime or wrongdoings. He claims this is a result of a political vendetta he has fallen victim to.
"They can keep me in custody as long as they want." I will prove the allegations wrong"
Sanjay Raut said to reporters.
Furthermore, Raut says that he will carry on fighting. Claiming that the charges are false, Raut said "Jhukega nahi" (I will not bow down) in the face of this adversity. Raut also claims that false documents are being created along with false charges, which means people are being framed. All done to weaken Shiv Sena. But, he says that he will not leave the party.
Sanjay Raut's lawyer, Vikrant Sabne, told reporters that they accepted the summons and Sajay was brought in for questioning. He further added that the ED took documents they believed were important but none were related to the Patra chawl.
Raut was summoned earlier in the investigation by the agency as well, on the 20th of July, which he skipped. He informed his lawyers that he could not appear until the 7th of August due to the ongoing Parliament session.
Raut also tweeted that Maharashtra and the Shiv Sena will continue to fight, followed by him later calling it "false charges, false evidence". He also said that he had nothing to do with the scam. He clarified that he is making this statement under oath of Shiv Sena Chief Balasaheb Thackeray.
ED's statements about the Patra Chawl land scam case.
An agreement was signed between Guru Ashish Construction Pvt Ltd and the Maharashtra Housing and Area Development Authority (MHADA) in 2007. This agreement was to provide homes to 672 tenants residing in the Patra Chawl in Goregaon, a suburb of Mumbai. Furthermore, the plan was to develop flats for MHADA and sell the rest to private builders or developers.
However, according to the claims of the ED, Pravin Raut, along with other directors of Guru Ashish Constructions, did not build a single house for the 672 displaced tenants. But, what they actually did is sell the floor space to nine separate private developers for Rs. 901.79 crores.
Moreover, the ED claims that they also launched a project for which they received bookings of approximately Rs. 138 crores from buyers.
According to the ED, the total earnings from their crimes amount to Rs. 1039.79 crore.
In the investigations carried out by the ED, it was revealed that Pravin Raut received Rs. 100 crore from HDIL and rerouted it to many different accounts, including those of his close associates and family members, like Sanjay Raut and his family.
The ED also claimed that in 2010, Varsha Raut (Sanjay Raut's wife) received a payment of Rs. 83 lakh in criminal proceedings from Madhuri Raut (Pravin Raut's wife).
The ED has also connected many such properties to the Rauts and their close associates, which links them to a large-scale scam.
The ED has been recently cracking down on many similar-sounding cases involving people in positions of power. From the Partha Chaterjee's SSC scam to the Congress money laundering scam, it seems as if the ED has set their sights on dismantling some political structures.