Barcelona's Economic Instability Results In The Departure Of Their Biggest Superstar
If you have not been living under a rock, you might have heard a lot of news regarding the departure of one of the greatest players of all time Lionel Andres Messi from FC Barcelona.
How did Barcelona accumulate a debt of 1 billion €?
Things have been tumbling down for Barcelona since the departure of Neymar to PSG for a record-breaking fee of 222 million € in 2017.
Now many may wonder how the Spanish giants did not benefit from this outrageous deal.Here comes the factor of mismanagement and the Bartemeu saga.
President Josep Bartomeu was elected as president in January 2014 when former president Sandro Rosell stepped down from the post.
The MSN trio (Messi, Neymar, Suarez) broke, and there was an urgent need for a left-wing player. Making decisions in haste, Barcelona spent 300 million € on the likes of Philippe Coutinho and Ousman Dembele, offering enormous wages in their contracts and eventually bloating every player's wage bill.
When the covid pandemic broke out, Barcelona suffered financially as a significant source of their income came from matchday tickets, hotels and Barcelona museums.
Players had to take wage cuts as the club was not able to afford substantial expenses.
The team's performance got worse in the 2019/20 season when they were thrashed by FC Bayern 8-2 in Lisbon, Portugal.
Club legend Lionel Messi sent a burofax stating his desire to leave, even though his contract was till May 2021.
Messi had a clause in his contract which allowed him to go at the end of any season for a buyout clause set by the club.
Knowing how important Messi is to the club, they put a buyout clause of a whopping 700 million € that no club could afford during the pandemic, which forced Messi to stay for another season.
Laporta wins presidential elections
The removal of Josep Bartomeu from the presidency happened through the vote of no confidence.
For the motion of no confidence to pass, a two-thirds majority vote must favour removing the current president.
As members called "Socios" run Barcelona, a new election took place, and Joan Laporta became the Barcelona president known to be the best president of Barcelona from 2003 to 2010.
The Catalan police arrested Josep Bartomeu for allegations of mismanagement and business corruption and to take part in a scandal "Barcagate". Messi also spoke about his obnoxious relationship with Bartomeu.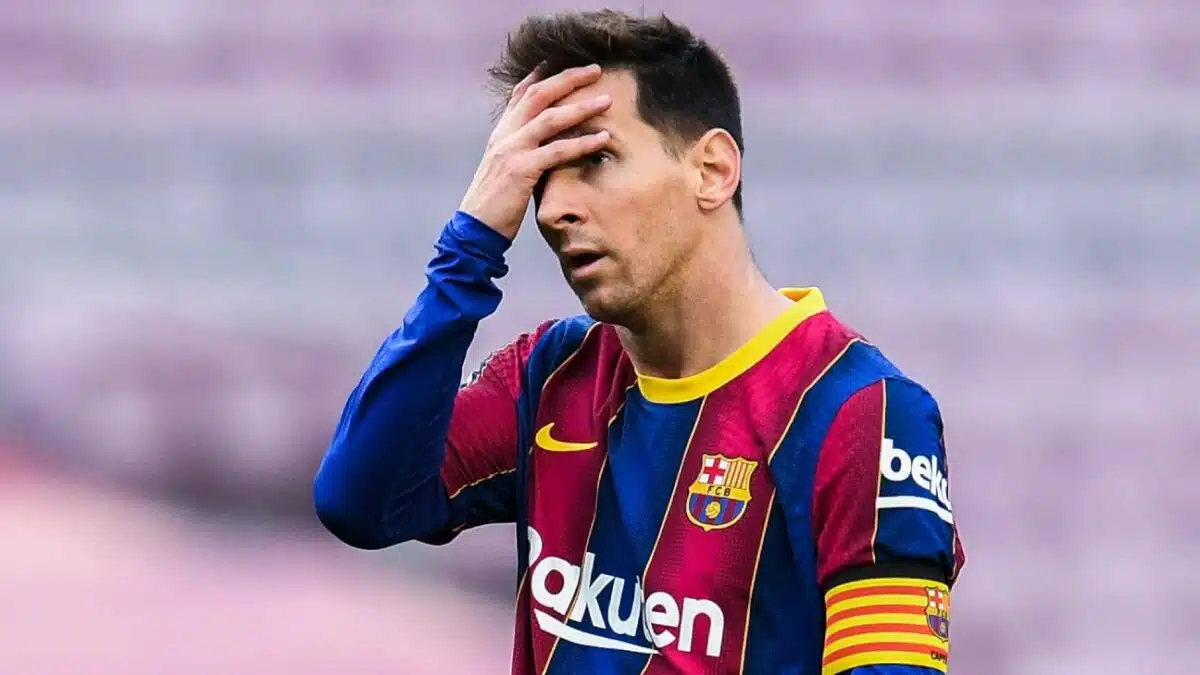 Lionel Messi's Departure
This season Barcelona signed four new players: Eric Garcia, Sergio Aguero, Memphis Depay and Emerson Royal.
These new signings have not been registered with La Liga yet. This is because of La Liga's Financial Fair Play rules (FFP).
The Covid Pandemic has hit La Liga matchday tickets as well. Due to such losses, Javier Tebas, La Liga, president, has updated the salary cap ruler for top clubs in the league.
Following the new rules, Barcelona is allowed 70% of revenue to be paid in wages. However, due to the players' enormous salaries in contract, Barcelona's wage cap amounts up to 95%
(Note: this does not include Messi's wages as he is a free agent). If the club signs a contract with Messi, the wage cap will exceed 110%, impossible to implement.
The Catalan club has made wage cuts in every sector, including players. They tried to sell the heavyweights in the dressing room who don't have much impact but get paid lavishly.
It turns out that players don't want to leave this comfort zone and other clubs are not interested in buying them at these wages.
The situation won't improve despite Messi taking a 50% wage cut. It left Messi no option but to say a final goodbye to his boyhood club after serving for 21 years.
Messi's Impact
Football fans worldwide know how strange it will be to watch Lionel wear a shirt other than the Blaugrana colours.
There will be an empty void in the club for a few seasons, which no player can fill.
He was a catalyst at Barcelona, breaking records after records every season. No matter where he goes, no matter who he plays with, he was the greatest, is the greatest and will be the greatest for centuries to come.