Deepika Padukone attends Paris Fashion Week alongside Hollywood stars Ana de Armas and Jaden Smith, as Ranveer Singh endorses 'baby.'
Deepika Padukone was spotted sitting in the front row of the Louis Vuitton fashion show on Tuesday during Paris Fashion Week. The occasion occurred in Paris.
Deepika Padukone looked absolutely lovely at the Louis Vuitton fashion presentation that took place on Tuesday as part of the ongoing Paris Fashion Week. She wore a beige dress with padded shoulders and a ruffled skirt to make an impression.
She teamed the dress with black knee-high boots and a neat hairstyle. The show was presented at the Louvre.
Deepika was sat in the front row with prominent Hollywood stars, including Ana de Armas and Alicia Vikander. Jaden Smith, Gemma Chan, Emma Chamberlain, Natalie Emmanuel, and Leslie Mann, who was there with her two actress children, Iris and Maude Apatow, were also present at the show.
Images and videos shot during the duration of the exhibition depict Deepika conversing with a range of exhibition goers and posing for photographs with them.
Louis Vuitton and Deepika Padukone's Partnership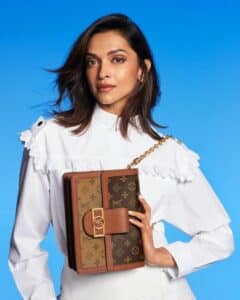 Deepika has been appointed as a worldwide brand ambassador for Louis Vuitton.
The French business made the development announcement. During the new handbag promotion, a 36-year-old Bollywood actress will play the starring role, according to the brand.
The actress from the film Om Shanti Om is the first Indian Label Ambassador for the luxury fashion house Louis Vuitton in its 167 years of international presence. Previously, the business introduced the Dauphine bag's advertising campaign, which starred Deepika together with Emma Stone and Zhou Dongyu.
As a result of this collaboration, Padukone's brand value and global fame will improve, while the French luxury brand will garner significant attention in the Indian market. Padukone's association with LV can be ascribed to a variety of causes, the first of which is her goal to attain success on a global scale.
Padukone made her international film debut in 2017 with the production of xXx: Return of Xander Cage in Hollywood, and it has been reported that she will shortly begin filming another romantic comedy in Hollywood, which she will also produce.
Furthermore, she was only recently chosen to serve on the jury for the Cannes Film Festival, which adds to her credibility as a prospective star for worldwide enterprises.
Appearance at Paris Fashion Week
The latest Louis Vuitton collection was unveiled on Tuesday, October 4 in Paris, the fashion capital of the globe. There were a number of renowned persons in attendance.
The front row was dominated by Deepika Padukone, who wore one of the most unusual costumes she has ever worn. The celebrity attended the exhibition wearing a grey, extremely structured, miniature dress from the most recent collection of the designer.
She combined the dress with the company's bright and glamorous accessories. Continue scrolling for additional details regarding her attire.
Nicolas Ghesquière, the French-Belgian fashion designer and creative director of the Louis Vuitton fashion brand, presented his Spring/Summer 2023 ready-to-wear collection in Paris. A-list celebs crowded the front row as models walked the runway wearing his most current creations.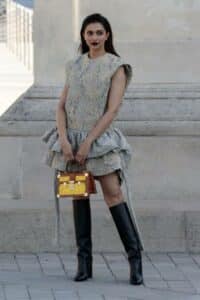 Deepika Padukone also attended the show, wearing a grey minidress, dramatic makeup, and contemporary accessories, which made her appear very lovely. As photographs and videos of the actress soon went around the internet, admirers could not help but be struck by her appearance.
Deepika wore a one-of-a-kind costume fashioned in the signature style of Nicolas Ghesquière. The outfit lacked sleeves and was coloured grayish-blue. It has a round neckline, broad shoulders, a boxy form, a ruffled and tiered mini-length skirt connected by two long ribbons, and it is mini-length.
Deepika complemented her ensemble with a pair of black knee-high boots and a brown and yellow Louis Vuitton top handle purse. The colours of the bag were tan and yellow. She opted for a wet appearance for her hair and sported an open, backswept haircut.
To finish off her glam look, she applied a dark plum lip colour, shimmery eye shadow, a thin coat of mascara to her upper and lower lashes, flushed her cheeks, and emphasised her natural beauty with a healthy glow.
Deepika Padukone was responsible for seven of Louis Vuitton's top ten Instagram posts, and she was responsible for more than a quarter of the USD 20.2 million in media impact value (MIV) generated during Cannes, according to Business of Fashion.
She just assumed the role of brand ambassador for the French maker of luxury goods Cartier.
READ MORE: https://tdznkwjt9mxt6p1p8657.cleaver.live/harris-reed-spring-2023/