Kavita Chowdry, 29 October 2022
The much-awaited horror-comic drama will now be a part of the most appreciated children's comic book Chacha Chaudhary to add a fun element for the viewers and readers of the comic book.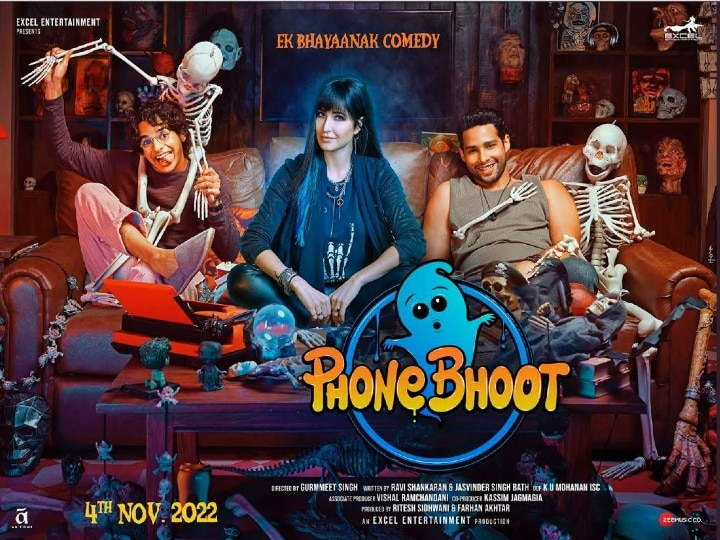 Picture Courtesy: Google Images
The Katrina Kaif, Siddhant Chaturvedi, and Ishaan Khattar starrer much-awaited film Phone Bhoot is soon going to hit the theatres. The film will be released on 04th November 2022. The team has already begun its promotions in the city.
The film is now collaborating with the comic book production Diamond Toons, famous for the children's comic Chacha Chaudhary and Sabu. The comic has already been marked as a best seller in children's comics for years. The comic is based on the main character Chacha Chaudhary and his companion friend Sabu's adventures through different situations.
In the Phonebhoot edition, the film characters will be designed as per comic avatars and they'll be destined to go on some new adventures with the already present characters of the comics ie., Chacha Chaudhary and Sabu. The team hasn't revealed too much about the details yet, but the special edition will be published soon.
The film has already released two tracks from the album and is now preparing for further chores regarding the promotions. The film and cast are already being appreciated for their efforts in the film.
The trio (Katrina Kaif, Siddhant Chaturvedi, and Ishaan Khattar) appeared in Koffee with Karan and the audience loved their banter on the set. Siddharth Chaturvedi and Ishaan Khattar also revealed a few fun facts about the actress. They also shared that they had fun with her on the set and she is quite a mind in pulling tricks on the set.
The film is based on two friends who randomly possess some supernatural powers, as they can seek ghost spirits they decide to be Ghostbusters until they stumble on a female ghost who reveals to them her mission on earth. The film is of the horror-comic genre directed by Gurmeet Singh and produced by Farhan Akhtar under the banner of Excel Entertainment. 
The team has left no stone unturned in its promotions. Recently, the team was spotted in the big-time reality show Bigg Boss season 16 promoting their film. The team was greeted by the host himself, he also had some fun moments with the actress. The contestants of the show were excited to see the leading lady on the stage.
The audience is really waiting eagerly to witness such a genre after so long as it is going to be a film to watch with family. The film has more fun elements to explore with Jackie Shroff as an antagonist mixing all the emotions required.