Horror and comedy are two different genres; one scares you, and the other makes you laugh. But when these two genres come together as horror comedies, "Phone Bhoot" is just that. they do both simultaneously. But in Bollywood, that's rare. When I last remember, horror comedies are Amar Kaushik's 'Stree' (2018 film) and Anees Bazmee's 'Bhool Bhulaiya and Go Goa Gone, but the rest were just comedies with mediocrity.
About Phone Bhoot Movie
Phone Bhoot is directed by Gurmeet Singh and stars Ishan Khatter, Siddhant Chaturvedi, and Katrina Kaif.
Last we saw these three was- Ishan Khatter in Khaali Peeli(2020 film), Katrina Kaif in Sooryavanshi (2021), and Siddhant Chaturvedi in (Gehraiyaan in Feb 2022).
The plot revolves around two unemployed young men, Galilieo Parthasarthy, or "Gullu" (played by Ishaan Khatter), and Sherdil Shergill, aka "Major" (played by Siddhant Chaturvedi), who aspire to become exorcists and have made many failed attempts to get their business right. They meet a humane ghost named "Rajini" (played by Katrina Kaif), who offers them a business idea and helps to run it successfully instead of giving them a favor in return.
ALSO READ Monica, O My Darling Review: The film's soundtrack hits a sixer in this game of Snake and Ladder.
The screenplay written by Ravi Shankaran and Jasvindar Singh Bhat doesn't look creative except for the characters written for Ishan and Siddhant (Gullu and Major). I wished Katrina's character was written well, as the actress has more potential to do. Rajini seems like a model who comes and goes randomly.
The jokes don't land well in Phone Bhoot in the form of dialogue or actions. In one scene, Gullu and Major visit their house for an exorcism in a blue colored jumpsuit (as their uniform) but are told to go as people thought that these two were from pest control. So they reply, 'Hum Pest Nahi Best Hai,' and Rajini suggests they sell those costumes by saying, 'olx pe bech de.'
In another scene of Phone Bhoot, when Rajini is asked to stay at one place, she replies, "Main Ek Bhatakti Hui Aatma Hun." "Main Ghumti Nahi, Bhatakti Hun." And there are many such dialogues that may keep annoying you while watching the movie.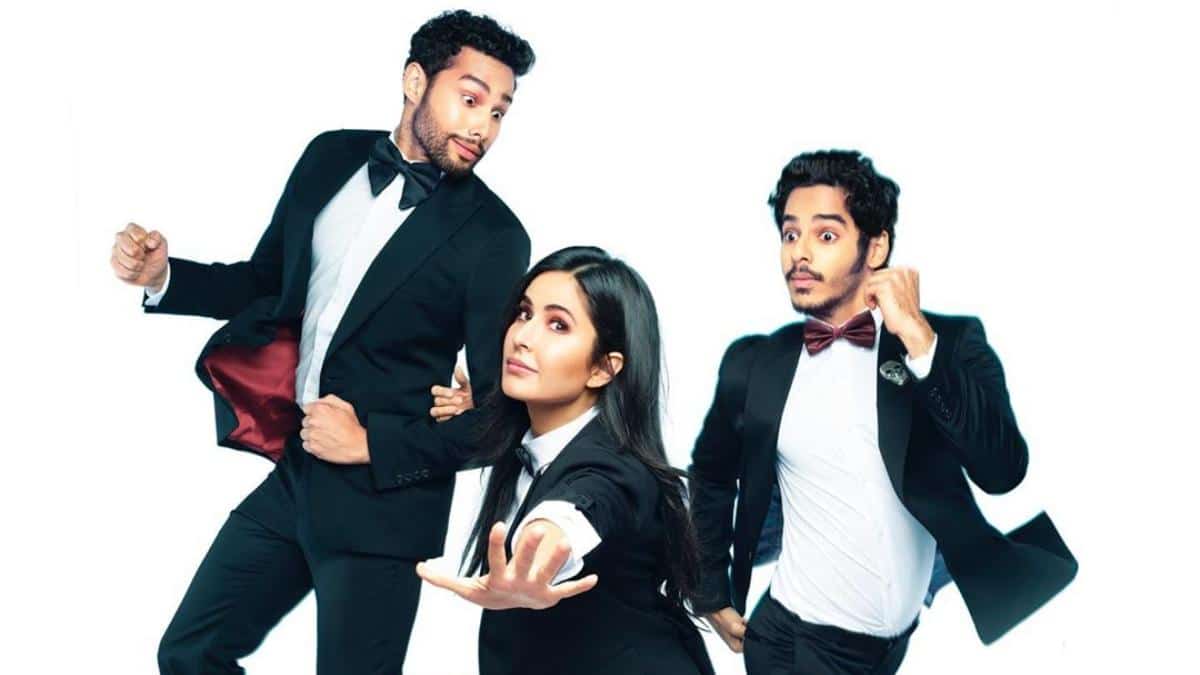 Actors Role Played In Phone Bhoot
Ishan Khatter and Siddhant Chaturvedi make a great pair together, but I still doubt Katrina as the third character in Phone Bhoot. Her severe and simplistic looks and attitude do not match the level of mischievousness that both the male characters have on screen.
Sheeba Chaddha, who plays "Chikni Churail," gets less screen time than the others. Her character, including that of Jakie Shroff, who plays the vicious Atmaram, could be improved, but here they are wasted. The only scene where she is having a conversation with Ragini and finds difficulty in pronouncing the word "Moksha" is one of my favorites.
The ghosts aren't scary enough. Their names and looks represent the film's level of horror (or lack thereof). At least in Pavan Kirpalani's "Bhoot Police," the ghost had a scary look. Or in Amar Kaushik's "Stree," where horror and comedy both landed well because of the characters and the looks.
The eye-catchy settings, especially Gullu and Major's residence, are outstanding in the film. The skull-shaped telephone, and the statue called "Raka", whom they stole from film city, reflect well how enthusiastic they are about the ghosts.
You can watch Phone Bhoot at your nearby theatres.