British Prime Minister Rishi Sunak asserted on Monday that his strategy to impede the influx of undocumented migrants into UK territories, commonly referred to as the "stop the boats" initiative, is yielding positive outcomes. As he unveiled his plans to alleviate the burden on publicly funded hotels, Sunak disclosed his intention to accommodate these migrants on ships.
During a press conference held in Dover, a border town situated in Kent, Sunak conveyed that the first vessel designated for this purpose will be operational later this month, with two additional ships projected to house an extra 1,000 migrants in the near future. He emphasized that pivotal legislation, known as the Illegal Migration Bill or Stop the Boats Bill, has successfully navigated through the House of Commons. Once enacted, this legislation will confer upon the government the authority to apprehend and expel migrants who unlawfully enter the country.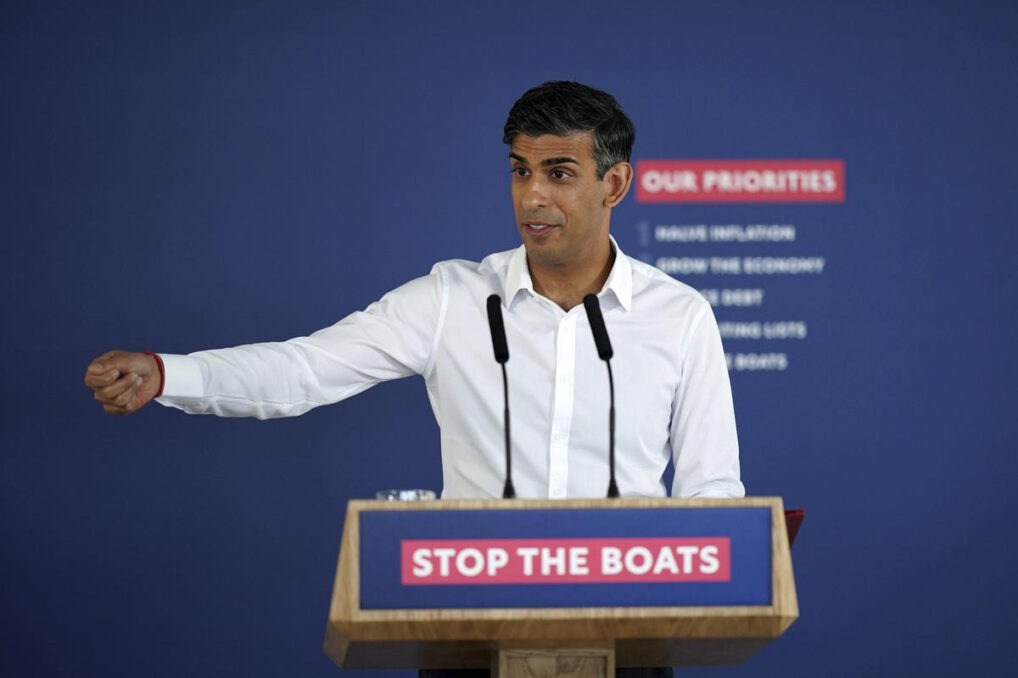 Image Source :- AP
Sunak proclaimed, "I pledged to relocate illegal migrants from hotels to alternative sites, including military establishments." In order to alleviate strain on local communities, he added, "We will also be providing accommodations on ships. The initial vessel is anticipated to dock in Portland within the next fortnight, and today we have secured an additional pair of ships that can collectively accommodate an extra 1,000 migrants."
Further efforts to address the issue will involve the establishment of expansive new facilities at Wethersfield and Scampton, which are expected to accommodate several hundred migrants in the upcoming months. By the conclusion of this year, the combined capacity of these sites is projected to reach approximately 3,000 individuals. Sunak emphasized that, in addition to augmenting alternative accommodation options, he is resolute in maximizing the utilization of hotels.
Prime Minister Sunak Responds to Migrants' Objections
"Through the implementation of room sharing, wherever it is deemed suitable to do so, we have successfully identified an additional 11,500 places. This will lead to an annual saving of GBP 250 million for the taxpayers. I want to make it clear to those migrants who may voice objections: this approach is more than equitable," Sunak asserted, alluding to recent reports of migrants protesting outside a hotel in central London due to being compelled to share rooms.
He further proclaimed, "If you choose to enter this country illegally and seek refuge from death, torture, or persecution, it is only fitting that you be willing to share a centrally located hotel room funded by taxpayers."
The British Prime Minister, of Indian descent, voiced concerns that the nation's asylum system is being overwhelmed by individuals arriving from safe countries. This excessive influx hampers the government's capacity to assist those most in need, resulting in British taxpayers bearing a daily burden of approximately GBP 6 million to accommodate illegal migrants.
At the commencement of the year, Sunak had identified "stop the boats" as one of his five paramount priorities as Prime Minister. The other four priorities encompassed the reduction of inflation, economic growth, debt reduction, and the reduction of waiting lists in the National Health Service (NHS), which receives government funding.
"In the five months since the inception of this plan, we have witnessed a 20 percent decline in crossings compared to the previous year. However, we shall not grow complacent, as we are well aware that people smugglers exhibit high levels of organization and will adapt their strategies if given the opportunity. I shall not relent until we have successfully halted these illicit sea voyages," Sunak vowed. He proceeded to emphasize the efficacy of migration returns partnership agreements established with European nations, including France, Bulgaria, and Albania, which are beginning to yield positive outcomes.