Tension was reported in Kolhapur, Maharashtra, on Wednesday as right-wing outfits staged a violent protest over alleged social media status messages that glorified historical figures Mughal emperor Aurangzeb and 18th-century Mysore ruler Tipu Sultan. Authorities confirmed that these outfits had called for a district-wide shutdown, with a significant number of activists gathering at Kolhapur city's Chhatrapati Shivaji Chowk.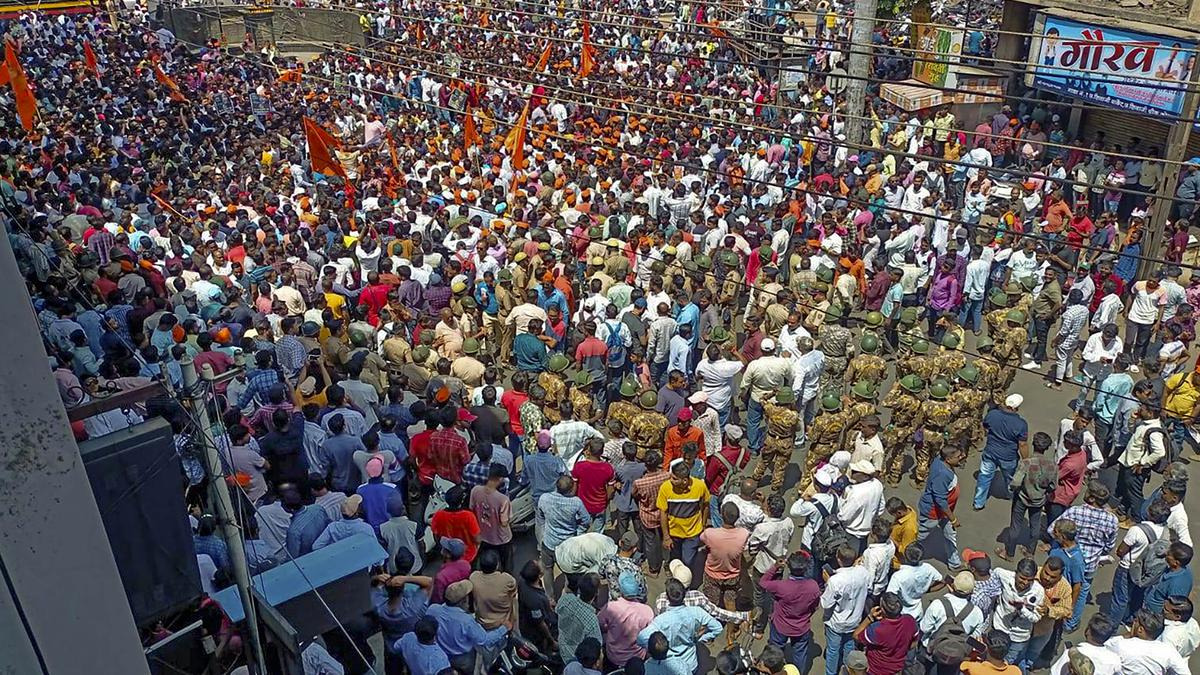 Image Source:- PTI
On Tuesday, the Kolhapur police initiated an investigation into the objectionable social media status messages featuring images of Aurangzeb and Tipu Sultan, accompanied by audio messages that were claimed to be offensive to Hindu sentiments by the right-wing groups.
Authorities took action by filing a complaint against those responsible for the objectionable posts and managed to convince Hindutva outfit leaders to cancel their planned demonstration. However, the situation escalated by 11:30 a.m. when some unruly elements resorted to stone-pelting.
As noon approached, the protesters grew more aggressive, with reports of a mob entering Muslim-dominated areas and engaging in stone-pelting, damaging shops, and overturning handcarts.
In response to clashes between different religious groups, the police resorted to a lathi charge to bring the situation under control by late afternoon, clearing the streets of protestors.
Internet services suspended, prohibitory orders issued in Kolhapur
Internet services were suspended until Thursday evening, and prohibitory orders banning gatherings of five or more people were imposed until June 19, according to a senior police official.
Sunil Phulari, Special Inspector General of Police (Kolhapur range), reassured the public that the situation was fully under control. He emphasized that the authorities were assessing the damage caused by the stone pelting and that the tension had been diffused using necessary force. Phulari urged people not to believe rumors circulating on social media and warned that individuals loitering around or gathering in large groups would be detained. He also mentioned that units of the State Reserve Police Force (SRPF) had been deployed in the city to support the local police force.
Maharashtra Home Minister Devendra Fadnavis called on the public not to take the law into their own hands, stating that the state government would not tolerate any glorification of Aurangzeb in the land of Chhatrapati Shivaji.
Expressing his concerns, Fadnavis questioned the sudden emergence of individuals "glorifying Aurangzeb" and sought an investigation into those responsible for creating social tension and disrupting law and order in the state. He emphasized that such incidents tarnished Maharashtra's reputation as a progressive state.
Chief Minister Eknath Shinde stressed that maintaining law and order was the government's responsibility, and he ensured that necessary directives were given to the local administration to maintain peace in Kolhapur.
This incident follows a pattern of recent clashes and riots between communities in Akola, Ahmednagar, and other parts of Maharashtra, leading to heightened social tensions across the state.
The violence in Kolhapur sparked a heated exchange of accusations between the opposition and ruling party leaders. The Nationalist Congress Party (NCP), Shiv Sena (Uddhav Balasaheb Thackeray), and Congress accused the ruling Shiv Sena-BJP coalition of deliberately instigating communal riots and exacerbating social tensions for their political advantage.
NCP chief Sharad Pawar accused the ruling parties of encouraging communal violence and stated that minor incidents had escalated into clashes. He expressed concern about the deliberate targeting of minority communities across the country and referred to previous attacks on churches in states like Odisha.
Congress State chief Nana Patole criticized the ruling government for their inability to prevent frequent riots in Maharashtra. He questioned the sudden resurgence of those glorifying Aurangzeb and highlighted attempts to incite riots in various cities. However, Patole commended the people for their firm stance on reconciliation, which thwarted these attempts.
The situation remains tense in Kolhapur as authorities work to restore calm and investigate the instigators behind the objectionable social media messages.