Akshay Kumar transforms into Chhatrapati Shivaji Maharaj as shooting for Mahesh Majrekar's "Vedat Marathe Veer Daudle Saat" starts on Tuesday.
Announcement of Shooting
Akshay Kumar has not taken a break at all as four of his films were released in 2022 and more are yet to hit theaters, the actor has already started working on his new project. "Vedat Marathe Veer Daudle Saat" is Akshay Kumar's debut in the Marathi Film Industry.
He took to his social media handle to announce the commencement of the shoot. He wrote, "Today I am starting the shooting of the Marathi film 'Vedat Marathe Veer Daudale Sat' in which I am lucky to be able to play the role of Chhatrapati Shivaji Maharaj Ji.
I will do my best by taking inspiration from her life and the blessing of Mother Jijau! Keep your blessings on us."
Audiences Reaction
The actor also shared a first-look video where he transforms into Chhatrapati Shivaji Maharaj and wrote, "Jai Bhawani, Jai Shivaji".
The actor's transformation has received appreciation from fans and critics alike.
Actor Ajay Devgn expresses his delight as well as he tweeted, "Dear @akshaykumar, looking forward to seeing you essay the role of Chhatrapati Shivaji Maharaj in the Marathi film – Vedat Marathe Veer Daudle Saat.
He is my favorite Maratha hero and I'm happy yet another film is being made saluting this great warrior." Akshay Kumar replied to the tweet, "Thank you Bhai (brother)".
About the Casting
The movie has an ensemble cast consisting of Akshay Kumar, Jay Dudhane, Utkarsha Shinde, Vishal Nikam, Virat Make, Hardik Joshi, Satya, Nawab Khan, and Praveen Tarde.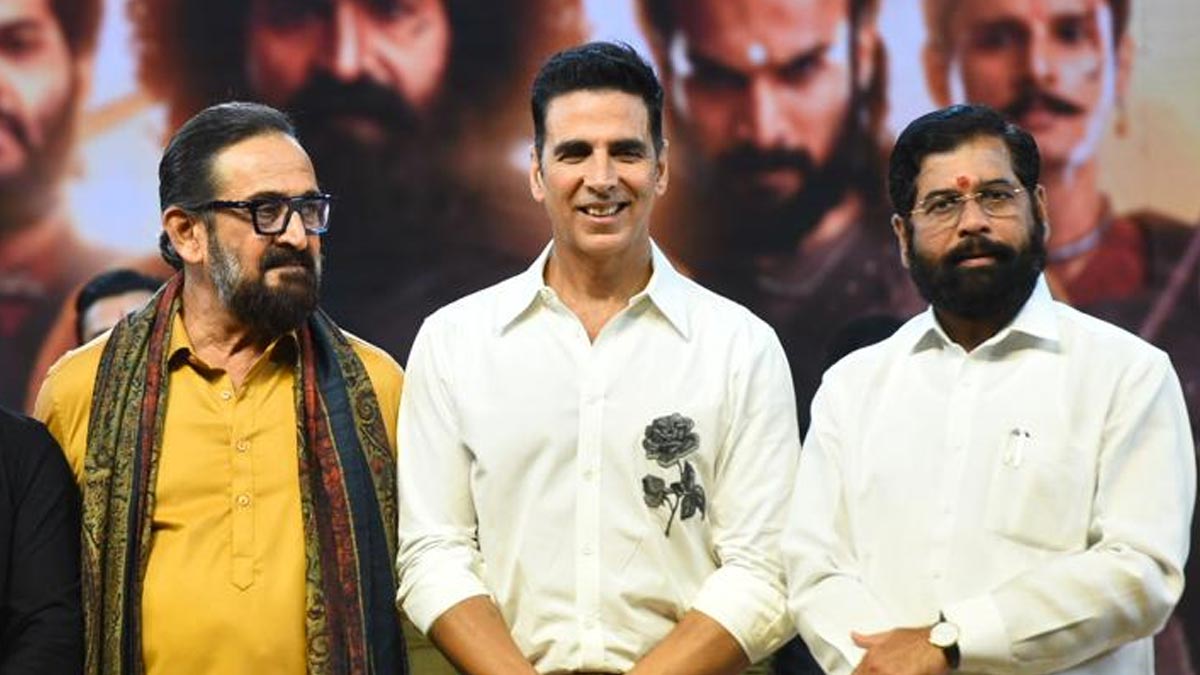 At a press conference, Akshay called it a "huge task" to be playing Shivaji Maharaj and expressed his gratitude towards Raj Thackrey for suggesting he take up the role.
"I am playing the role of Chhatrapati Shivaji Maharaj. I got the role because of Raj Thackeray, he told me, 'Akshay you should do this role. And I was taken aback.
It is a huge deal for me to play Chhatrapati Shivaji Maharaj. It is a huge task and I would like to say I will give my best."
The makers of the film have claimed, "the film is not just a story or a war cry; it is the success story of the Hindavi Swarajya and the story of a glorious and selfless sacrifice like no other.
The movie is about the story of Seven valiant warriors who had the sole aim of bringing Shivaji Maharaj's dream of Swarajya to reality, writing one of the most glorious pages of history."
The film is being produced under Qureshi Production and is set to hit the big screen on Diwali 2023 in Marathi, Hindi, Tamil, and Telugu. It will clash with Salman Khan's much anticipated Tiger 3 with Katrina Kaif.
---
Read more: BTS RM's New Solo Album "Indigo" is Anything but Simple
---