Fans have been tagging Twinkle Khanna in the new dance video with Akshay Kumar and Nora Fatehi. On the song "Kudiyee Ni Teri Vibe" from his upcoming movie "Selfiee," the two danced in sync. 
The Selfiee actor, who also appears in the movie Selfiee with Emraan Hashmi, Nushratt Bharuccha, and Diana Penty, has been quite busy promoting it. The actor shared a promotional video featuring Nora Fatehi on Instagram on Friday. His followers were taken aback by the scintillating chemistry between Nora and Akshay in the video, which left them speechless.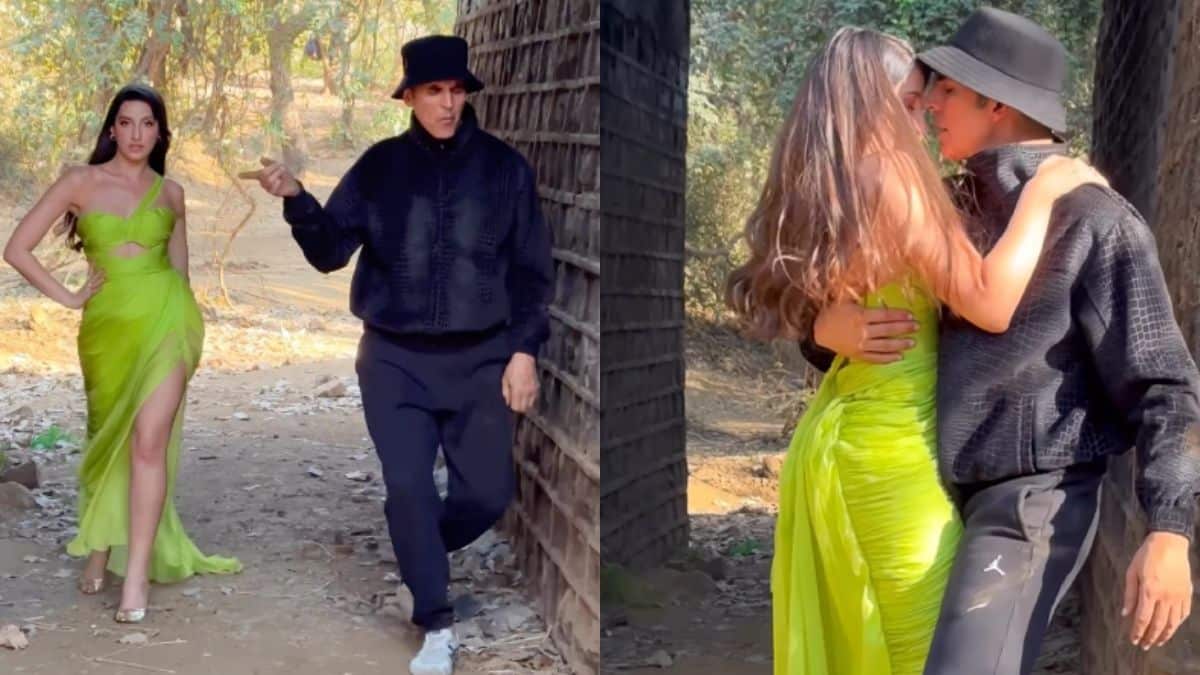 Highlights
In a new video, Akshay Kumar tries to win over Nora Fatehi.
Akshay and Nora can be seen dancing together in the video beneath the passageway of an ancient bridge. While Nora arrives in a neon green outfit in her glam avatar, In an all-black, baggy outfit with a bucket hat, Akshay picked up the gear. Akshay pretends to woo Nora when the two match there steps while dancing on the song. 
Akshay commented on the video by saying, "Here's how @norafatehi can turn any vibe into a raging fire." How do you feel about Kudiyee Ni Teri Vibe? A viewer responded to the video by writing, "Tag kro twinkle mem ko (someone tag Twinkle Mam)" in the comments section. Another person chimed in, "Nora Fatehi and Akshay Kumar's greatest duo." Additionally, someone added "@twinklerkhanna Twinkle Khanna, observe his vibe. Dekho mam Kudiye ne teri.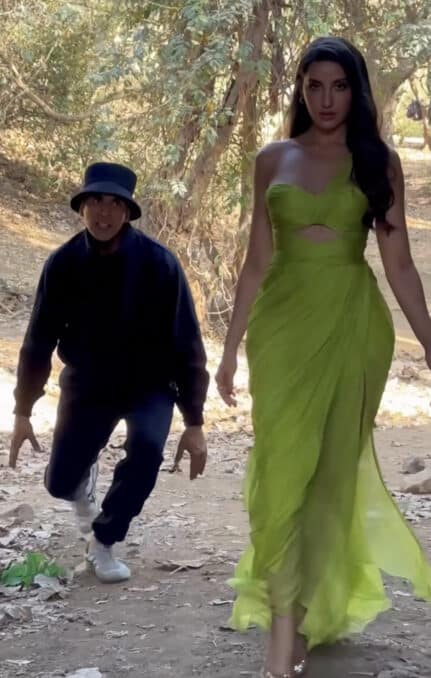 Tanishk Bagchi has prepared a new version of Kudiyee Ni Teri Vibe for Selfieee. The PropheC and Zahrah Khan are the singers of the original song. Tanishk also incorporated a few extra words into the tune.
Release of a new Akshay Kumar song
Akshay Kumar's next movie, Selfieee, has a new song out called Kudiyee Ni Teri, and it's got plenty of glitz and unbelievable action scenes. Akshay effortlessly pulls off everything, from flaunting his six-pack to dancing with Mrunal Thakur, shooting opponents, and even stopping a crashing helicopter with a touch of his hand. In many sequences, he grooves while sporting salt-and-pepper hair and a greying beard while wearing a red shrug and a jumpsuit.
Selfiee features Mrunal in a cameo role. Mrunal portrays his co-actor in the film, Akshay Kumar, who plays a movie star. The song begins with the two of them matching moves on the dance floor to the soothing Punjabi beats and dancing at a gas station next to a flashy sports car. Later, they beat up foes while still assuming their glamorous personas. As the song comes to a close, Akshay shoots down a helicopter and then stops it as it is about to crash into him with just a touch of his palm.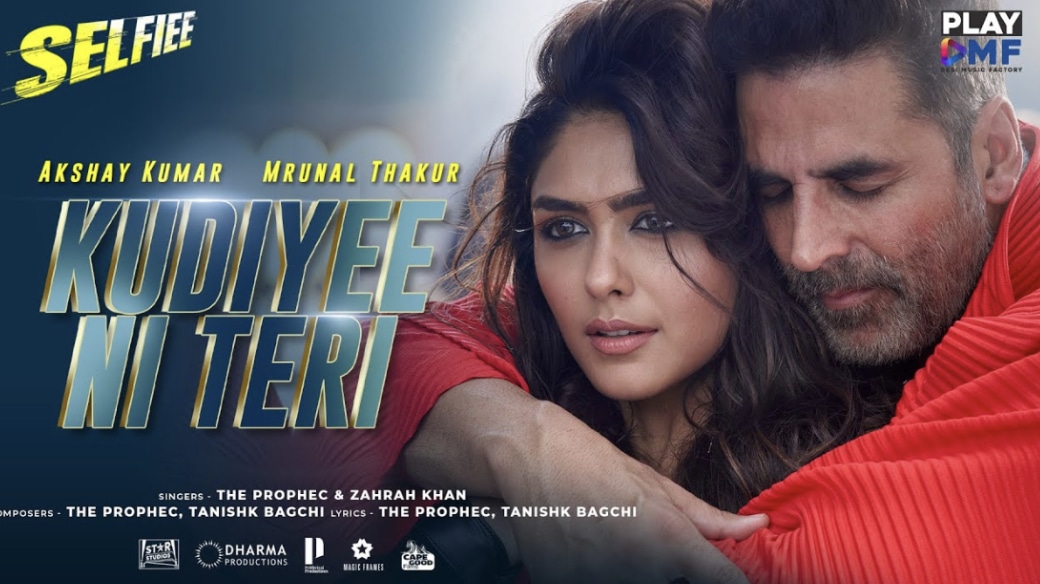 The PropheC and Zahrah Khan performed the song's original version, then Tanishk Bagchi remade it for Selfiee. Tanishk has also added a few more lines to the tune.
The song was a hit with YouTube users. "His flair is still unmatched," a fan wrote. "Akshay Sir's performance is like that of a superhero," another person remarked. "Akshay Kumar nailed it," another person commented.
According to the source, Mrunal discussed her appearance in "Selfiee" and said, "I loved filming for the song." Nothing like this has been done before, and the atmosphere on set was just as upbeat and exciting as the song. It was a unique experience to film for the song over a few days. "To witness how the audience responds to the song excites me."
Forthcoming movie starring Akshay Kumar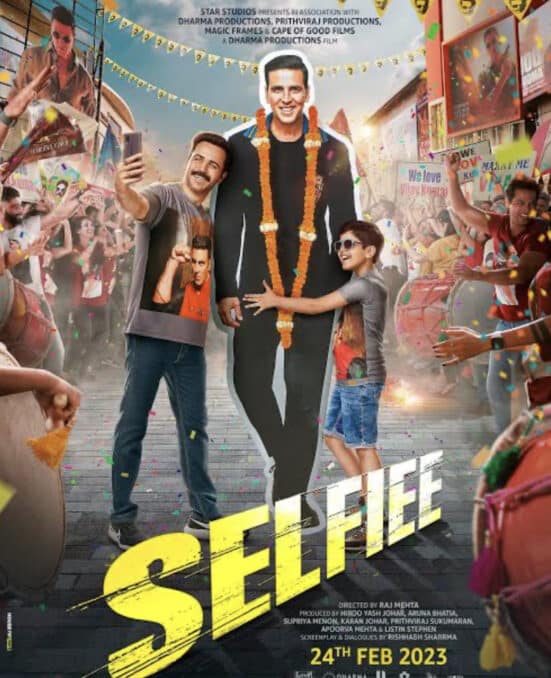 Driving License, a Malayalam film starring Prithviraj and Suraj Venjaramoodu, was translated into Hindi as "Selfieee." Akshay, Emraan Hashmi, Nushratt Bharuccha, and Diana Penty play the main characters in Selfiee. This was overseen by "Good News" famed director Raj Mehta. It will reportedly hit theatres on February 24.