Table of Contents
Hugh Jackman, the renowned actor known for his role as Wolverine in the 'X-Men' series, was recently spotted without his wedding ring. This occurred as he left his Tribeca residence, opting for a Citi Bike as his mode of transport. This event transpired just a day after the public announcement of his separation from Deborra-Lee Furness, his wife of 27 years.
The Ringless Outing
Photographs and video footage, exclusive to the occasion, captured the actor's casual attire. He sported a dark T-shirt, complemented by black jeans, sneakers, and stylish Aviator sunglasses. However, what drew immediate attention was the stark absence of his wedding ring on his left ring finger during this particular outing.
This surprising revelation unfolded following a joint statement issued by Jackman and Furness to People magazine. In this statement, the couple conveyed their mutual decision to separate, highlighting their nearly three decades of shared experiences and love. They emphasized that their current journey is one of personal growth, prompting them to take this step.
Behind the Scenes
Despite their separation, Jackman and Furness, both renowned figures in the entertainment industry, expressed their unwavering commitment to prioritizing their family. The couple shares two children, a son named Oscar, aged 23, and a daughter named Ava, aged 18. They made it clear that their family would always be their highest priority, showcasing their enduring bond as parents.
In their statement, the couple adopted an attitude of gratitude and love, and they appealed for privacy during this time of adjustment. They acknowledged the profound loss to their family, marking a turning point in their lives.
Insiders familiar with the couple's situation had already hinted at the separation, suggesting it was not a sudden development. According to a Broadway insider quoted by Page Six, the separation had been looming for some time. Friends and family were aware of the couple's struggles, hinting that this was a long-anticipated change in their lives.
The first signs of trouble in their marriage had surfaced earlier when Deborra-Lee Furness was noticeably absent from Hugh Jackman's rehearsals for the Broadway show 'The Music Man.' Additionally, there were reports that she had been seen dozing off during some of the rehearsals she did attend, further fueling speculation about their relationship.
Hugh Jackman and Deborra-Lee Furness, an iconic Australian couple, initially crossed paths on the set of the Australian TV show 'Correlli' in 1995. Their whirlwind romance led to marriage just a year later.
Their path to parenthood was marked by challenges, as they struggled with natural conception and turned to IVF before ultimately adopting their two beloved children.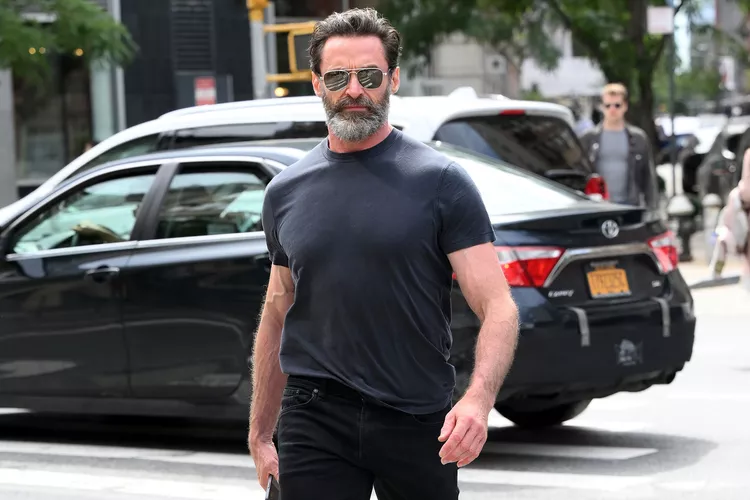 Jackman and Furness: A 27-Year Love Story
The couple's love story had been a source of inspiration for many, and Jackman often expressed his affection for Furness publicly. On their 27th wedding anniversary in April, Jackman took to Instagram to share a heartfelt tribute to his estranged wife.
He professed his love and appreciation, celebrating the beautiful family they had created together.
Their last public appearance as a couple occurred in May at the prestigious Met Gala in 2023, marking the end of an era in their lives and in the public eye.
Hugh Jackman's recent sighting without his wedding ring follows the announcement of his separation from Deborra-Lee Furness, culminating in a 27-year-long marriage. This separation, which had been anticipated by insiders, signifies a significant change in their lives.
Despite the challenges they faced, their enduring commitment to family remains unchanged, as evidenced by their joint statement. Their love story, which began on the set of 'Correlli,' ultimately led to the adoption of their two children, and their public appearances together continued until the Met Gala in 2023, closing a chapter in their lives.