DCGI has facilitated the inoculation drive of Covaxin and Corbevax but recommended restricted use for the younger population. 
On Tuesday, the Drug Controller General of India (DCGI) approved emergency use of authorization of  Covaxin for the age group of 6-12 years and Corbevax for the age group of 5 – 12 years. As the possibility of the 'fourth wave of Covid cases' concerns India, the move was to ensure the safety of the younger population in the country.  
The DCGI has asked vaccine manufacturers to submit safety reports, including the adverse events, with due analysis every 15 days for the first two months. After the initial investigation, vaccine manufacturers should submit monthly reports for the next five months. The approval of the counter medication for Covid comes after suggestions by the Subject Expert Committee (SEC) on Covid of the Central Drugs Standard Control (CDSCO).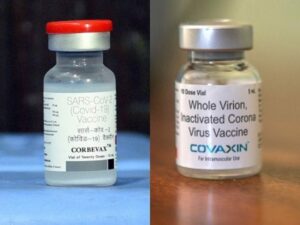 The Hyderabad-based pharma company Bharat Biotech has conducted phase II / III, open-label and multicenter studies to evaluate the safety of Covaxin in healthy children. The results of the clinical trial conducted between June 2021 and September 2021, showed robust safety, reactogenicity, and immunogenicity. As a result, DCGI granted Emergency Use Listing (EUL) to the age group of 12 to 18 years in December 2021. It's at present being provided to those in the 15-18 age bunch. 
The Corbevax was also granted emergency use of authorization between the age of 5 and 12. However, the SEC after a meeting, recommended restricted use of Corbevax. The vaccine is currently being tested for the age of 12 years for a two-dose regimen. The DCGI is still waiting for the Government of India to add both vaccines to CoWin to make it available to everyone.
---
Published by: Diwakar Kumar
Edited by: Aaradhana Singh