---
A scuffle took place between Indian and Chinese troops in the Tawang region of Arunachal Pradesh on 9 December 2022.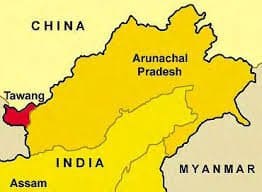 Indian Army:
According to the statement of Indian Army, People's Liberation Army (PLA) troops contacted the Line of Actual Control (LAC) in Tawang Sector which was contested by Indian troops in a firm and resolute manner. The stand-off has resulted in minor injuries to a few personnel from both sides. 
"Both sides immediately disengaged from the area. As a follow-up of the incident, our Commander in the area held a Flag Meeting with his counterpart to discuss the issue in accordance with structured mechanisms to restore peace and tranquility," Army's statement read.
---
Read More: Uniform Civil Code Bill Introduced In Rajya Sabha, Motion Passed
---
The sources have said that the face-off happened in Yangtzee region of eastern Tawang.
Both the sides have been patroling upto their claim lines since 2006.
A similar transgression had occurred in June 2016, when around 250 PLA troops had transgressed into the Tawang area. No injuries were reported then.
A major clash had happened along the Line of Actual Control in June, 2020 in Galwan vally of Ladakh. Since then, Indo-China relations have been deteriorating, however, disengagement in some areas has taken place.