The Extent of India's Agni -V
Agni-V is a three-stage intercontinental ballistic missile with nuclear weapons capability created by India's Defence Research and Development Organization (DRDO).
"The Agni-5 is specifically designed for road mobility," Avinash Chander, Director of ASL, noted. "With the canister successfully constructed, all future land-based strategic missiles in India will be canisterised as well."
Nearly all of Asia, including the farthest north of China, as well as some areas of Europe, are within the striking range of Agni-V. The range of this missile is the longest in the nation's arsenal's history. Additionally, it is the first missile to have been launched at its maximum operational range, which is more than 5,000 km.
The three-stage Agni-V solid rocket-powered missile system can carry a 1.5-ton nuclear payload.
The Agni-V programme aims to increase the nation's nuclear deterrence against China, which is reported to possess missiles with ranges between 12,000 and 15,000 kilometers like the Dongfeng-41.
Agni-V is expected to have multiple independently targetable reentry vehicles (MIRVs) in the future, with each missile capable of carrying 2-10 distinct nuclear warheads.
Each warhead can be assigned to a separate target separated by hundreds of kilometres, or two or more warheads can be assigned to the same target.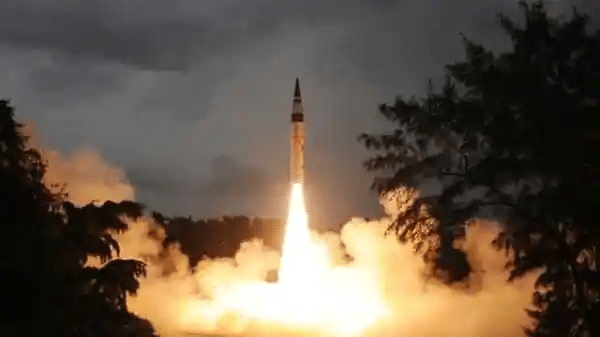 Future Development
People are now anticipating the K-5 submarine version of Agni-V, which is anticipated to be tested soon, as the launch of Agni-V represents a considerable improvement to the nation's strategic deterrence.
According to Bharat Karnad, who was engaged in the development of the nation's nuclear strategy, the MIRV capability of Agni-V has been tested discreetly.
The Agni-V is principally guided to its target by a ring laser gyroscope-based inertial navigation system (RLG-INS). However, Agni-V has a backup guidance system called the micro inertial navigation system (MINGS). These can communicate with both Indian and non-Indian satellite navigation systems.
Agni-V was successfully launched from Abdul Kalam Island, Odisha, as part of a user experiment on October 27, 2021 and December 15, 2022.
According to the Ministry of Defence (MoD), the test was in keeping with India's credible minimum deterrent doctrine with the pledge to 'No First Use'.
The success of the launch was met with considerable applause and media coverage across the country. Indian Prime Minister Narendra Modi and Defence Minister Rajnath Singh both commended the DRDO on its achievement.