After becoming the new proprietor of Twitter on October 28, Elon Musk on November 9 tweeted, "I just killed it ", and just a few hours after that, it was reported that Twitter has released the new blue tick. It was supposed to be about power to the people and having the tweets prioritized or that's how Elon Musk ended it when he opened up the blue tick or checkmark to anyone who's happy to pay for it.
However, what happened was chaos and Twitter has been swamped with all kinds of apparently 'verified' blue tick accounts that are yet fake.
The new blue tick has made it much harder to know whether a Twitter account is real or not. The old one showed whether the account was a high-profile person or a brand was vindicated and they were who they said was.
Though they still exist, Elon Musk has said that the blue ticks will vanish unless the possessors start paying for them. In the early hours of November 13, Musk replied to a question on the return of Twitter Blue asked by a Twitter user, Paul Jamil Musk, and said, " Probably end of next week ".Twitter on Friday, also paused its blue tick subscription following the emergence of fake accounts with the verification tick.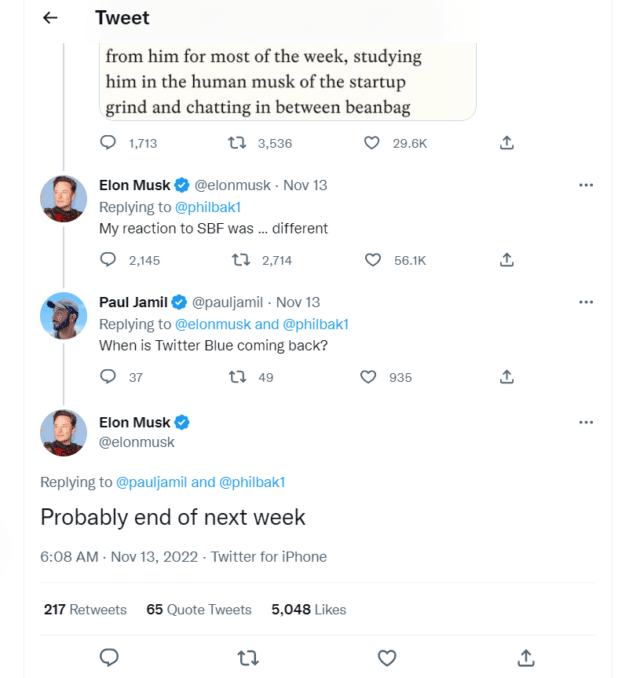 Earlier, Twitter distributed the blue tick mark only to public figures, including politicians and journalists. Twitter, on November 9, rolled out Twitter Blue to users in the US, UK, and a few other countries.
In the US, the service, which allowed users to have a verified badge for free, cost$7.99. In India, it was likely to cost Rs. 719. Many Twitter users from India have also started showing a distinct enthusiasm to subscribe to Twitter Blue. At this point in time, all we can do is to save ourselves from the fake news and just not believe in the news because of the face value which at the end of the day might not be true.
---
Read More: Gigi Hadid quits Twitter after Elon Musk's takeover says "it's becoming more of a cesspool of hate"
---