Delhi is hosting the Raisina House Dialogue ahead of which foreign ministers are visiting the city.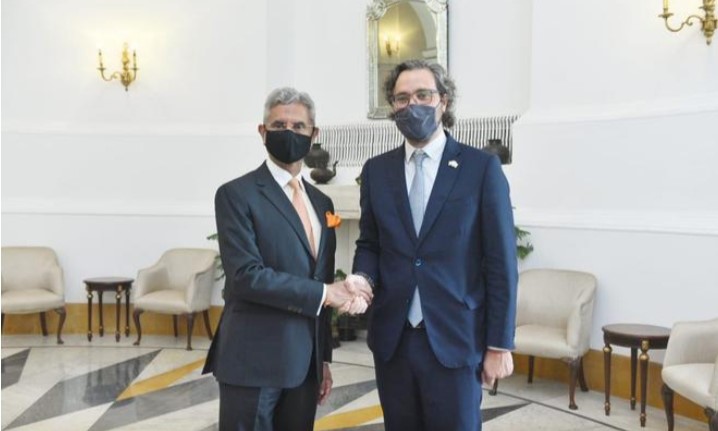 Dr S Jaishankar, India's External Affairs Minister, met Santiago Cafiero, Argentina's Foreign Affairs Minister, in Delhi on Sunday. The meeting comes ahead of the Raisina House Dialogue which is due from 25-26 April. Geoffrey Onyeama, Foreign Minister of Nigeria, also arrived in Delhi on Sunday.
The official spokesman Arindam Bagchi tweeted "Pleased to welcome FM @GeoffreyOnyeama of Nigeria as he arrives in New Delhi on an official visit. He will also be attending the @raisinadialogue starting tomorrow"
Zbigniew Rau, the Polish Foreign Minister, will also be visiting Delhi from 25 to 27 of April. The minister is scheduled to meet Prime Minister Narendra Modi. It is for the first time in nine years that a Polish foreign minister is visiting India.
On 25 April prime minister Modi will be inaugurating the Raisina dialogue. This will be the 7th editions of the dialogue. The theme of the 2022 dialogue is "Terranova- Impassioned, Impatient, Imperiled". The six thematic pillars are End of multilateralism: a networked global order, Rethinking Democracy: trade, technology and ideology, Communities Inc: first responders to health, development, and planet, Water Caucuses: turbulent tides in the Indo-Pacific, Samson vs Goliath: the persistent and relentless technology wars and lastly Achieving Green Transitions: common imperative, diverging realities.
The Raisina Dialogue is an Indian conference on geoeconomics and geopolitics. It was started in 2016. The Ministry of External Affairs and Observer Research Foundation (ORF) jointly organize this conference every year.
Mr. Jaishankar called the talks with the Argentine minister productive and said " We Discussed expanding our bilateral trade and cooperating in agriculture, pharmaceuticals, electronics, e-mobility, defense & atomic energy. Will work closely in G20 and multilateral forums".
In addition, the ministry also held talks with Teddy Locsin Jr, the Philippines' foreign minister. The meeting discussed the bilateral ties of both countries since February.
India is expecting foreign ministers of Guyana, Nigeria, Armenia, Guyana, Netherlands, Luxembourg, Argentina, Lithuania, Madagascar and Poland for the conference.
---
Published by – Mohit Maurya
Edited by – Architha Menon M