The retired High court Chief Justice of Karnataka Rituraj Awasthi has been appointed as the chairperson of the 22nd law Commission of India. The Law Commission was constituted after 4 years after his appointment.

The central government is aiming to revive the Indian Law Commission by appointing a new chairman and five-panel members. The law panel had been lying vacant after the retirement of former Supreme court judge Justice B.S. Chauhan and it has not been reconstituted after that.


The Law Commission of India was set up to advise and research legislative matters and reforms to the government of India. It is a body that consists of legal experts and is always headed by a retired judge. The commission serves as an advisory body to the Ministry of Law and Justice. Hence, the law commission plays a key role in advising and directing government policies.
This law panel will take up the issue of the Uniform Civil Code as decided before as the main goal for setting the point of deliberation.

Eminent law persons like Professor Anand Paliwal, Professor D.P. Verma, and Professor Ranka. M. Karunanithi and former Kerala High court Chief Justice KT Sankaran have been appointed as members of the law commission.


About Justice Rituraj Awasthi

Justice Rituraj Awasthi was the chief justice of the High court of Karnataka, he was also the justice of the Allahabad High Court. He was the head of the high court bench which upheld the ban on wearing hijab by Muslim girls in the government colleges of Karnataka.
He graduated in 1986 from Lucknow University in law. He has practiced in civil, service, and educational matters at the Lucknow bench of Allahabad High court and has also held the post of Assistant Solicitor General of India.

The law commission is neither statutory nor a constitutional body but an executive body of India which was established by an order of the government of India.
The law commission also undertakes study and research of the existing laws and for making reforms and enacting new legislations accordingly. The law commission also deliberates the process for bringing reforms in the justice delivery systems for elimination of delay in direct procedures, to reduce the cost of litigation, and speedy disposal of cases.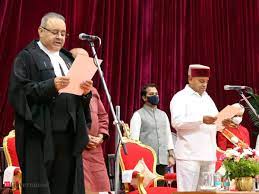 The law commission is the torchbearer of law and social justice in India, there is a famous quote that goes like 'Justice delayed is justice denied ', which fits into the Indian scenario as with a huge population in the country the crimes against women and child and others are on a heavy toll, these leave a heavy impact on the Indian economy from road accidents to social injustice all impact the population.

The innovative ideas and the studies conducted by this body aids in improving and formulating reviews and necessary changes to the laws of India. Many ideas and changes ignite the young minds and mold the stagnant thinking of the lawmakers bringing a change in society.