Table of Contents
Rani Mukerji's film Mrs. Chatterjee Vs Norway premiered on Wednesday night. Vicky Kaushal and Katrina Kaif posted critiques of the movie on their Instagram accounts.
We have all been eagerly waiting for Mrs Chatterjee Vs Norway to release. The movie casts the talented Rani Mukerji as Mrs. Chatterjee, the lead cast. A grand premiere ceremony was held on Wednesday, 15th of March at the Yash Raj Studio in Mumbai. The premiere of the Ashima Chibber-directed movie was attended by some of the most prominent figures in Hindi film.
Katrina Kaif and Vicky Kuashal's Comment
On Wednesday night, the renowned star duo of Bollywood, Katrina Kaif and Vicky Kaushal, watched the ambitious film directed by Rani Mukerji at the Yash Raj Studios. On their official Instagram profiles, the well-known actor and actress who admired Mrs. Chatterjee Vs Norway later praised the film. Vicky and Katrina both praised Rani, the film's main actress, for her exceptional performance in Instagram posts.
Katrina Kaif posted a story expressing how the story was amazing and captivating. It takes you on an emotional rollercoaster. She also praised Rani Mukerji by saying that no words can express her genius and she felt the movie was absolute "Spellbound". She concluded by thanking the entire crew.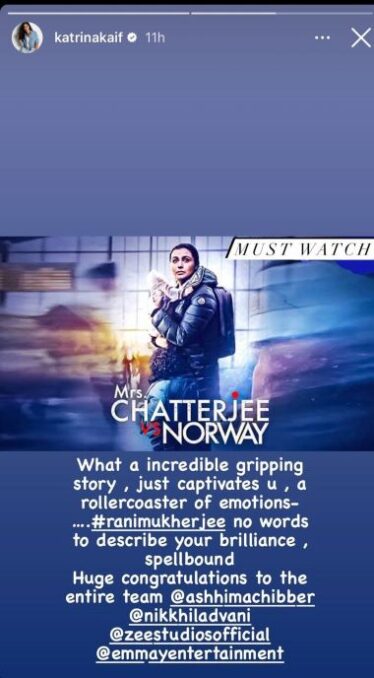 Vicky Kaushal, on the other hand, posted a message on his official account expressing how it makes him feel bad for the families who have gone through this ordeal! brilliantly performed and told. He also praised Rani Mukerji for exposing her soul.
See Post Below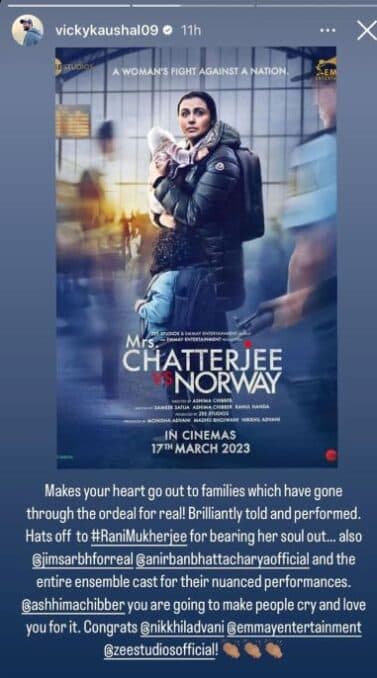 About Mrs. Chatterjee Vs Norway Movie
In the survival drama, a mother confronts the Norwegian authorities to get her kids back. It is the true story of a Bengali woman named Sagarika Bhattacharya. Meanwhile, Neena Gupta, Jim Sarbh, and Anirban Bhattacharya all have significant roles in the Ashima Chibber-directed film. The movie is set to be in the theatres on 17th March.
The Real Mrs. Chatterjee's Reaction
The real Mrs. Chatterjee recently watched the movie and couldn't contain her tears after seeing her journey.
The Zee Studios official Instagram account posted the video. The actual Mrs. Chatterjee can be seen in the video crying while viewing the movie. She once more lived her agonizing motherhood adventure. Her admiration for Rani's faultless performance was great. She even congratulated the actress for flawlessly capturing her role. "When the real Mrs. Chatterjee watched her narrative on television, she couldn't help but get emotional," the creators of the movie stated alongside the video.
Link – https://www.instagram.com/reel/CpxWHlHNB8p/?utm_source=ig_web_copy_link
Rani Mukerji's Husband Aditya Chopra's Reaction
Rani had previously disclosed that her husband, Aditya Chopra, the head of YRF, had seen the movie as well and had been moved by her performance. In a recent conversation with Karan Johar, Rani remarked, "He was extremely moved, and I don't believe I've ever seen him cry so much during a movie. When Yash's uncle passed away, he last experienced such emotion. Today, he became a parent, and it hit him. He hugged me on the side like I was his child and was kind. I thanked him after hearing him say nicely done. Adi praises me behind my back, so it was just a little time. I believe he was captivated by the movie and was unable to control himself."
Do follow – Rani Mukerji's 'Maa' saree from Masaba is an ode to her role as Mrs Chatterjee; Here's how much it costs