Delhi Chief Minister Arvind Kejriwal has raised concerns regarding the decision by the educational technology platform Unacademy to dismiss one of its instructors. The instructor, Karan Sangwan, was terminated after he encouraged his students to vote for "educated candidates" in elections, without explicitly mentioning any names.
The popular educational technology platform faced significant backlash for its decision to dismiss an instructor. This instructor had gained attention for encouraging students to support "educated leaders" in a video that quickly went viral. The incident sparked a heated debate, with many individuals, including politicians from the Opposition, criticizing Unacademy for seemingly curbing freedom of expression.
Karan Sangwan, was let go by Unacademy after a video emerged in which he advised students to cast their votes in favor of candidates who possess education and knowledge. He indirectly suggested that voters should avoid those who only focus on superficial changes, implying criticism towards the government's actions. He said, "vote for the educated and not those who only focus on changing names". This video triggered swift condemnation from numerous quarters, as it was perceived by some as an implicit attack on the ruling authorities.
While some voices vehemently opposed Sangwan's message, believing it to be politically biased, others rallied in support of him. These individuals argued that the freedom of speech should extend to educators as well, enabling them to voice their opinions, particularly when it concerns the betterment of society and the political landscape.
Chief Minister Kejriwal expressed his perspective on this matter through a social media post, suggesting that encouraging educated people to vote should not be considered a crime. He emphasized the necessity of having educated representatives in the modern era of science and technology, asserting that illiterate public officials cannot contribute to building a modern India in the 21st century.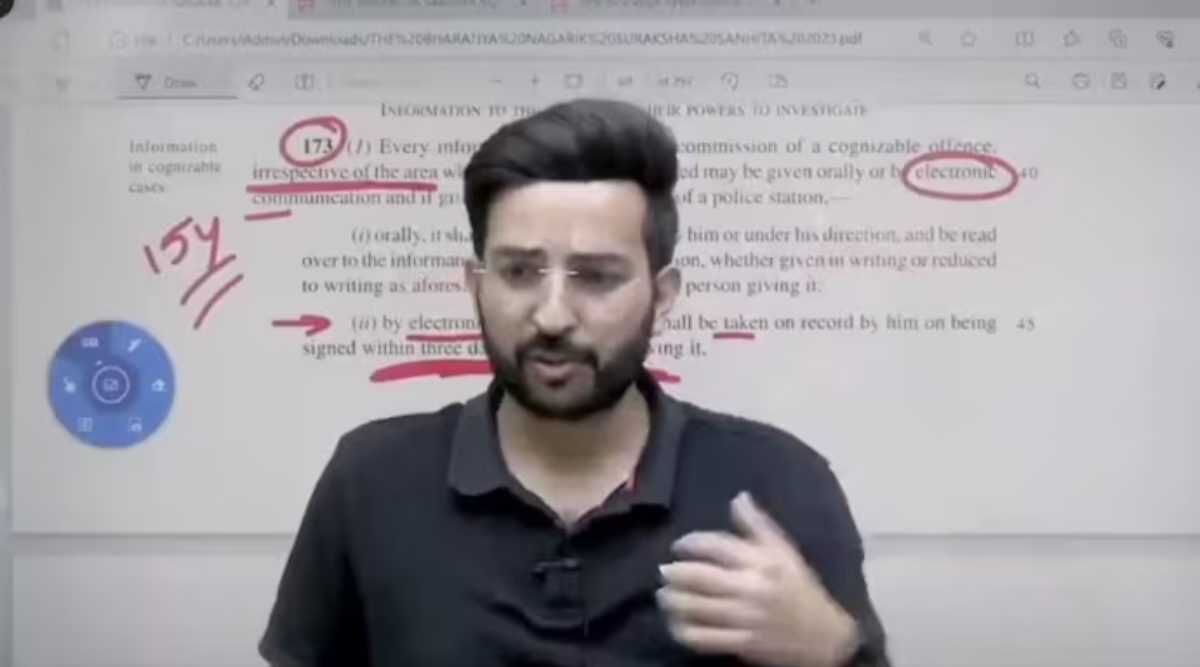 Karan Sangwan, the dismissed instructor, announced that he would provide more details about the situation through his YouTube channel. He acknowledged that the controversy surrounding his termination has had negative consequences for his students preparing for judicial services examinations.
Unacademy's co-founder, Roman Saini, cited a breach of contract as the reason for Sangwan's dismissal. Saini stated that the terms of the contract require instructors to remain impartial in the classroom and refrain from sharing personal opinions. He explained that Unacademy's primary goal is to provide learners with unbiased knowledge, and allowing instructors to share personal opinions could wrongly influence students. As a result, the company felt compelled to terminate Sangwan's employment.
The decision to dismiss Karan Sangwan triggered backlash from both academics and the general public. The hashtag "#UninstallUnacademy" started trending on social media platform X, indicating widespread dissatisfaction with Unacademy's handling of the situation.
Many leaders criticize Unacademy
Congress spokesperson Supriya Shrinate called upon the founders of Unacademy to clarify their actions and attached a selfie of Unacademy founder Gaurav Munjal with Prime Minister Narendra Modi.
Shrinate expressed disappointment at individuals who yield to pressure and intimidation, suggesting that such people are incapable of fostering citizens who have the courage to confront challenges and stand up against adversity. She expressed sadness to witness individuals lacking backbone and strength overseeing an educational platform.
Rajya Sabha MP of Shiv Sena (UBT), Priyanka Chaturvedi, questioned how advocating for voting for educated politicians could be seen as displaying bias. She raised the point that this opinion could actually have a positive impact on young minds. Chaturvedi criticized Unacademy for taking punitive action against Karan Sangwan, the professor, for expressing his viewpoint on educated leaders. She likened this situation to instances of severe online trolling and compared the consequences to what Sangwan faced.
Senior Supreme Court advocate Sanjay Hegde likened this incident to the previous controversy surrounding Ashoka University. He emphasized that if educators are not allowed the freedom to teach and learn openly, the platform, whether it's Unacademy or Ashoka University, ceases to be a marketplace of ideas and instead becomes a vehicle sanctioned by the government that merely traffics in knowledge.
Deepender Singh Hooda, a Rajya Sabha MP from the Congress party, expressed dismay at the fact that individuals are subjected to harassment for merely raising questions. He lamented the unfortunate state of affairs where teachers in the country face humiliation for expressing their opinions.
Y Satish Reddy, a prominent figure in Telangana's ruling party, Bharat Rashtra Samithi, criticized Unacademy's decision as "inappropriate." He conveyed that it was not fitting to suspend a teacher for advocating against voting for illiterate candidates. Reddy demanded that Unacademy provide a thorough explanation for their actions.