We learn a lot from movies as society influences to create a movie and in turn movie influences the crowd.  
Movies. Movies get influenced by real-life actions and moments and picture them in movies. There are movie stories that are based on real-life incidents like Surya's Jai Bhim, Aamir Khan's Dangal, Constance Wu's Hustlers, and many more like these.  
Where society influences the movies that are made, it works another way around as well. Some movies are so strong enough that leave the audience influenced by some habit or behavior or sometimes even to the extent to change practice from any particular culture.  
Movies hold a very important power to form individual perspectives, shape their thought, and formulate their behavior, on a larger thought influencing the society. The industry is growing at a greater pace and so is the way audiences perceive the story and get influenced. 
In modern days, movies are one of the most impactful and influential sectors. They make us laugh, cry, happy, sad, and love.  Every movie business is like a mirror. It reflects what is going on in society and turn, transforms opinions in society.  
The movies can influence us as they leave us thinking. They kindle our humanity, make us compassionate and inspire us to do good to people. Along with this, they remind us what and why love is important. It holds the capacity to make our lives worthy – they make us feel alive.  
The plots of the movies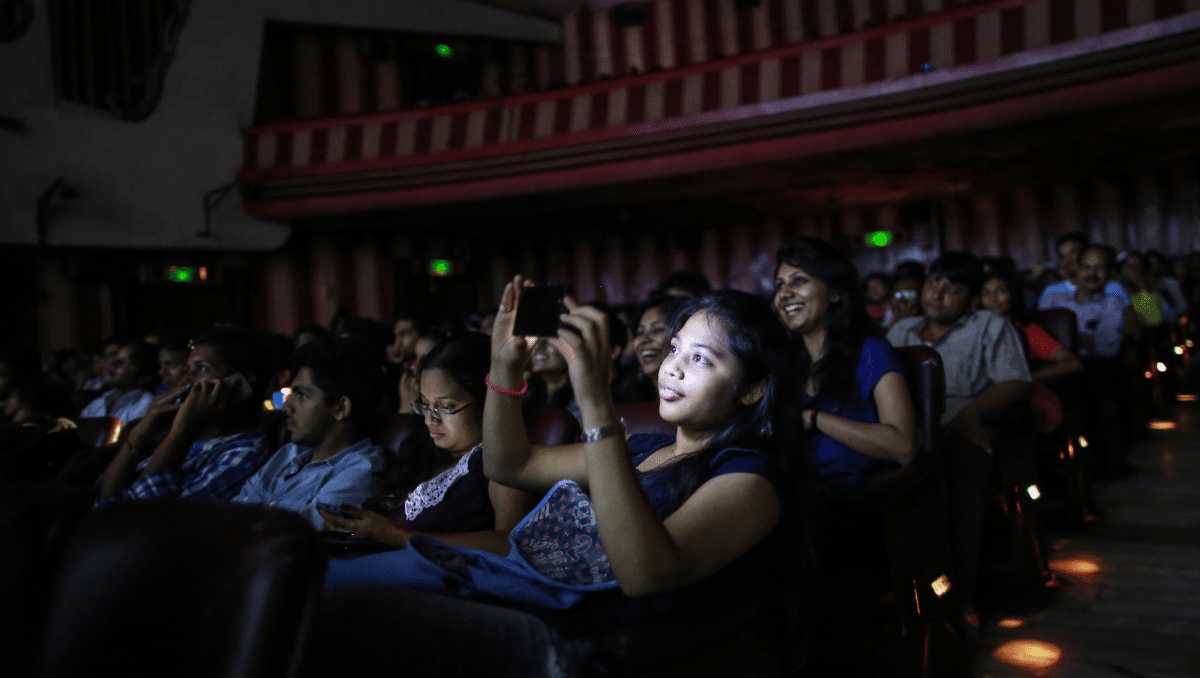 Pursuit of Happiness (2006), the movie influences people that with every hardship comes something happy. The single father, lead of the movie, Will Smith, and his son in the film lived in shelters and endure many hardships. But the hero stands by his character's principles and overcame every struggle life threw at them. 

 
3 idiots (2009), a movie where the hero, Aamir Khan is selfless despite the abundant knowledge of everything everywhere with the only purpose to spread happiness in the society, 

 

Angadi Theru (2010), is yet another movie that has many twists and turns and reflects every pain and suffering of every working individual. Fate perpetually smiles very cruelly, but when a bunch of colleagues join together and make work-life better is what the story talks about.  

 
and many such movies are great examples of how movies influence individuals to work towards making the world a better place to live in. 
Not only on making the world a better place influence, but they also help create awareness of different aspects of life. School-related films like  
Mudhal Nee Mudivum Nee (2022), is a beautiful nostalgic movie that talks about the first love everybody has in their school love. The spring of love flowers in the hearts of young teenagers and the impulsive behavior that is carried on when they stay to grow mature. The movie is a bumpy ride of nostalgia and teaches us the mistakes we all did in our first relationship, especially those that started at a very young age during our school days.  

 
Taare Zameen Par (2007), is very beautifully pictured. It shows the pain every little one goes through in boarding school. The pain to be separated from family and friends, very importantly from Mother. But life at the boarding can turn out to be very special with pretty people around. How just one teacher at the boarding has changed the life of a young child is very subtly shown. 

 

Theory of everything (2014), is again a movie that shows and influences us on the power that love holds. As the lead Eddie Redmayne falls in love with Felicity Jones at school. But the hero is diagnosed with motor neuron disease at 21. The love they had for each other inspired them to make wonders in the field of medicine and Science.   

 
and many such movies in every language have underlined the importance of education, school life, and life after it.  
War-based movies help us understand the atrocities people go through when they are left homeless. They awaken a sense of empathy in people. Along with it, such movies teach us our history, the human civilization, and how every colony was formed while giving us tips on ruling and taking everyone together.  Examples of which are  
Shershah (2021), the journey of a soldier who sacrifices his life, his family, and most importantly his love for the country is very flawlessly presented. Though the movie is based on real-life incidents it shows us the life of soldiers in the war zones as well as their families who go through a very major loss. 

 
Baahubali 2: The Conclusion (2017), a fictional movie where a king is patronized. How selfless a king should be towards his subject and how the word of his mother can never be disobeyed is very neatly pictured. A Good King is described as 'good' only after looking at his subjects. And the movie shows how subjects make the Prince a King and want him to rule them.  

 

Tora Tora Tora (1970) is yet again a real-life based movie that talks about the Pearl Harbor attack in the tragic American History. The movie inspires us to be on the same track as our enemies and could expect any kind of attack from any side. It is very inspirational as it portrays the real sufferings of the people in that period, 

 
Every movie is unique in that it is screen played, directed, and produced. Each movie has its purpose, some inspire us with reality while some with the message it gives. But it is intriguing to know the power it holds on society's minds and how influential it gets in every aspect of our lives. 
Published By: Sachin Sonawane