Overview
Deep space is a mysterious realm. It has its share of uncanny, peculiar light secrets that humans have been trying to decipher since time immemorial.
These secrets shape our understanding of the universe, in general, and our planet Earth, in particular.
A holistic comprehension begins with deft studies in the fields of astrophysics, astronomy, and the like.
It assists in understanding many erstwhile natural phenomena that we've deemed to be supernatural or miraculous just because of our limited knowledge and obliviousness.
Blackholes are one such phenomenon that scientists have been trying to comprehend since the last century.
There are presently many theories, postulates, and working proofs, but the relative obscurity of uncharted waters comes with it.
So you can fathom the surprise when in an astounding and mind-boggling study published by researchers at Stanford in Nature, it has been revealed that light has been detected at the end of a black hole.
But what is a black hole? And why does this discovery assume significance?
What's A Black Hole?
A black hole is a region in spacetime where the force of gravity is so strong that it had been theorized that no particle — not even light itself — could escape from it. When we say spacetime, it refers to four possible dimensions — three dimensions (X, Y & Z axis) of space and one of time.
In quantum physics, space and time have been found to have an inherent impact on each other.
This also leads to one more hypothesis — if we can travel through space, can we travel through time?
 Traveling through time has only been possible in a unidirectional way. Still, some quantum physicists, including the renowned Nobel-prize-winning Albert Einstein, have surmised that it may be possible if the object is traveling at a speed equivalent to the speed of light.
But a thing at this speed may immediately disintegrate, making it a futile attempt.
Now, you may be wondering how the discussions of spacetime are pertinent to black holes. So, let's explore how black holes originate.
The Genesis of A Black Hole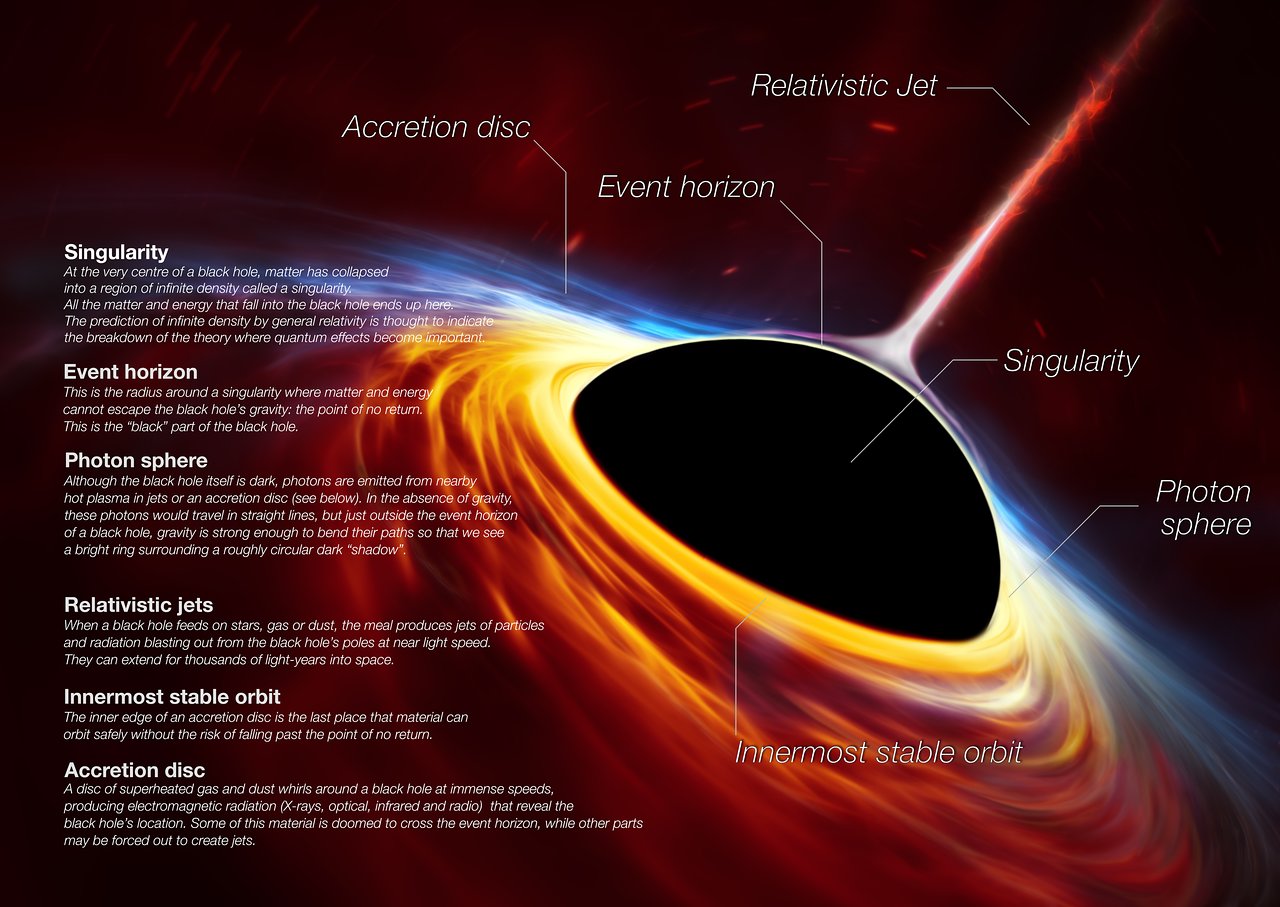 Before learning about its origin, it is imperative to understand the role of a star. A star is a celestial body comprising hydrogen atoms that have collapsed under the influence of gravity.
In the core of these atoms, a process of nuclear fusion takes place, which produces helium and releases a tremendous amount of energy (there's a theory that if this energy can be harnessed, it could sustain the Earth's energy requirements for a millennium). This energy is balanced by gravity. 
If fusion happens at the average rate, the star remains stable. But there are certain stars with heavier mass than Sun, wherein the heat and pressure at the core allow them to fuse heavier elements until they end up in the iron. This doesn't produce any additional energy.
Beyond a threshold value (known as the critical value, in scientific parlance), the mass of iron at the core will disrupt the equilibrium established between fusion energy and gravity. 
This disbalance results in an implosion and subsequent accumulation of heavier elements at the core. The star then dies in a phenomenon known as a supernova explosion.
 You might often have wondered how the elements came to naturally exist before we started deriving them using synthetic methods.
Well, then, you've just stumbled upon the answer — the supernova explosion! All the heavier elements like iron, lead, etc., having higher atomic numbers, are created via this process. Enthralling, so far, right?
The star's death results in either of the two outcomes — producing a neutron star or a black hole. 
What Happens In A Black Hole?
Black holes typically give the impression of a void or nothingness, wielding an enormous amount of force and energy.
Anything trapped within a black hole needs to cross the boundary known as the event horizon, with a velocity more significant than that of light in a vacuum. In other words, nothing can emerge out of a black hole, and not even light can graze it. 
The center of a black hole is known as singularity. It supposedly has infinite density and almost no surface area. This is just a conjecture, without any substantial proof to back it. 
Anybody that enters a black hole would witness warping of spacetime curvature due to this singularity concentrated on the center.
It is theorized that time would appear to be passing very slowly inside the black hole instead of outside it. 
Christopher Nolan's film Interstellar showcased this enigma when Cooper successfully crosses the Gargantua, a black hole, and when he emerges, his daughter is about the same age as him.
Though, in theory, it is impossible to survive a black hole given that gravity is infinitely large, it would inevitably lead to death due to an order of billions of Newtons of force.
Present Developments
A bizarre thing happened in the recent research — light seemed to course from a black hole.
Even though this seemed to be under one of Einstein's predictions he'd given years ago in his particular theory of relativity, it has baffled many scientists, as this directly challenges some basic foundations of quantum physics.
Read Also: Electric Vehicle The Near Future of India
Researchers were observing a supermassive black hole about 800 million years away in a different galaxy when astrophysicist Dan Wilkins noticed an intriguing pattern. A series of bright flares of different colors of X-rays were successively detected. 
To analyze this, they'd use a series of sophisticated instruments, including spectrometers and advanced telescopes, as it is not discernible with the naked eye. 
The working hypothesis for this is that gaseous molecules might have seeped down into the center of the black hole and gotten heated up to several billion degrees of Kelvin (SI unit of heat).
This temperature segregates the electrons from atoms, creating magnetized plasma. This plasma, amid the force of the black hole, curves up and eventually "snaps" and heats everything around it, thus resulting in high kinetic energy for the electrons, which go on to produce X-rays, which were then seen.
Future
European Space Agency's Athena laboratory is tasked with spearheading future research in this domain.
They'll analyze the coronas, a distinctive morphological feature of black created when masses collapse into its core, releasing energy.
Additionally, NASA funding and expertise will also go into this for further development. 
Whatever the future might be, it is clear that this discovery has indeed created a buzz among the scientific community and has redefined the way we tend to view the cosmos with its aesthetics and recherché conundrums.