Ganesh Chaturthi 2022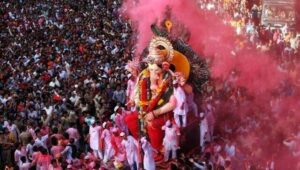 Source: Firstpost. 
Ganesh Chaturthi started and Sound of Sukh Karta Dukh Harta must be ringing in your ears. When DJ starts to play these Ganesha songs and Ganesh Aarti our heart sings along. The vibe of Ganesh Chaturthi in India is magical. There is a Pandal at every other street all over India. 
We By heart know the playlist and lyrics too, Bappa Morya, He Vidhna harta, Ya re ya and Maza Bappa kiti God disto. And the Bollywood songs made on Bappa and Visar Jan has separate fan base. Ganesha scene in any Bollywood movie is a worth a whistle.
With colors, Gulal, Flowers and Music huge idol of Ganesha appear and the hero start singing the song looking at Bappa surely gives goosebumps.
Maze Bappa Aale! Welcoming Bappa with dhol, nagada and dj.  
This prominent Hindu festival is celebrated with great pomp and show across the country, but is celebrated with great joy in state of Maharashtra and over all India. Bollywood has created upbeat and Grooving songs for the occasion of Ganesh Chaturthi and has often immersed itself in the vibrant colors of Lord Ganesha's power and greatness. 
Here's list for you, all time loved and most fav Ganesha scenes and songs from blockbuster Bollywood movies. 
1. Deva Shree Ganesha (Agneepath)
Super energetic song sung by Ajay Gogawale and composed by Ajay Atul was featured in a 2012 movie Agneepath. Which was started by Hritik Roshan and Priyanka Chopra. This song has made its space in playlist of Ganesh Chaturthi since release. 
Beautifully written by Amitabh Bhattacharya made it so intense to hear the line goes like  
"Apni takdeer ka wo khud Sikandar hua re 
Bhool ke ye jahaan re jis kisi ne yahaan re 
Saath paaya tera Jay Deva Shree ganesha" 
2.Mourya Re (Don 2) 
Who doesn't know this song? The Set Backdrop of festival. Looks like Singer Shankar Mahadevan put all of the energy into the song while making it. With upbeat lyrics and groovy dance steps, Mourya Re is a primary choice of Visarjan playlist. The song was featured in Shah Rukh Khan starrer Don 2. 
3. Shendur Laal Chadhayo  (Vastav)

 
Yes, The Vastav aarti. The song that is ruling Ganesh Chaturthi playlist from the past two decades. A classic when it comes to Ganesha songs and a movie too. It is importance of the Ganesh in the lives of his devotees. With Ravinder Sathe sung with Marathi lyrics, the song featuring Dutt and Namrata Shirodkar. It was composed by Jatin-Lalit.  
4. Shambhu Satya (ABCD)
Morya re Morya! Ganpati Bappa Morya 
With the vocals of Shankar Mahadevan and Vishal Dadlani. The Dance battle song between two street groups in Prabhu Deva Starrer Remo D'Souza directed ABCD (Any Body Can Dance). The movie has 3 parts and each of them has beautiful Ganesha songs. Ga Ga Ganpati and Hey Ganaraya are also from this movie series ABCD. 
5.Gajanana (Bajirao Masatani)
The song from the Peshwa-inspired Ranveer Singh starrer movie includes classical Maratha music. Suitable in a mood of sthapna and visarjan during Ganesh Chaturthi. Gajanana is new aged classic giving Maharashtrian culture vibes.  
Talking about Bollywood scenes and song here a beautiful scene we all remember from Suryavanshi. With the Ganesh Idol lifting my Maulvis and Hum Hindustani playing in background. Won millions of hearts. We are one, Let's celebrate festival with love, happiness and Ganpati Bappa's blessings. Enjoy the festival and worship Ganapati Bappa with all your heart.
Tune in to these super hit songs and playlist below to feel the vibes of Ganesh Chaturthi. Ganpati Bappa Morya.