During his historic visit to the Pacific region, French President Emmanuel Macron condemned what he referred to as "new imperialism" in the area, expressing concern over the threat it poses to the sovereignty of smaller states.
While in Vanuatu, he stated, "There is in the Indo-Pacific and particularly in Oceania a new imperialism appearing, and a power logic that is threatening the sovereignty of several states—the smallest, often the most fragile."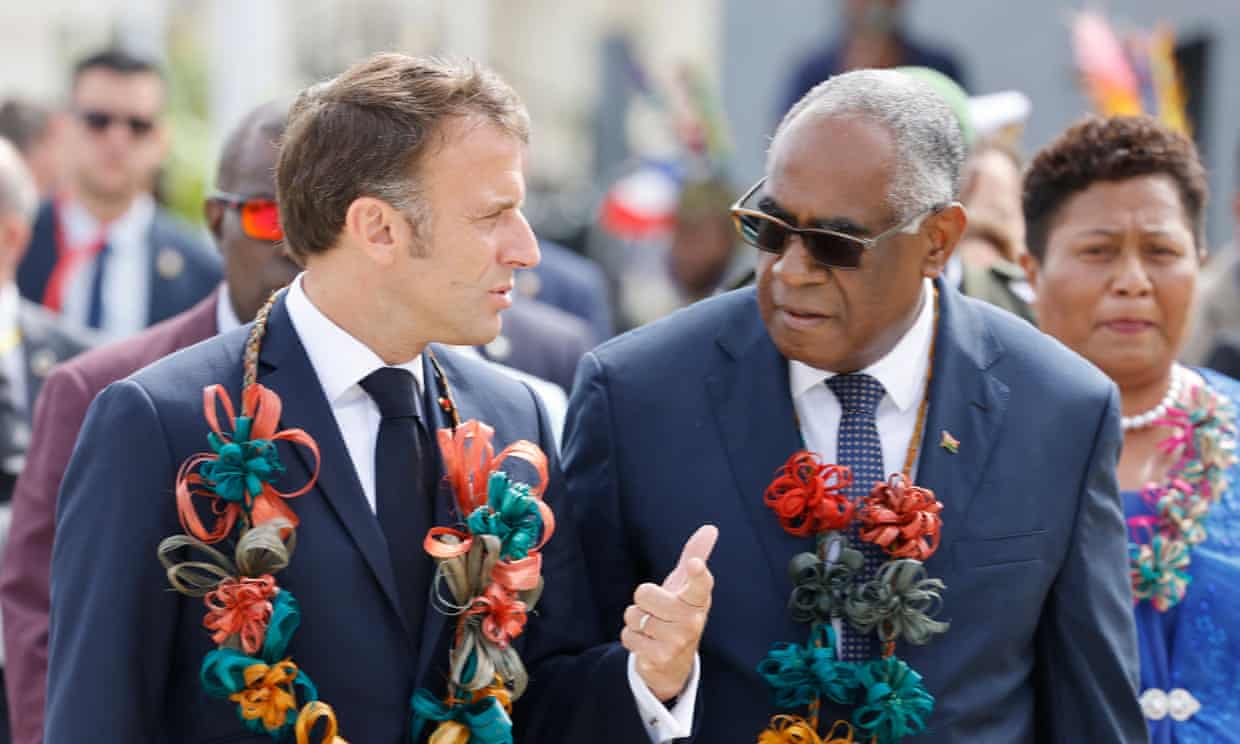 Meanwhile, US Secretary of Defense Lloyd Austin clarified that the United States is not seeking a permanent base in Papua New Guinea, following a new defence agreement with Port Moresby. This statement comes amidst the backdrop of competition between China and the US for military, economic, and diplomatic influence in the pacific region.
Emphasizing France's significance in the Indo-Pacific, Macron, the first sitting French leader to visit an independent Pacific state, highlighted their commitment to defending the independence and sovereignty of all willing regional partners. He asserted, "Our Indo-Pacific strategy is above all to defend through partnerships the independence and sovereignty of all states in the region that are ready to work with us."
Furthermore, France intends to present an "alternative" to counter China's growing influence in the area, with plans for increased aid and development initiatives to address natural catastrophes. The country seeks to bolster its presence in the region and provide support to smaller Pacific nations as they navigate geopolitical dynamics.
Macron Initiates a Renewed Indo-Pacific Strategy
Last year, President Macron revitalized France's Indo-Pacific approach following a contentious dispute arising from the cancellation of a submarine contract with Australia. This move positioned France as a balancing power in a region primarily dominated by the competition between the US and China.
During his five-day visit to the region, Macron made stops in New Caledonia and will continue his trip in Papua New Guinea. Notably, this marks the first time a French president has visited independent nations in the Pacific region, rather than solely focusing on French overseas territories. France's sovereignty extends over three Pacific territories: French Polynesia, New Caledonia, and Wallis and Futuna.
In December 2021, New Caledonians participated in a third referendum on independence, with the majority rejecting the proposal. Despite the pro-independence movements being boycotted by the indigenous Kanak population, the vote resulted in the maintenance of the current political status.
Amidst China's Expansion in South Pacific
China is actively working to expand its influence in the South Pacific, particularly in countries like the Solomon Islands, where it signed a secretive defence pact last year. Additionally, China's territorial claims over the South China Sea remain contested and contentious.
In response to China's actions, the United States, which has been the dominant military force in the South Pacific since World War II, has taken steps to counterbalance China's influence. These actions include announcing new aid initiatives, opening regional embassies, and signing defence agreements with countries like Papua New Guinea.
During his visit to Vanuatu, French President Macron expressed his concerns about the ambitions of major powers in the Pacific, drawing on the recognition of France's colonial past in the region. Vanuatu, once a French-British colony until gaining independence in 1980, experienced a history of wealth exploitation and the trafficking of indigenous people during European settlement.
Macron aims to reassert France's role as a "balancing power" in the region, given its significant presence across seven overseas territories in the Asia-Pacific and an exclusive economic zone spanning a vast area.
Macron's Pacific tour also focused on climate change, as he joined Vanuatu in calling for international action to address the urgent threat of rising sea levels, which poses a severe risk to low-lying Pacific Island nations.
While in New Caledonia, Macron faced resistance from some pro-independence indigenous Kanaks, who boycotted talks with him on the territory's future. He warned against separatism leading to violence and encouraged acceptance of the results of three referendums that indicated a desire to remain part of France.
The Pacific region's significance has drawn global attention, as evidenced by concurrent visits from senior US officials. US Secretary of State Antony Blinken held talks with New Zealand, highlighting concerns about "predatory" Chinese investment in Tonga. US Defense Secretary Lloyd Austin also visited Papua New Guinea and announced the deployment of a US Coast Guard ship following the recent defence pact signing.