Prada gave everyone a terrible fright at their Milan Fashion Week show, this week,  as their models were seen walking the ramp with slit skirts made of torn fabrics and unchecked creases and folds left on garments.
On a closer inspection, the creases and folds were deliberately sewn and ironed into place. It was all an artistic celebration of pre-lived defects and pieces that once had life. The entire creative concept was brought to life by Prada and their co-creative director, Raf Simons. 
Prada Merged Fashion and Film Together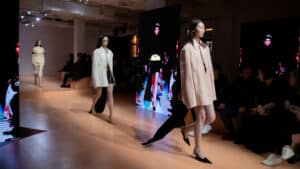 The cherry on the top was the immersive and artistic backdrop installations by film director Nicolas Winding Refn. Several holes were created in black cardboard and walls were made to look all grainy. Snippets of abstract films (a flickering lightbulb, a sleepy walk up a staircase) played in the middle of all this.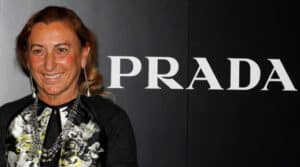 "Deliberate mistakes, a triangulated creative collaboration between two fashion designers and a film director, and fragments of film glimpsed in the background of a catwalk make for a mind-bending convoluted setup for a 15-minute fashion show."
The clothes themselves were simple like the broad-shouldered blazers, the grey of wet slate worn with narrow trousers, perfect for a daytime look.