Actor Ishaan Khatter, joined Actor Shahid Kapoor, and Mira Rajput, over a cup of coffee at Shahid Kapoor's new residence at Worli, Mumbai, on Sunday 11th December 2022.
Actor Shahid Kapoor's Recent Post on Instagram.
Actor Shahid Kapoor, in a recent post on Instagram on Sunday 11th December 2022, shared a Hilarious video of him along with his wife Mira Rajput, and Brother Ishaan Khatter recreating a scene from the directorial debut of Farhan Akhtar's iconic movie Dil Chahta Hai (2001).
The trio enjoyed a great Fam-Jam time and created a buzz on social media with a video reel shared by Actor Shahid Kapoor.
Dil Kya Chahta Hai?
The Caption of the post by Shahid Kapoor says Dil Kya Chahta Hai?
In the video, all three are playing the respective leads of the all-time iconic movie of 2001 Dil Chatha Hai where Actor Ishaan Khattar is playing the character of Sameer (Saif Ali Khan) Mira Rajput is playing the character of Priya (Suchitra Pillai) whereas Shahid Kapoor is supporting them by playing the Character of Akash Malhotra (Aamir Khan).
The video starts with Ishaan Khatter sitting on a couch where Mira Rajput narrates Ishaan Khatter by saying "You need to become a little more engaged with what you are doing" while Ishaan tries to speak something Mira says "Just Keep Quiet" that's when Shahid Kapoor comes in the scene saying the dialogue from the movie quoted by Aamir Khan character Akash Malhotra stating "Arre, Mard Bann be a man, usne Teri mardangi ko lalkara hai, dikha usse".
That is when Ishaan Khatter walks towards Mira Rajput in style getting into the character of Kabir Sing played by his brother Shahid Kapoor for a moment and then replies to Mira saying "Babs" where she replies "Ishaan, bano matt, main tumhari shakal Bhi nahi dekhna chahti, Go to hell" That is when Ishaan Khatter gets a Slap by Mira Rajput which was done humorously and Mira Rajput after slapping her brother-in-law Ishaan Khatter laugh uncontrollably, However, the slap was very light and Jubilant.
In the video, all three of them are seen having fun and recreating the iconic poses from the movie by playing the title track of the movie as well.
Audience Reaction after Dil kya Chahta hai?
Soon after the video was posted by the Actor Shahid Kapoor the video started going viral and received a flooding Hilarious response from the fans. Actress Kriti Sanon commented saying "Crack" with a laughing emoji whereas many other fans commented on his post. However, Ishaan Khatter has also shared the same video receiving a light-hearted response from his fans, especially for the style in which he enacted the BGM of Kabir Singh.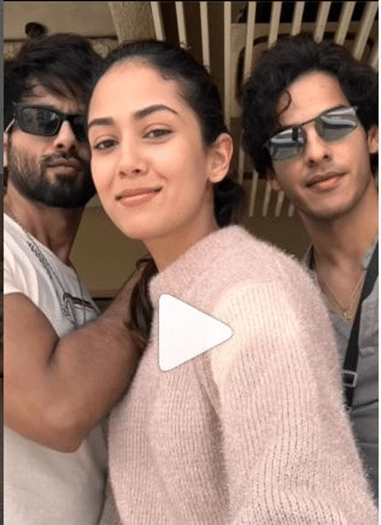 Shahid Kapoor, and Ishaan Khatter, Bromance.
Actor Shahid Kapoor however shares a very special bond with his brother Ishaan Khatter and his Wife Mira Rajput and they spend most of their time together be it for a Bike Ride in the early morning or spending a Sunday together they have got it all and the recent post of Shahid Kapoor is a proof of his beautiful bond with his Wife and Brother, However, the trio had a great Sunday Funday. Shahid Kapoor is often active on his social media and keeps on entertaining his fans with his posts, whereas Actor Ishaan Khatter is also active on social media and keeps on engaging his fans with some "Thirst Trap" Posts.
Shahid Kapoor and Ishaan Khatter are respectively busy with their upcoming projects and soon will be seen on the big screen.