The boy trio is enjoying a bike trip and bowling as well. 
Shahid Kapoor, Ishaan Khatter and Kunal Kemmu together.

The terrific trio enjoyed the weekend.

A bike trip and bowling are the complete weekend vibe.
Shahid Kapoor, Ishan Khatter and Kunal Kemmu together
Bollywood's three most popular actors are making their fans crazy with their cool looks and cool things. Shahid Kapoor, Ishaan Khatter and Kunal Kemmu enjoyed the bike trip and also a bowling game together. The weekend of the boy gang is completely as cool as theirs.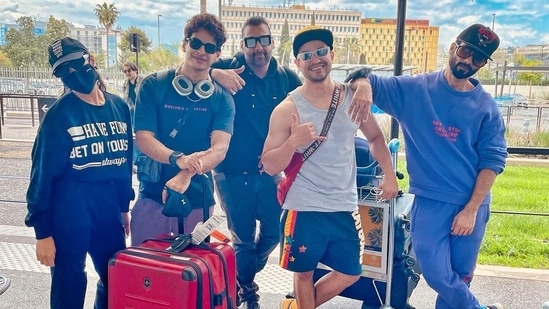 On the day of Saturday, the Bollywood actor Ishaan Khatter shared so many photos on his Instagram handle. In the pictures actor, Ishaan Khatter was posing for the camera for photos with his elder brother Shahid Kapoor and one of his close friends Kunal Kemmu.
In the photos shared by the Bollywood actor Ishaan Khatter on his Instagram handle with the caption Painting town red with the gang. In the photo, the actors Shahid Kapoor,  Ishaan Khatter and Kunal Kemmu of them were posing for a camera with the bikes and smiling while having their glasses of coffee on which their initials were written.
The photos went viral on social media and the internet and made the fans of all three actors Shahid Kapoor, Ishaan Khatter and Kunal Kemmu crazy and excited. People started commenting on the photos and asking so many questions about them. One of their fans commented on the post that you guys are out for the trip again. And another fan commented on the post by writing about that terrific trio. 
The photos of the terrific trio were posted after a few hours when the Bollywood actor Shahid Kapoor shared a goofy photo of him on his social media. By sharing the photo of himself the Bollywood actor wrote that good morning with the hashtag #weekendvibes.
In that picture, Shahid Kapoor was posing with his tongue as he was looking away from the camera. Shahid Kapoor shared a monochrome photo of himself. On that post, his younger brother commented that goof morning I click the best images. 
From all this photo sharing on social media audiences or fans of the Bollywood actors get to know that they were on the bike trip on the weekend.