Moscow and Myanmar met out of conflict and the suspicion existed only until the ties strengthened. Equally, China weaved its roots into the nation finding a common interest. The trio has common challenges in terms of geopolitics and regional affairs.
The grounds of shared interest
All three nations mutually support one another in defending the human rights violations in their territories against the Western sanctions by enhancing their economic and military cooperation.
Sanction blanket over Moscow, Beijing, and Myanmar
Relentlessly the trio have committed human rights violations to snub the voice against democracy and are involved in money laundering the extremist groups to accomplish their deceitful agendas.
Individually they have a varied range of sanctions mainly from the west (led by the U.S) these are as highlighted below:-
Moscow:- Which emerged as the main adversary of the U.S since the Cold war era (1948) and has triggered agitations from the U.S in several instances, some of the crucial ones are as listed below.
The Cuban Missile Crisis 1962.
Supporting Northern Vietnam (along with China) against the U.S supported Southern Vietnam 1954 – 1975.
Conflict in Afghanistan against the U.S led Mujahideens 1979 – 1988.
Espionage / Cyber intrusions into U.S assets.
Invasion of Cremia in 2014.
Present invasion of Ukraine (2022).
These actions have triggered collective repugnance from the west which involves:-
Expulsion of Russia from G-8 (due to the Crimea invasion).
CAASTA sanctions restricting arms trade, and
Expulsion from the SWIFT banking network + Fuel export embargo (due to present invasion and war crimes in Ukraine).

Beijing:- Sharing a common shade of communism with the predecessor, China is accused of:-

Human rights violations in the Xinjiang province.
Espionage & Cyber attacks on its adversary States.
Regional hegemony in the Indo-Pacific with territorial disputes with its neighbors.

Myanmar:- Although accused of human rights violations, the nation has a different taint of the blame of:-

Illegal seizure of democratic regime by the military junta in several instances of 1962 – 1988, 1990 – 2010, and again in 2015 – 2020.
In all three instances, democracy was permitted to function in the interval periods only due to the saddling pressure by the west.
Further, both Moscow and Beijing supported Myanmar when there is a resolution against it in the UNSC on 12 Jan 2007, by leveraging their veto power.
And on the other end, India has also abstained from persuading Myanmar against its internal preferences which have irked the Western partners further.
Myanmar being rich in oil and natural gas reserves have upgraded its exports to Beijing and Thailand. Military-ruled Myanmar earned $800 million from natural gas exports mainly to China and Thailand between April and July.
Income from gas exports was $60.7 million higher than in the same period last year.
Besides this, accompanied by its geographical position China harnessed its advantage by constructing a natural gas and oil pipeline from Kyaukphyu City in Myanmar's Rakhine State to China's Yunan region.
China also constructed a 22 million tons annual capacity oil terminal at Kyaukphyu. The natural gas pipeline can account for 16.3% of China's total gas imports according to data from 2018.
For these reasons, Myanmar has managed to gain economic growth despite the disruptions caused due to military coup.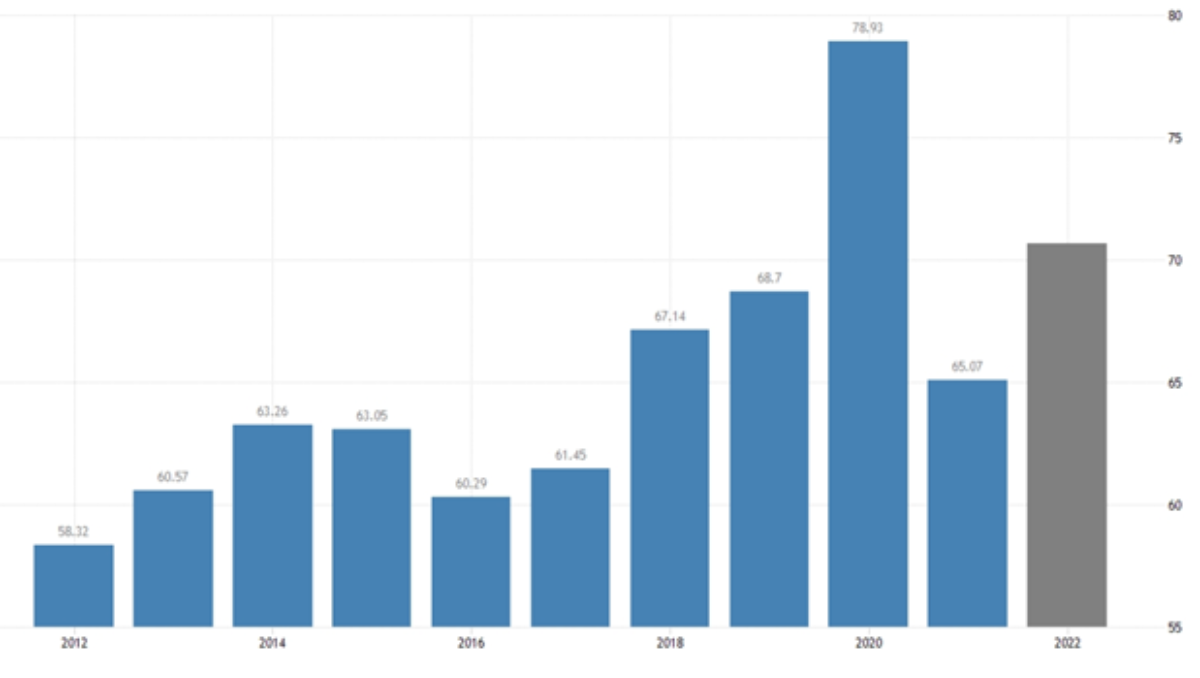 Myanmar revoked 26 solar power tenders of Beijing which were invited under the former National League for Democracy (NLD) government and has banned the companies from violating tender laws.
In September 2020, Chinese businesses which secured a contract to build 28 of the 29 facilities are been blacklisted for 'violating tender norms'. Similarly, Chinese mining companies were pressurized to withdraw their investment in January 2020.
Myanmar is aware that China is not a good ally for long-term relations.
There are rising allegations that China's BRI engagement is leading to a debt trap. In 2018, Myanmar renegotiated a BRI deep seaport project in Kyaukpyu, scaling it down from US$7.3 billion to US$1.3 billion. Myanmar already owes 40 percent of its foreign debt to China.
China fueling Myanmar insurgency
Beijing is fueling insurgent groups in Northern Myanmar like the United Wa State Army & Arakan Arm, of which Arakan Arm is designated as a terror group by Myanmar.
The UWSA enjoys a strong relationship with China, particularly with actors in the PLA and Yunnan Province. Many Chinese advisers, including Chinese intelligence officers and former PLA personnel, are close to the Wa leadership.
The illicit market
China is also a market for illicit cross-border trade in drugs, logging, wildlife, charcoal, jade, and other gems. Transnational organized crime actors from China are known to have been "deeply and intimately involved" in these illegal economies for decades.
Local communities have also criticized what they perceive to be Chinese exploitation of Myanmar's resources, which has led to not only economic but also environmental concerns.
For the above-cited reasons, Myanmar-China trade has dropped in the current fiscal year.
Ascending relationship with Russia
Myanmar military continued its pivot to Russian equipment. From 2001 to 2021, data show that it procured $1.7 billion of arms from Russia, Officers say they consider the Russian equipment of higher quality than Chinese or domestically produced weapons.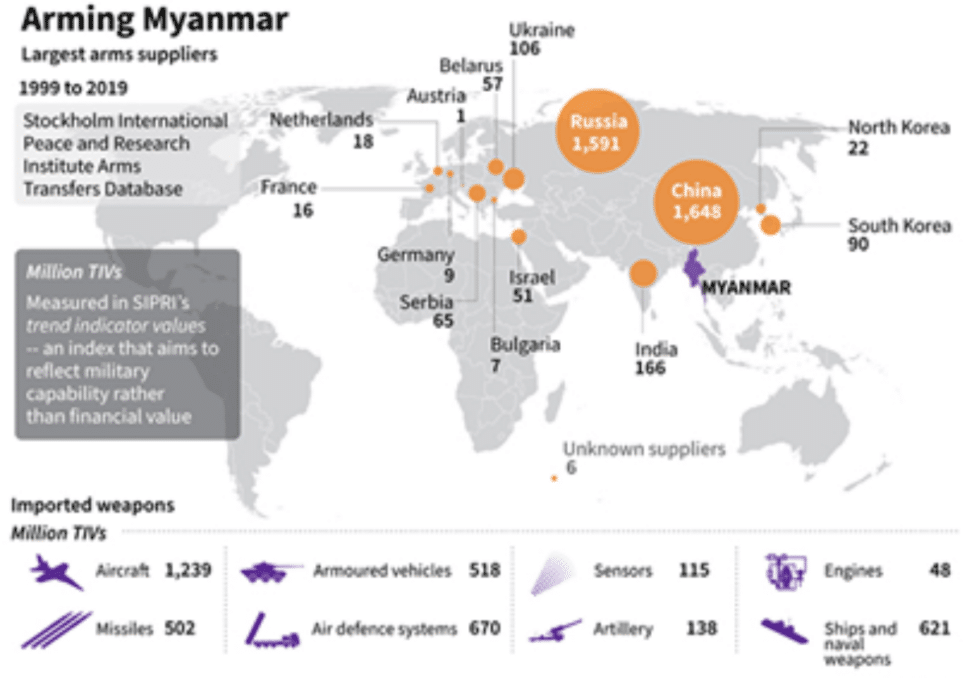 Both Russia and Myanmar have defended their stands on their internal issue:-
Moscow asserted that the post-coup situation isn't a threat to international peace and security, and
Following Russia's February invasion of Ukraine, the Myanmar regime reciprocated the strong support it received after the coup, becoming Russia's most uncritical ally in Asia.
The regime offered immediate backing for Russia's assault, with spokesperson Major-General Zaw Min Tun describing it as "an appropriate action" and an attempt by Moscow to "strengthen its national sovereignty".
He also told a local media outlet that the invasion showed that Russia was still a "powerful nation that plays an essential role in keeping the balance of power for world peace".
Further, Myanmar's and Russia's banks have also been working to create a direct ruble-kyat exchange facility to promote bilateral trade.
For the above-cited reasons, the Russian Myanmar trade has increased in recent times.
Break-up of the communist allies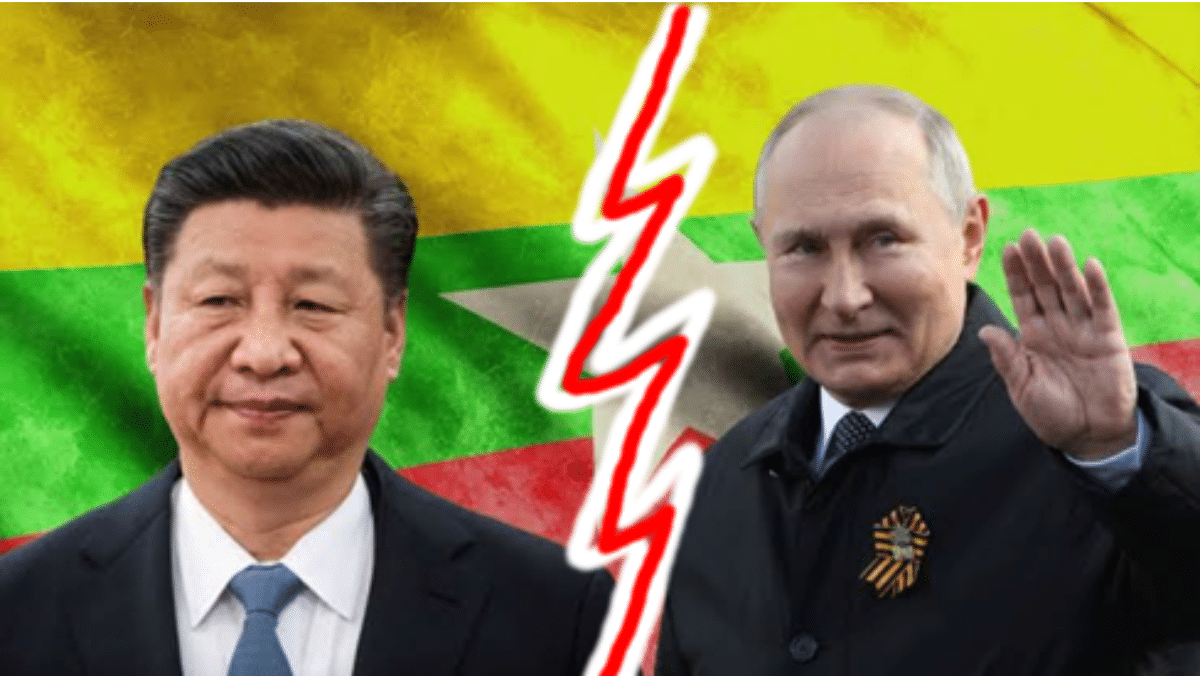 As per a research report published by Boston-based cybersecurity technology company Cybereason, a State-sponsored Chinese actor was spotted targeting a Russian defence contractor engaged in making designs for nuclear submarines.
This incident has reignited concerns regarding Chinese attempts to steal Russian defence designs and could potentially expose the deep fissures in the Sino-Russian relationship.
This proves that trust is never promised in an unlawful affair!
Read More –