Just a couple of days ago Indian music sector triumphed an increment of 3.5 times in export compared to eight years ago, which amounted to ₹ 172 crores.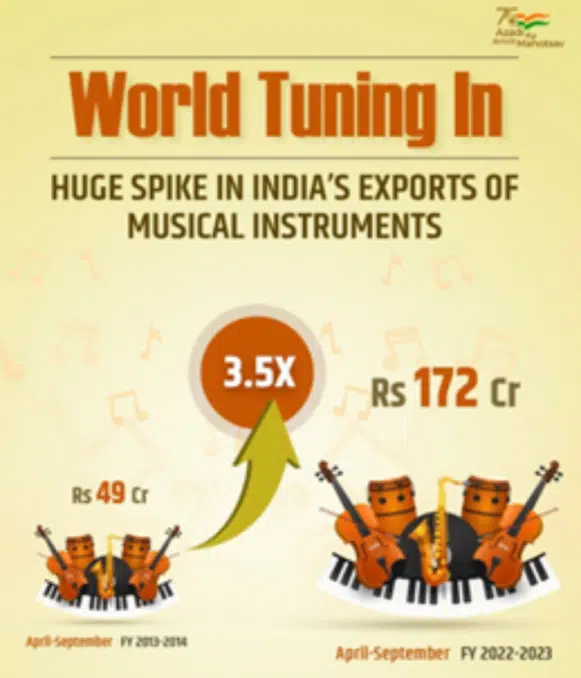 Further, the present revenue in the musical instruments segment amounts to $ 5.09 billion and is expected to grow annually by 12.20% (CAGR 2022-2026).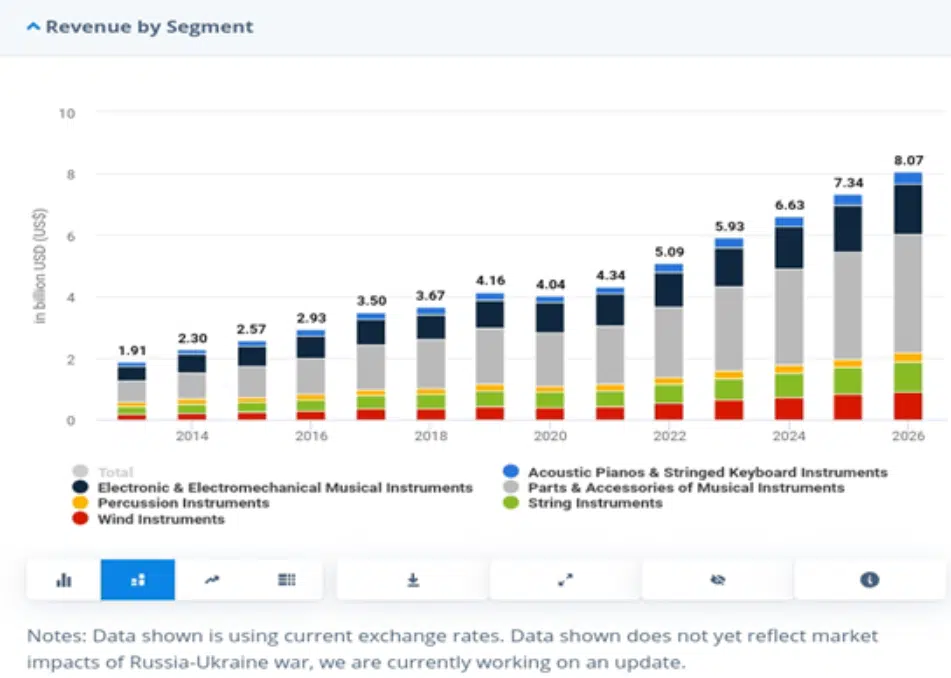 The good news ends here!
The smothered agony in the sector
India hasn't created any global benchmark
The top ten brands of instrument manufacturing industries are Non-Indian, 5 American, 3 Japanese, and 2 German.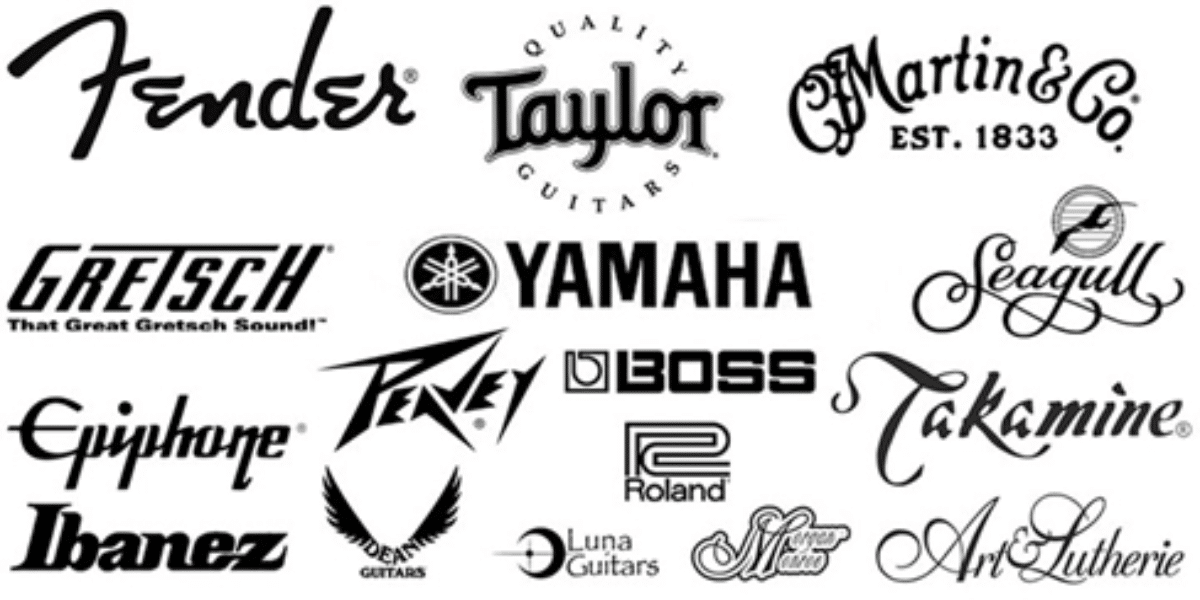 Further, the Commerce and Industry Ministry exclaimed the establishment of Yamaha Corporation (a Japanese brand) musical instrument plant in India which can produce portable 1.50 lakh portable keyboards and 2 lakh acoustic guitars annually.
In terms of the global race in the export of instruments and spare parts, China tops the list in this domain too.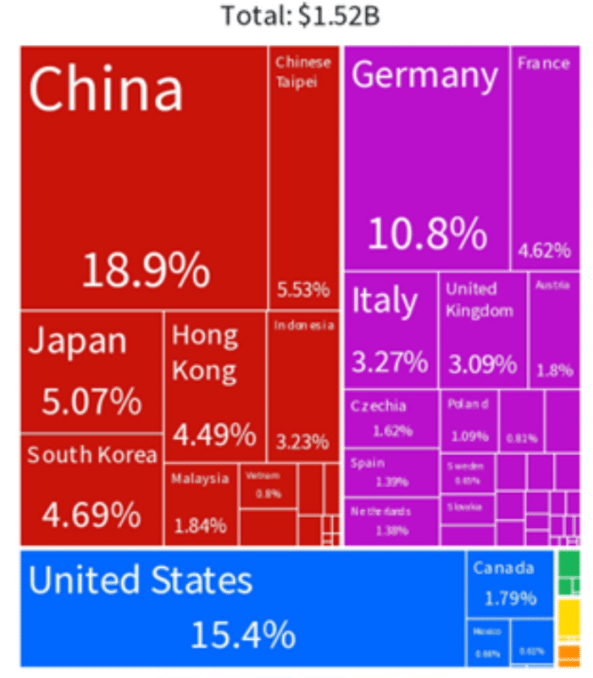 Despite the increase in exports, China remains a top market for India for musical instruments.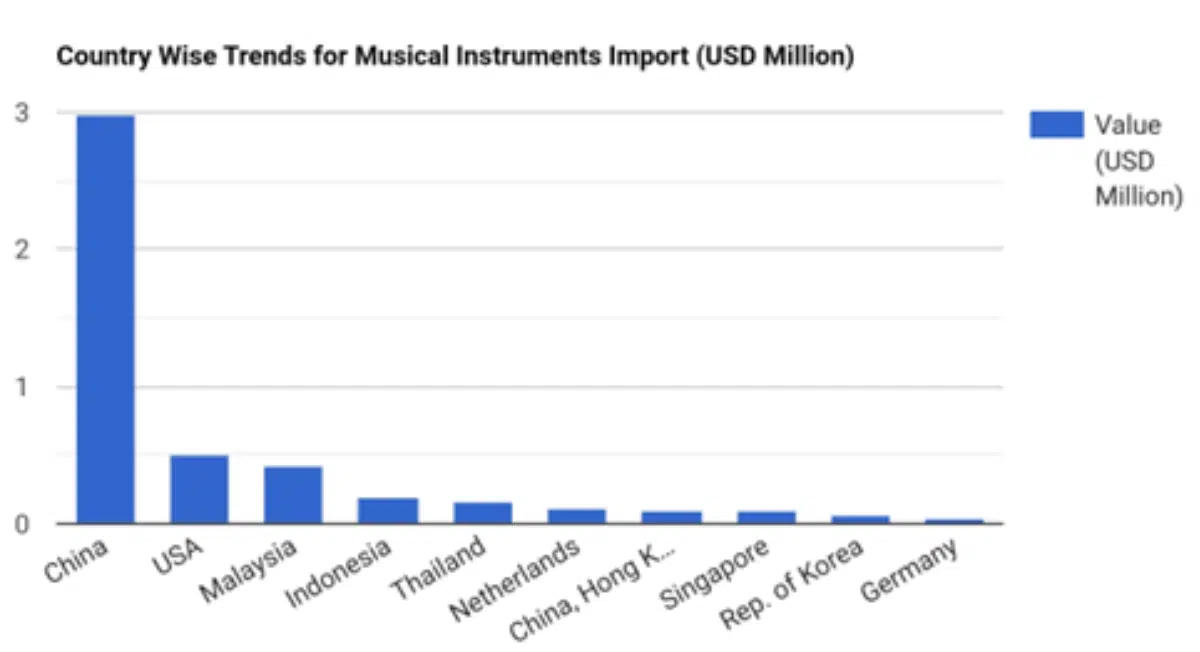 The dereliction of the Informal music sector
Apart from Reality shows, T.V Programs, Radio broadcasts, etc. There are greater number of informal industries that have huge potential but are untapped.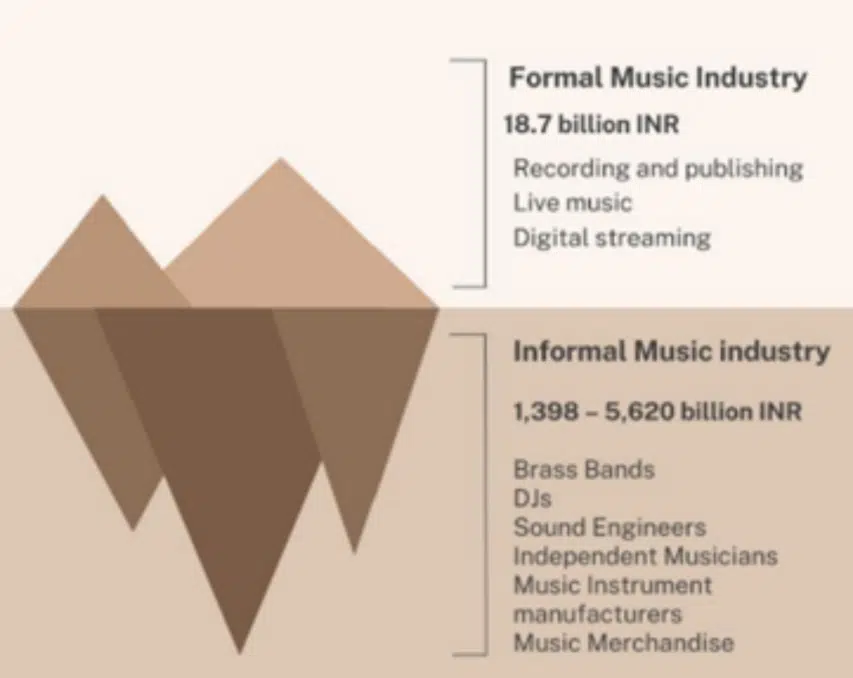 The informal sector is left unstreamed unlike the government / public music sectors, even the National Electronics Policy 2019 which is aimed at establishing a $ 400 billion electronics manufacturing ecosystem by 2025, is generic.
The scheme has no targeted preference for the musical industry.
The informal sector employs more labor force than the formal but the lack of the organizational operation is suppressing them from gaining more worth.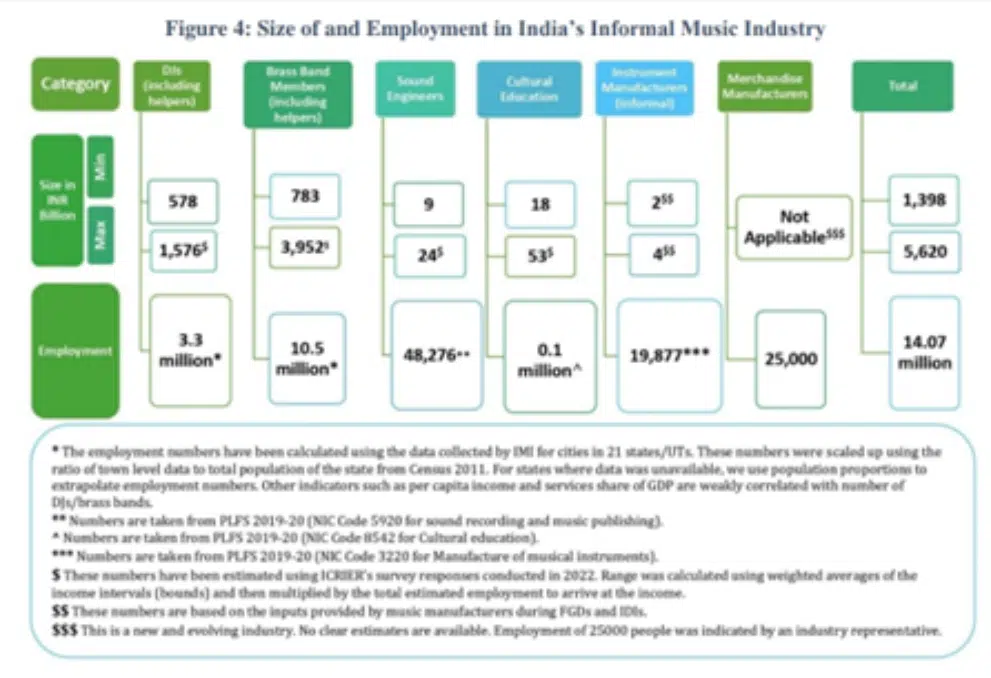 The monthly earnings for a brass band member range from a meager ₹ 6,000 to ₹ 31,000. The low income forces them to supplement their primary earnings with other activities, especially in the off-sea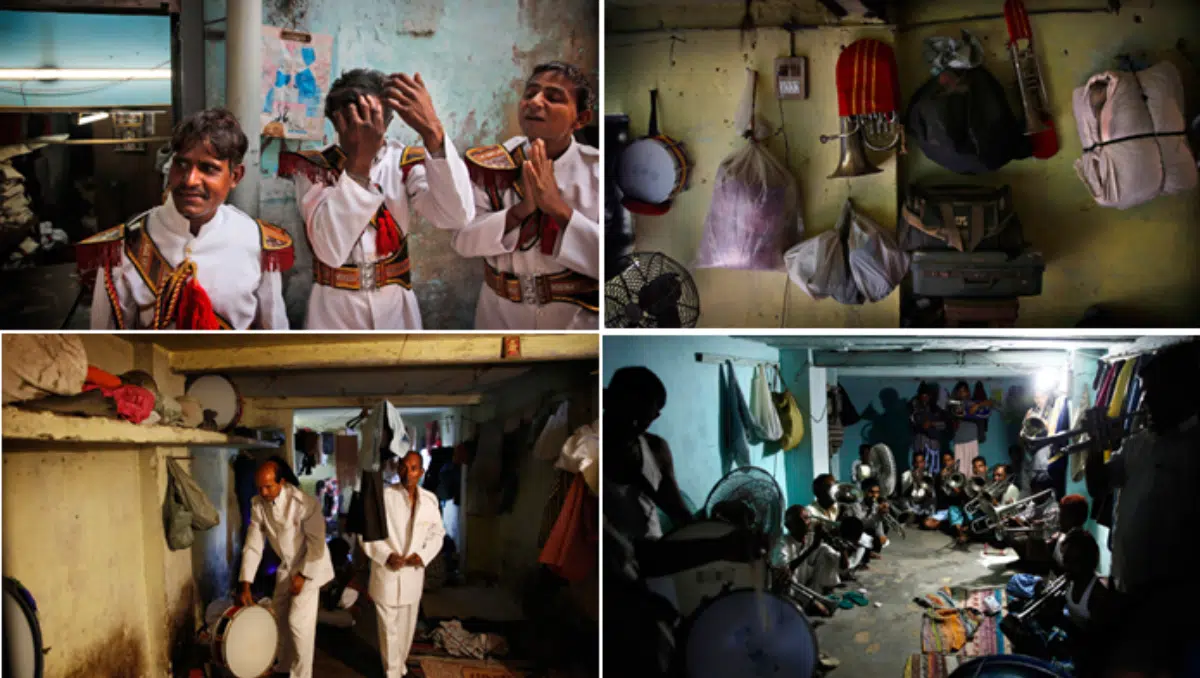 Brass bands have not adapted to the rapid digitization of music and this has led to a decline in their overall revenue.
Brass bands only see seasonal demand and are often vulnerable to income shocks.
The demand for brass bands has been dwindling in recent years with many people preferring DJs over brass bands for weddings.
Most brass band members are high school graduates (66%) and only about 26% complete college education.
The lack of skilling limits their potential to adaption to technological changes in the music industry or secure jobs offered in alternate music-related professions.
This makes the future of brass bands in India uncertain.
The demand for sound engineers has increased over time, but they lack training, as per the survey of ICRIER, only 10% respondents had training from specialized music schools, while 27% learned on the job and the remaining had some informal training.
This also impacts their ability to negotiate higher wages or move to other allied sectors.

Sounds engineers are also vulnerable to low and irregular fluctuations.

Almost 40% of the respondents said that lack of regular income was one of the biggest disadvantages of working in the music industry.
The average monthly income for sound engineers ranges from ₹ 16,000 to ₹ 41,000.

The industry has a gender imbalance, with nearly 99% of occupations being filled by men.
Further industries were affected by the pandemic, leaving them jobless for an extended period.
DJs are popular and ubiquitous in the Indian entertainment landscape, but they too share a similar slackness in quality.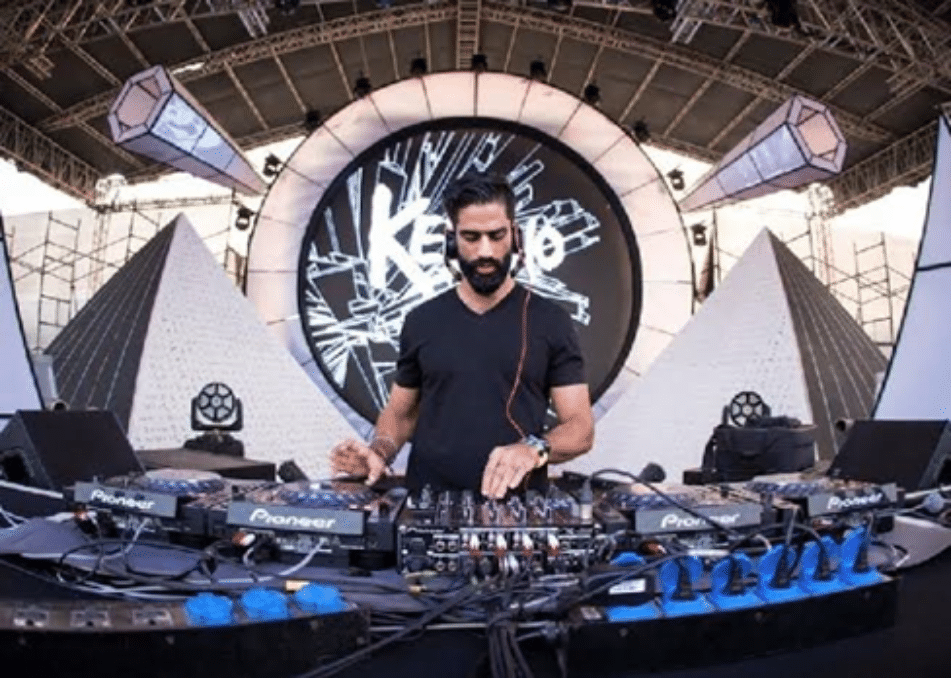 Most DJs are not formally trained and consequently, inadequately compensated.
Around 35% of the surveyed respondents said they had not received any formal training and 29% said they learned music mixing online or on the job.
The average monthly earnings for DJs range from around ₹ 14,000 to ₹ 39,000 per month with more than half earning less than ₹ 25,000 per month.
Issue of piracy in the industry
In a recent study in India, it was found that 76% of the surveyed internet users admitted to accessing musical content through pirated means, underlining that piracy is rampant in the country.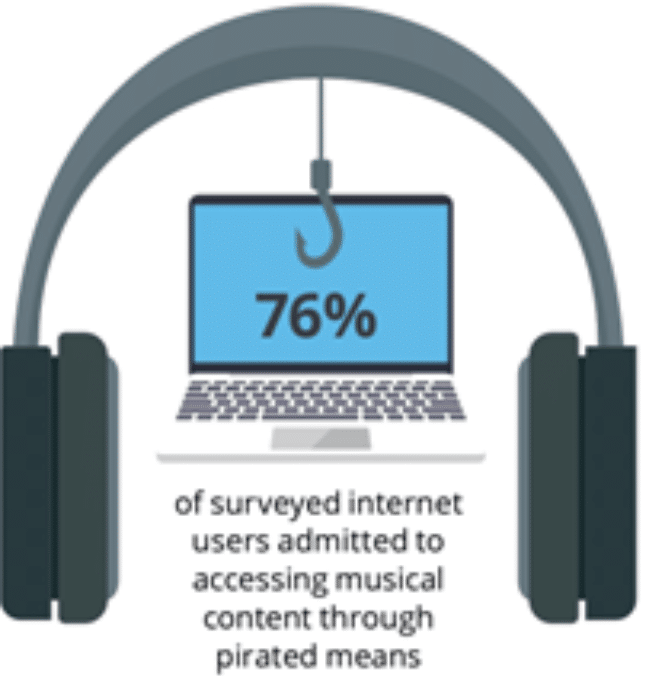 Illegal P2P apps, streaming apps, stream-ripping websites, or even infringing websites in India or neighboring countries, such as Bangladesh and Pakistan, resulting in losses of ~ $ 250 million annually to the recorded music industry.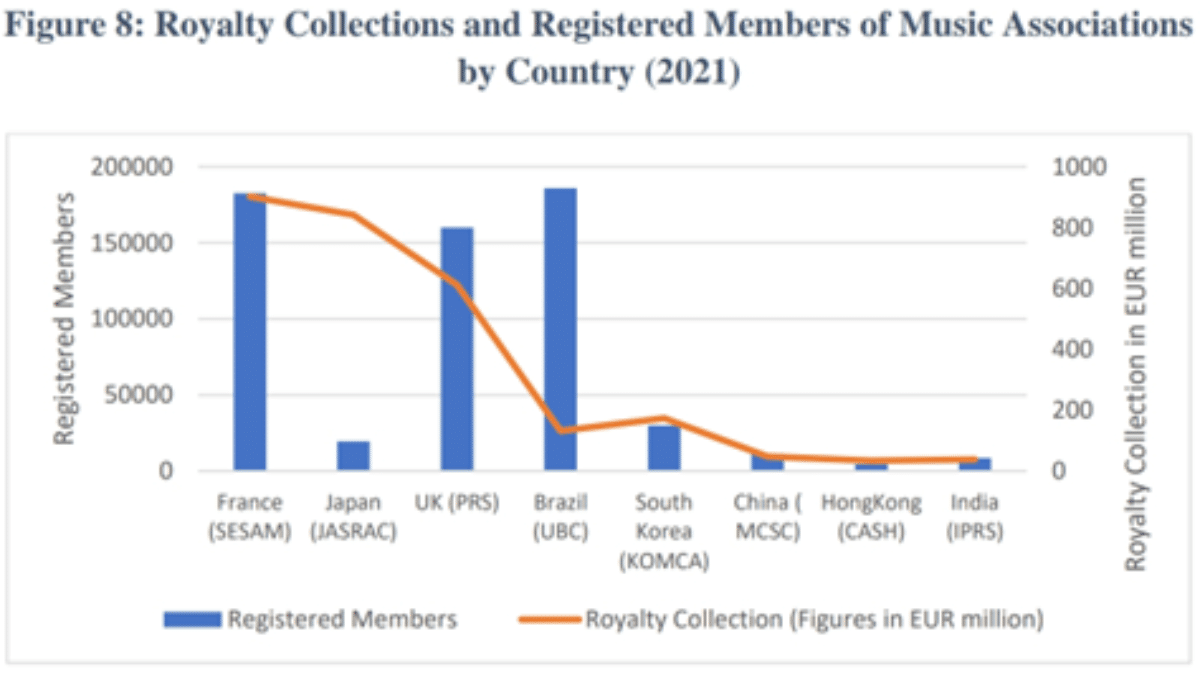 Global trend
Globally the musical instruments market was sized at around $13 billion in 2021 and is estimated to grow by about $15.2 billion by 2028.
As the world moves towards more technical advancements, the demand for electronic music has also increased.
The creativity of artists and composers to improvise and personalize instruments can significantly boost the growth of the market.
Policy intervention needed by the Government of India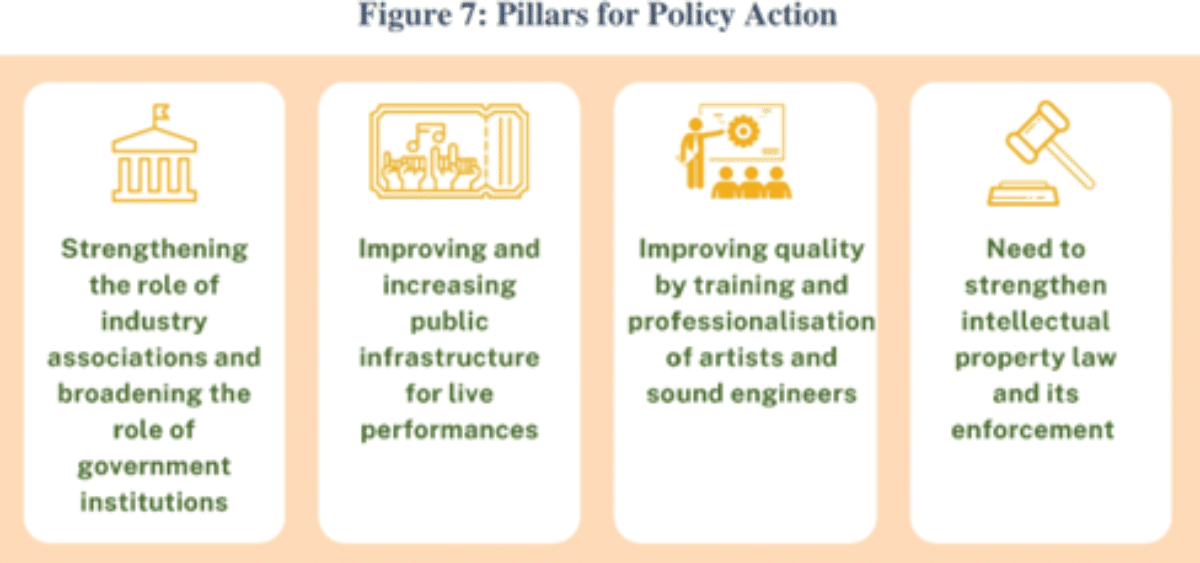 There are, courses related to sound engineering offered by several institutions such as:-

the Film and Television Institute of India (FTII).
the National Institute of Film and Fine Arts (NIFFA) and
Sri Aurobindo Centre for Arts and Communication.
There are more than 10 institutes for sound engineering in Delhi.
They need to be more popularized like any other graduate courses for public awareness, or else they will rote in dark.
The government needs to strengthen institutions and support artists to encourage young artists.
India is a powerhouse of talent, visible in the numerous independent efforts made by a few businesses, successful artists, and now online platforms.
A structured policy that focuses on pursuing music as a full-time instead of treating it as a hobby or side income helps several artists.
South Korea is a prime example of how the government can create soft power through music.
According to a survey conducted in 2021 across 18 countries, 39% of the respondents stated that K-pop was very popular in their country.
The Korean government has stated its intent to channel this momentum by involving celebrities in traditional diplomatic events, recording their messages of support before major negotiations, etc.
Music-centric grants and export schemes need to be focused on by relevant government bodies.
This can help build a supportive ecosystem in India that is conducive to the growth of micro-small-medium enterprises (MSMEs), larger enterprises, as well as start-ups that are involved in musical content creation.
Such schemes could develop the musical talent pool, and aid the large investments required to create, market, and promote musical content.
This could act as a stimulus to businesses that invest in regional content and local talent.
Need to strengthen IPR laws and their enforcement.

India is one of the few countries that allows music to be performed at weddings and educational institutions without any copyright license.
In fact, in countries like the USA and UK, even religious institutions like churches pay a royalty to local copyright societies for music performances.
These exemptions result in huge losses, considering the volume of weddings and the economic activity surrounding it.
---
Read More –
https://tdznkwjt9mxt6p1p8657.cleaver.live/mangka-mayanglambam-indian-folk-music/