After being rafted with several criminal offenses, Aung San Suu Kyi may face more than 150 years of imprisonment if proven guilty. Highly regarded democratic figure in Myanmar, Suu Kyi's supporters believe that the military wants to kill any chances of her political comeback.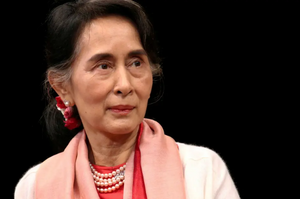 On Wednesday, Aung San Suu Kyi was sentenced to 5 years of jail by a special court in military-ruled Myanmar. She was found guilty of one out of 11 corruption cases registered against her. Before the current trial, since February 2021, she was under house arrest and is now detained in an unknown location.  
The 76-year-old Nobel Laureate was kept out of the public eye since the Myanmar coup charged cases against her. The latest case centered accusation that Suu Kyi accepted 11.4 kg (402 oz) of gold bars and a total cash payment worth $60,000 from the former chief minister of Yangon, Phyo Min Thein. In October 2021, the former head of Yangon testified that he had paid her bribe. In her statement, Suu Kyi has denied all the accusations imposed on her, calling them "absurd".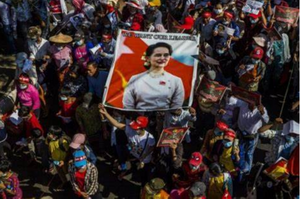 She was sentenced to five years of jail imprisonment. The trial was conducted behind the closed doors of court in the capital, Naypyitaw. Media personnel isn't allowed near the court premises, and Ms. Suu Kyi's lawyers are forbidden from speaking to the media and public. The international communities, UN, and democracy groups have called these legal proceedings a 'farce' and asked for immediate release with fair trials. 
Since her arrest on February 1, 2021, the Myanmar coup has accused Suu Kyi of numerous offenses, from violation of state secret laws to incitement and corruption. Myanmar had descended into her state turmoil when she was arrested and her government overthrown. Earlier the same court held her guilty and sentenced her to six years of prison for illegally possessing and importing unlicensed walkie-talkies and breaching Covid rules.  
Aung San Suu Kyi still has to face trials for ten corruption cases. Suu Kyi would have a total jail sentence of 150 years if convicted of all the charges. Her supporters believe that this is a conspiracy led against her. While her political and personal image is tarnished, Suu Kyi is highly regarded in Myanmar, and her previous court hearing results have led to violence.  
Myanmar was violently captured by the military coup, also known as Burma came, months after Suu Kyi's National League for Democracy won the elections. The military regime believes that the election conducted was a fraud; however, independent election observations state that the polls were largely free and fair. Since the coup seized power, almost 10,000 members of her party were arrested. The military arrested many supporters for suppressing their public anger, beat them to death, and killed what we call a crime against humanity. 
Published by: Gargi Sharma
Edited by: Aaradhana Singh