The explosion of blockchain such as Non-Fungible Token or NFT Marketplace news never fails to leave individuals thinking "What? Why? How?… it happened". Despite uncertainty in the crypto market.
The Non-Fungible Token commonly known as NFT has created a fragmented, competitive, and innovative landscape in the market.
According to the research taken by Brandessence Market, they noted a growth of 328% in NFT transactions during the 1st half of 2021 and the 3rd quarter of 2021. The marketplace for NFT is growing as the number of transactions and trends is soaring.
So, what is NFT?
It can be referred to as a non-fungible token as a digital asset that is unique by original identification codes and metadata and they are impossible to trade or exchange at an equivalent unit.
As the Non-Fungible Token are 100% original digital asst it has given plenty of opportunities to artists and collectors to join e-commerce by tokenizing their goods. It can be operated through regular stores or auction platforms.
As NFT popularity is growing NFT developers have been busy creating markets for these files. So we can find some markets for general trading space are available for all categories while others cater to the high-end art world or deal with specific online games or niche topics.
List of popular NFTs includes – Digital Artwork, GIFS, Photos, Tweets, Music, Clips, Tokens, Domains and Licenses.
So if you want to enter the NFT craze, an NFT marketplace would work as a gateway for you. Further, let us understand about platforms.
Non-Fungible Token Marketplace
NFT marketplace is an entryway to participating in the purchase and sale of digital assets (NFTs). These platforms leverage the technology of blockchain to verify the origin of digital content.
It also enables features like royalty attribution, automatic transfer of revenue percentage from second-hand sales with the creator each time the NFT is traded.
As major players like Microsoft, Home Depot, Tesla, Starbucks and others are entering the market they have driven the growth of NFTs as they are a unique and non-interchangeable unit of data.
This is a huge revenue system market where artists musicians and other unique creators have paved their services and poured investment of millions of dollars for better outcomes.
To avoid making expensive mistakes, it is critical to understand the landscape and working of these NFT markets and the best fit for you.
How do Non-Fungible Token Marketplaces work?
Today's marketplace does not only serves features about the files and commodity but also work as a mediator where NFTs can be bought and sold. It includes a user-friendly interface for displaying and brokering the files. While the backend supports this transaction with blockchain technology.
NFT Marketplace can be characterized as –
Tradability
Standardization
Liquidity
Interoperable
Controllability
Four key factors for NFT Marketplace:
Crypto Walle

ts

: The digital apps are used to store information that points to the location of the owner's asset on the blockchain. Also, wallets are needed by buyers and sellers for transactions. Popular crypto wallet providers are MyEtherWallet or WalletConnect.
Auctions and Sales: It works as an art gallery. Sellers put a fixed price on their assets for sales. While marketplace holds timed auctions.
Smart Contracts: They are used to represent the terms of sale between the buyer and seller. It is an irreversible process.
Costs of Operations: As blockchains are the energy-intensive, cost of NFTs may also include the energy costs of brokering the transaction on the network and converting money into cryptocurrency.
Features of an NFT Marketplace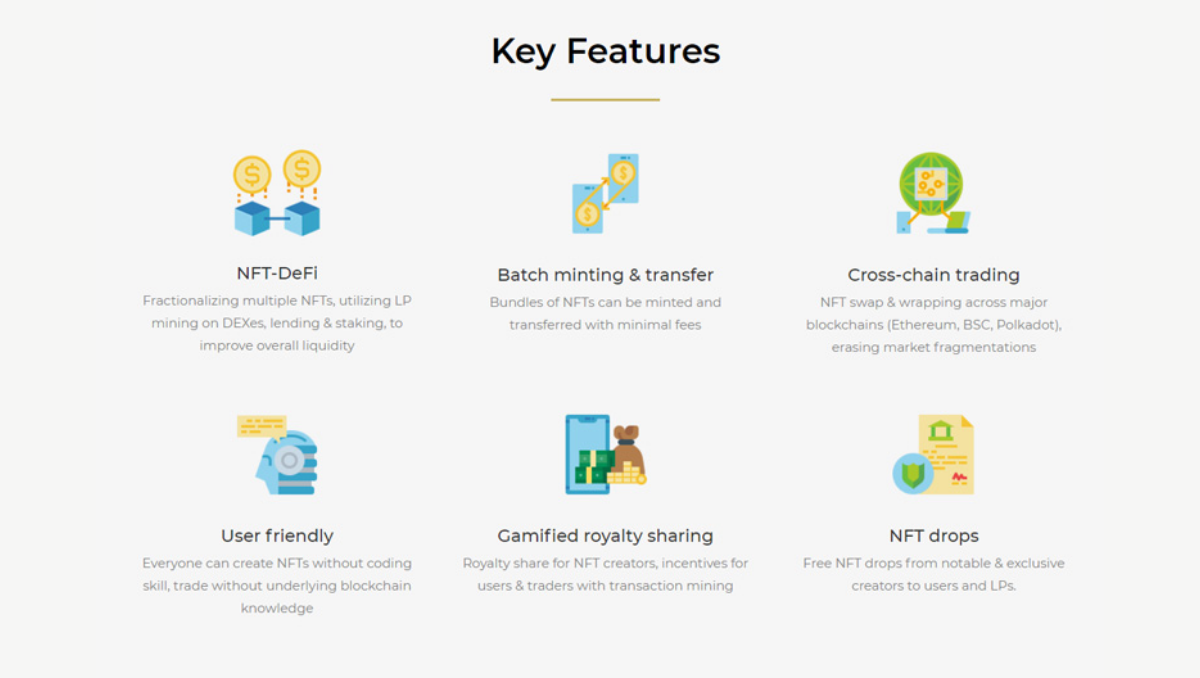 While creating an NFT marketplace it is important to meet every user interface and business logic concerns. So let's understand eight features of the marketplace that will serve you a seamless easy to navigate and manage difficult transactions on the platform.
Storefront
It should be like an e-commerce site. It necessitates an appealing and friendly-interface. For each file, the administrator must determine how much information to display. NFT customers, like real art collectors, will want to know about the provenance and validity of their data.
Search Items
Several of the first marketplaces, such as OpenSea, are broad markets that accept any NFT. Newer marketplaces frequently focus on a certain niche. Whatever you sell on your website will require an enquiry tool to expedite the purchasing process.
Filters
Search filters are used in a variety of ways to improve the buyer's experience. Collectors and investors have various standards when it comes to NFTs.
Listings
When someone needs to list a file, well-designed NFT programming gives a clear step-by-step process. The marketplace should have clear upload instructions as well as forms for selling data.
Status of listing
The marketplace can provide information to buyers and sellers such as the proportion of people who have viewed the file and the number of bids received during an auction. When someone proposes, the location might also notify them.
Buying and Auction
Timed auctions are sometimes used by popular artists to obtain the easiest pricing because the competition can quickly enhance the value. In any case, the back-end work for an auction is more difficult than for regular sales. Bidding can be fierce, especially near the end of the auction, so the site must provide real-time information about the method. Buying and selling directly may be a more straightforward process.
Wallet
Consumers are always as anxious regarding their crypto wallet security and their other financial data. Users should be able to figure out their trending crypto wallet solutions using a substitute NFT marketplace.
Ratings
A scoring system can also avoid unwanted behaviours such as fraudulent representation or transaction withdrawing before the smart contract takes effect.