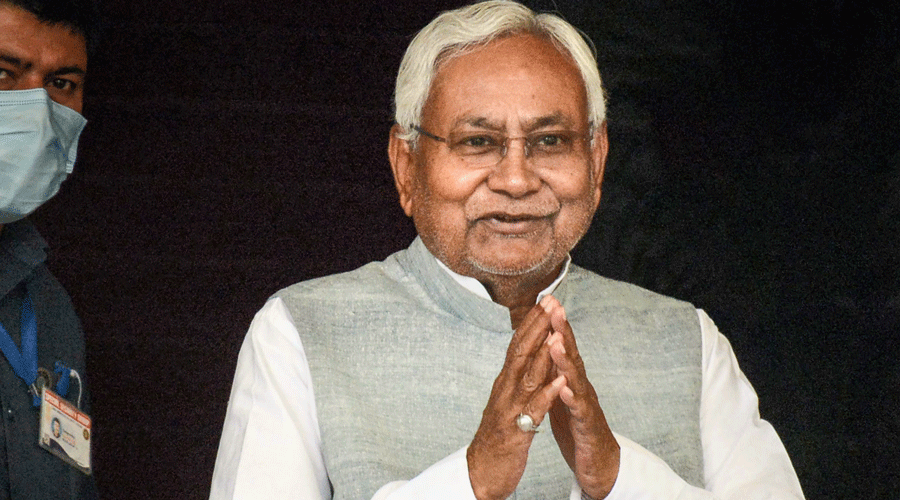 "I've resigned, and I've informed my MLAs about this," he said to the media after submitting resign letter to the Governor.
He met the governor at 1 pm today and he submitted his resignation letter
According to media sources, Nitish Kumar has ended his alliance with the BJP in Bihar. After he resigned from his CM position, he made another appointment to meet the governor. with opposition leader tejashwi Yadav to form a government.
The earlier story was about Bihar Chief Minister Nitish Kumar holding a meeting with his party MLAs. Today about his break-up with the NDA growing to a fever pitch. The Congress and RJD Have intimated they are ready for colliding with JD[U] if he Breaks up with the NDA.
The meeting of Nitish Kumar's Janata Dal-United begins at 11 am. Mr.Kumar has made his growing anger with the BJP over a multitude of issues clear. RJD MLAs and leaders are also meeting at the same time at Lalu Yadav's Patna residence. Mobile phones of all MLAs are being kept outside the meeting room. MLAs of Left parties have also arrived at RJD patriarch Lalu Prasad Yadav's residence.
The NDA, which contact Nitish Kumar twice on Monday, has said it will wait for his decision. Sources said the party's chief strategist Amit Shah Also contacted Mr. Kumar and had a telephonic conversation with him. Key leaders of the JD[U] unit met Mr. Kumar Monday.
After he resigned from his CM position, he made another appointment to meet the governor again with opposition leader tejaswani Yadavs to form a government
Will RJD AND CONGRESS Merge WITH JD[U]
According to sources Congress has also scheduled meetings today, and Lalu Yadav's RJD, now it's run by Tejashwi Yadav. And they gave indications that they are ready to mingle with JD[U] if he leaves the alliance with NDA. and some regional parties or smaller parties also support Nitish Kumar.
Till 2017, Tejashwi Yadav was a minister along with his brother in Nitish Kumar's government which had three components: the JDU, Lalu Yadav's party, and the Congress. Nitish Kumar had formed an alliance with them after calling off a decades-long relationship with the BJP.
But he accused Tejaswi Yadav and his brother of corruption and used that controversy to end his alliance with 'secular' parties and returned to the BJP.
So, Mr.Kumar took the decision to break up with NDA And he resigns CM position Now he will meet with the governor with opposition party leader Tejashwi Yadav.
read more on https://tdznkwjt9mxt6p1p8657.cleaver.live/