04 September 2023. A "Tactical Nuclear Attack" exercise has been simulated by North Korea on Saturday. State media reported on Sunday as leader Kim Jong Un observed weaponry and shipbuilding factories. Reportedly, the tests were conducted as a response to the US sending strategic aircraft to the area.
KCNA reported that At the crack of dawn on September 2, a shooting exercise simulating a tactical nuclear strike was undertaken to alert the adversaries to the real threat of nuclear war.
The missiles were reportedly launched off the eastern coast about midnight, South Korean media stated. The launches overlapped with yearly military drills between Washington and Seoul, which always aggravate the North.
The missiles, according to the North Korean army, were launched around midnight on Wednesday in a nuclear strike rehearsal mimicking scorched earth attacks on important command headquarters and active airfields in South Korea. The unification ministry of South Korea strongly criticised Pyongyang for declaring its intention to attack the South in the open.
Fumio Kishida, the prime minister of Japan, also denounced the launches as a threat to both the world community and the stability and peace of his country.
In a report by KCNA, it was stated that Kim Jong Un, the leader of North Korea, reportedly went to a munitions plant and the Pukjung Machine Complex, that renders marine engines, to emphasize the value of bolstering Pyongyang's naval forces.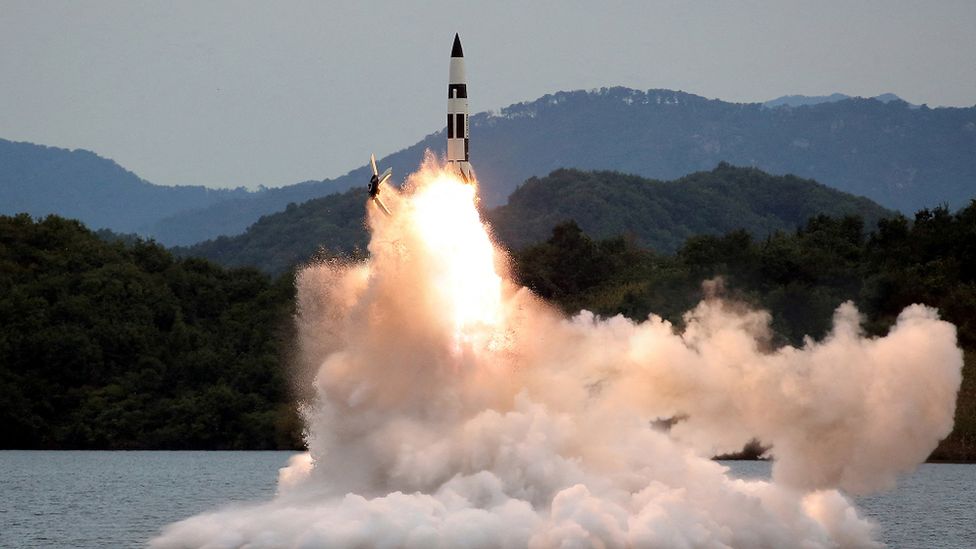 Nuclear Drill by Kim is a Warning to US and South Korean Alliance
In addition to criticising their summit agreement last month on expanding military cooperation, North Korea has reinforced its military deterrence against both the US and South Korea.
On Tuesday, North Korean President Kim Jong Un attended a practise supposedly meant to get his senior generals ready for all-out war with the South. According to reports, the exercise simulated repelling an unanticipated invasion before launching a counterattack to seize the entire area of the southern half.
This year, North Korea tested more weapons than ever before. The most recent missile launch was conducted just after Ulchi Freedom Shield, the joint annual drills involving South Korea and the US, ended on Thursday. B-1B bomber air drills were demonstrated there.
Kim Jong Un frequently threatened to enhance North Korea's production of nuclear weapons and create more potent warheads violating the UN sanctions
After striking a record number of missiles in 2022, including those that may reach US territory, Pyongyang has continued to conduct frequent tests of its arsenal this year.
It has also made two unsuccessful attempts to launch space satellites in recent months. On Wednesday, the US reported that Pyongyang and Moscow were in "active" discussion about a prospective arms agreement.
The defence minister of Russia paid a visit to Pyongyang last month and was given a very open exhibition of North Korea's weaponry. The US claims Mr. Shoigu tried to persuade North Korea to trade arms and ammunition during the trip.
Allegations that Pyongyang has been supplying Russia with weapons to aid the Russian invasion of Ukraine have been repeatedly denied by Pyongyang.
After unsuccessful attempts to negotiate about Pyongyang's denuclearization, ties between both Koreas are at their worst in recent years, and diplomatic activity is at a standstill.