Inadequate funding for care and the widespread use of harmful substances and medications are the main causes of the nation's declining vulture population. The population of vultures, which are natural scavengers, has declined.
Table of Contents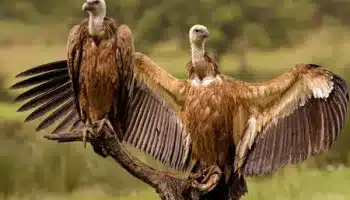 The ecosystem benefits from vultures because they stop epidemics from spreading. Without it, the population of feral dogs grows and they start to spread various diseases that can affect people, animals, and livestock.
The Bombay Natural History Society (BNHS) recently requested in writing to the Union Ministry of Environment, Forest and Climate Change (MoEF&CC) that the use of three veterinary medications that are known to kill vultures in the nation be prohibited.
The letter cautions that the Centre's two decades of work to stop the declining vulture population in the wild may be in vain due to the widespread use of the three NSAIDS.
Unexpectedly, the three medications—aceclofenac, ketoprofen, and nimesulide—were introduced as diclofenac substitutes.
Dangerous drugs
The highly toxic non-steroid anti-inflammatory drugs (NSAID) may be consumed by vultures through dead cows or cattle.
Visceral gout is a condition in which the buildup of uric acid crystals in various organs, such as the liver, results in serious renal damage.
Diclofenac: Leads to renal failure
Aceclofenac is a prodrug that metabolized into diclofenac very quickly.
Nimesulide: Causes renal failure
Ketoprofen is a medication that causes visceral grout.
SAFE FOR THE TIME BEING
Experts recently conducted a survey and carcass sampling within 100 kilometers of the Pinjore center. The survey report, which has yet to be made public, reveals the widespread use of NSAIDs.
declining vulture population
Sachin Ranade, a vulture scientist, claimed that "the drug's illicit use through human formulation has continued." In 2015, the government once more prohibited large vials (5–50 ml) of diclofenac and permitted only 2-3 ml vials for human use, which prompted a legal challenge from the pharmaceutical industry. "The Delhi High Court overruled and continued the ban," said Ranade.
Later, researchers discovered that additional NSAIDs like aceclofenac, nimesulide, and ketoprofen were toxic to vultures. Gaurav Bansal, an attorney and RTI activist from Delhi, submitted a petition to the HC in September 2022 calling for the three NSAIDs to be outlawed.
Up until the 1980s, vultures were quite common. Eight species in the nation are currently in danger of going extinct.
According to the most recent vulture census conducted by the intergovernmental organization Bird Life International, the nation's vulture population has completely collapsed.