Jessica Chastain said, "I just want you to know that you're unconditionally loved for the uniqueness that is you," after winning Best Actress.
The 2022 Oscars are over after some ups and downs. The night that was supposed to be remembered as the best night is now remembered for its drama, followed by many firsts, including Apple TV + winning best picture. Will Smith slapped Chris Rock for making a low joke about his wife. Although he later apologized for the same on his Instagram post, saying "I would publicly like to apologize to you, Chris. I was out of line and I was wrong. I am embarrassed and my actions were not indicative of the man I want to be. There is no place for violence in a world of love and kindness."
There were some memorable moments too, which made the night better despite all the unpleasant moments. Billie Eilish nailed it with her performance of "No Time to Die" with her brother Finneas. She took home the Best Song Award. "The Power of the Dog" may have lost the Best Picture Award but won the Best 'Directing' Oscar Award.
Jessica Chastain used the acceptance speech to address critical societal issues from the mental health crisis to suicide prevention — particularly among the LGBTQIA+ community. "Right now we're coming out of some difficult times filled with a lot of trauma and isolation, and so many people out there feel hopelessness and they feel alone, and suicide is a leading cause of death in the United States. It's touched many families, it's touched mine, especially members of the LGBTQ community who often feel out of place with their peers."
Will Smith cried during his acceptance speech for Best Actor. It was the first time Smith won an Oscar award. He spoke about the familiarity between him and his character. He said "I want to say thank you to Venus and Serena and the entire Williams family for entrusting me with your
story. That's what I want to do. I want to be an ambassador of that kind of love and care and concern. I want to apologize to the Academy, I want to apologize to all my fellow nominees. This is a beautiful moment and I'm not crying for winning an award. It's not about winning an award for me. It's about being able to shine a light on all the people. Tim and Trevor and Zach and Saniyya and Demi and Aunjunue and the entire cast and crew of "King Richard" and Venus and Serena and the entire Williams family."
Here is the full list of winners of the Oscars 2022: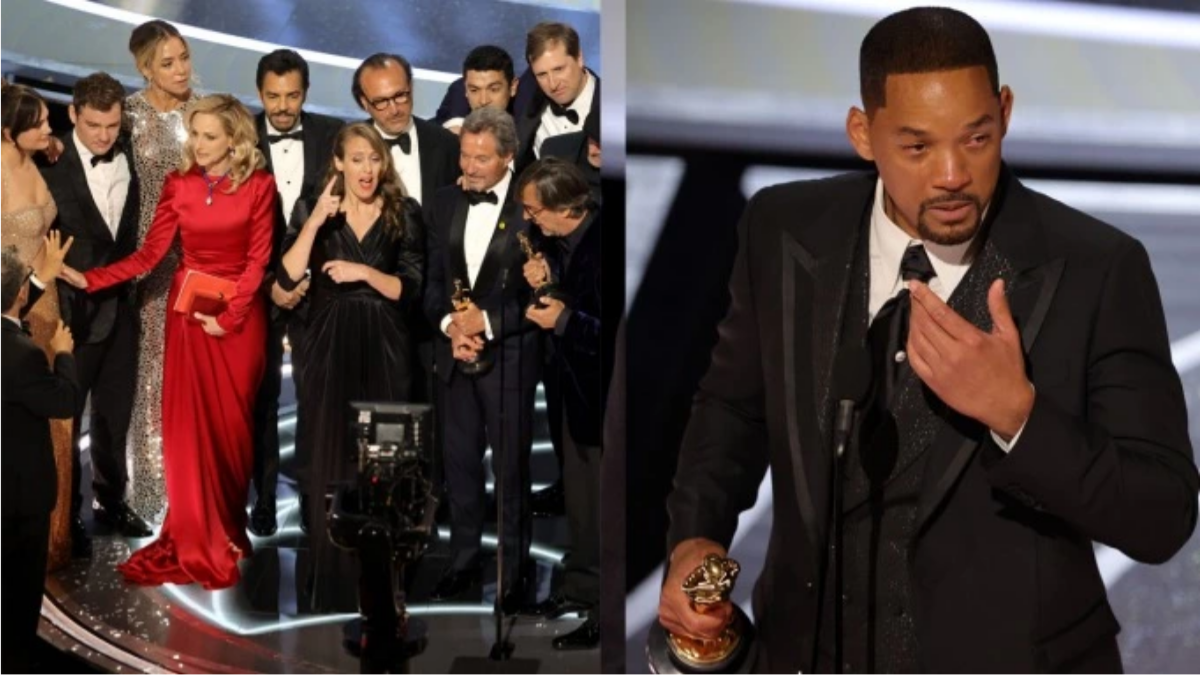 Best picture
CODA
Best Cinematography
Dune
Best Director
Jane Campion for The Power of the Dog
Best actress
Jessica Chastain in The Eyes of Tammy Faye
Best actor
Will Smith in King Richard
Best supporting actress
Ariana DeBose in West Side Story
Best supporting actor
Troy Kotsur in CODA
Best animated feature film
Encanto
Best documentary feature
Summer of Soul
Best international feature film
Drive My Car from Japan
Drive My Car from Japan
No Time To Die by Billie Eilish and Finneas O'Connell
Best original music score
Dune
Best original screenplay
Belfast
Best adapted screenplay
CODA
Best short documentary
The Queen of Basketball
Best animated short film
The Windshield Wiper
Best live-action short film
The Long Goodbye
Best costume design
Cruella
Best makeup and hairstyling
The Eyes of Tammy Faye
Fan favourite
Army of the Dead
Most cheerworthy moment
The Flash enters the speed force in Zack Synder's Justice League
Best film editing
Dune
Best production design
Dune
Best visual effects
Dune
Best sound
Dune
---
Published By :- Tarsem Singh
Edited By :- Khushi Thakur