Pasoori beats BTS song Butter, Srivali, and Chaand Baaliyan and becomes the most Googled song in the world in 2022.
The greatest developments in search on the well-known search engine over the previous 11+ months are summarized in Google's "Year in Search 2022."
Google has compiled a list of the top 10 searches in a variety of categories, including persons, movies, current events, and much more.In the category of the best songs, subcontinental melodies have triumphed over international blockbusters.
Pasoori Becomes the Most Googled Song
Pasoori – Ali Sethi
A song by Pakistani singer has gone viral and surpassed BTS' Butter as the most-Googled song this year. Additionally, two songs from India are among the top 10
2. Butter – BTS
By South Korean boy band Released as a digital single on May 21, 2021, "Butter" became a huge hit and received positive reviews from music critics, praising its catchiness. The Korean song was commercially successful, topping the charts in Hungary, India, Japan, Malaysia, Mexico, Singapore, South Korea, the United States, and Vietnam.
The song charted on Billboard's Global 200 chart and reached the top 10 in more than 30 other countries around the world.
3. Chaand Baaliyan – Aditya A
"Chaand Baaliyan" by singer-songwriter Aditya A peaked at No. 3 and reached No. 1 on Apple Music and iTunes charts in India.
Reaching position 45 on YouTube charts in India, "Chaand Baaliyan" has also been a trending song on Instagram Reels since April 2022. The song was released in 2019 and went viral two years after its release.
4. Heat Waves – Glass Animals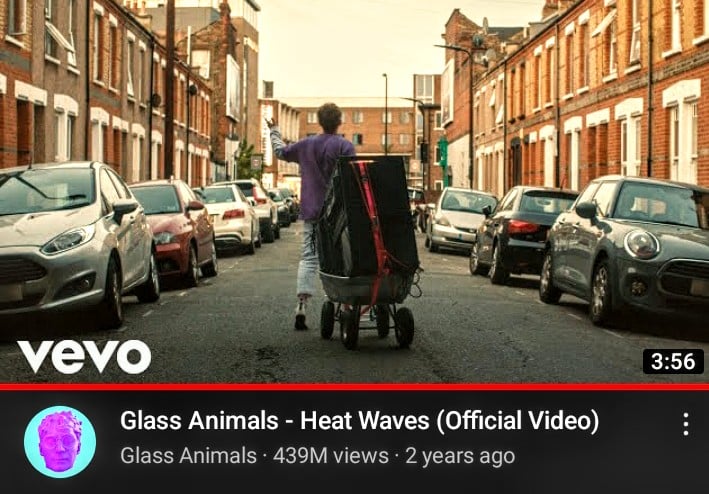 The soothing song peaked at number five on the UK Singles Chart and made the Top 5 in several other European countries. The song peaked at number one in Australia, Canada, Lithuania, Switzerland and the United States, and subsequently topped the Billboard Hot 100 for five weeks in early 2022. The song became the longest-running song on the Hot 100, surpassing the success of Weeknd's "Blinding Lights". After amassing over two billion streams on Spotify in September, it was nominated for Best British Single at the 2022 Brit Awards. Heat Waves is still in the Top 50 of Spotify Global Charts as of December 2022. Heat Waves became the first song to stay in the charts even more than 2 years after its release.
5. Enemy – Imagine Dragons The American pop rock track "Enemy" is a song by the band Imagine Dragons and American rapper JID which was released through Interscope Records and Kidinakorner on October 28, 2021.Originally it was made for the soundtrack of the animated streaming television series Arcane the animated Netflix series which premiered on November 6, 2021. Written by the artists Justin Tranter and the producers Mattman & Robin the song became JID's first song to reach the top 5 in the US.It was the band's first song to reach the top 5 since the 2017 song "Thunder".