The second psychology festival in Surat, PSYNAPSE 2023, was held in the School of Humanities and Social Sciences at Vanita Vishram Women's University. The event sought to close the gap between society and mental health while promoting improved mental health via fun and engaging activities.
The first-ever Psychology festival, which was held in Surat in 2019, returns on February 17, 2023, following a three-year hiatus. The Psychology Fest, PSYNAPSE, was organized by the Department of Psychology of the School of Arts and Social Sciences, Vanita Vishram Women's University. Students, professors, parents, and professionals explored psychology to the fullest extent.
With entertaining and participatory games, dance dramas, mindfulness exercises, and other activities, the festival attempted to close the gap between society and mental health and promote awareness about mental health concerns.
2019 PSNAPSE – The Origin
The most significant yet divisive subject has always been mental health. Unfortunately, a lack of societal acceptability and knowledge about mental health stops people from receiving help when they most need it. The goal of 2019's inaugural Psychology festival in Surat was to increase knowledge of mental health issues and provide support for people who are struggling with mental illness.

PSYNAPSE 2019, hosted by the Department of Psychology, then Sheth P.T. Mahila College of Arts and Home Science, was a great success as Surat's first-ever Psychology festival. Students from all BA Psychology classes put forth a lot of effort to make PSYNAPSE 2019 unique. Women, students, and professionals from Surat attended the event, and PSNAPSE 2019 attracted close to 1600 visitors.
As the virus spread and academic institutions were shut down, prospects for attending a second PSYNAPSE were fading. The department head, Dr. Aditya Farsole, and his pupils didn't give up though, and after a full three years, they returned with a boom!
The Legacy of PSYNAPSE 2023
The second Psychology Festival, PSYNAPSE 2023, was held in the Department of Psychology, (now School of Humanities and Social Sciences), Vanita Vishram Women's University. This time, there were more activities, a bigger space, and a bigger audience—no fists were thrown. It was a very wonderful occurrence.
Together, the Psychology students improved PSYNAPSE 2023 while retaining the fundamental principles upon which PSYNAPSE was built. More than 300 students volunteered and spent a month preparing for PSYNAPSE 2023 to assure its success.
The activities for PSYNAPSE focused on learning psychological principles in an interesting way since that is how it hopes to close the gap between cultural values and mental health. There were also human blogs that discussed a range of topics related to Mental Health.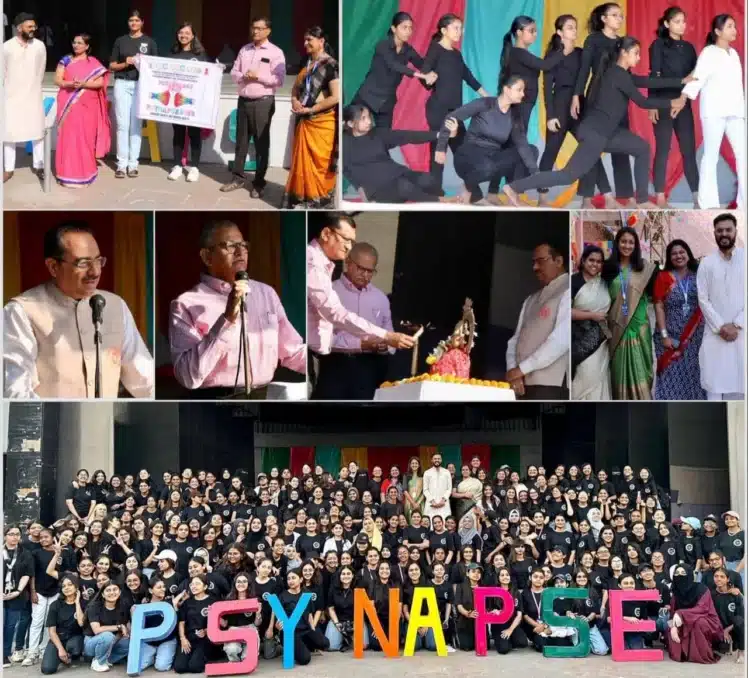 Studies designed to teach psychological concepts were made into games in order to make learning even simpler and more effective. The Tower of Hanoi, Miller's Magic, Muller Lyer's optical illusion experiment, the Maze learning experiment to comprehend latent learning, the Twister game to comprehend the Stroop effect, and several more ideas were presented during the Psychology fest.
The trifectas of mental health are emotional control, behavior, and mindfulness. Hence, psychology students developed games like Wheel of Emotion, Wheel of Self-Awareness, Mental Jenga, and others to raise awareness of these ideas.
Mental wellness is the trinity of mindfulness, emotion control, and good habits. As a result, psychology students created games like Mental Jenga, Wheel of Self-Awareness, and others to spread awareness.
If you don't let go of your concerns, you can't find pleasure and peace. The "We Purple You" team exhorted the audience to follow their advice. A revolutionary concept was introduced during PSYNAPSE 2023, when anxieties were written down, crumpled, and put in a box to get a kind and uplifting word from the cosmos. Once more, Magic Shop's psychodrama approach had an impact.
In addition to helping people learn about psychological theories and experiments and find calm, the Psychology Fest also allowed students to put up a stand to support those who were interested in pursuing careers in psychology in the future.
A women-only event at a women's institution will definitely focus on women's emancipation. And PSYNAPSE 2023 did not disappoint. With kiosks like O Womaniya!, women's struggles in all periods of life—including infancy, adolescence, adulthood, and old age—were described.
Recreational activities including dance plays, poetry readings, and face painting were conducted as part of the Psychology Fest to increase its enjoyment. A photo booth with psychologically relevant items was also made up to commemorate the event, and plenty of people used it and really loved it.
To raise awareness of mental health, the psychology department students organized a number of pre-synapse events. A few of the competitions that took place both offline and online as part of the activities were extempore, t-shirt creation, photo hunt, generating reels, digital arts, and Mental Health quizzes. They also prepared a walkathon to fight the stigma attached to mental health.
Last but not least, the volunteers set up a Gratitude Wall to express their gratitude to the audience, which they then filled with words of love and support for PSYNAPSE 2023.
By offering a fun environment for learning and understanding, festivals play a significant part in bringing societal concerns to the public's attention. And with PSYNAPSE 2023, we have taken another step towards eradicating the stigma associated with mental illness and bridging the social divide on mental health.
-As Reported By: Jivika Gulati