The couple intended to challenge law and order in the state.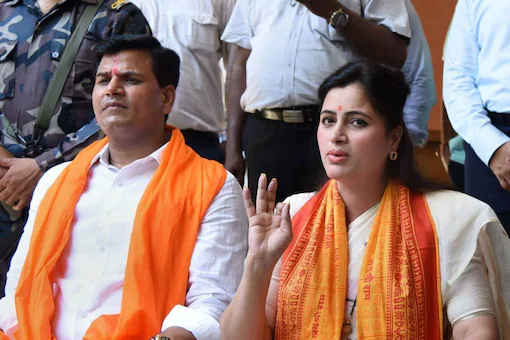 Legislators Navneet Rana, Member of Parliament (MP), and Ravi Rana, MLA (Member of Legislature) intended to challenge law and order in the state. This challenge was to be taken to an extent where the Governor recommends President's rule in the state. The Rana couple defended their announcement of chanting Hanuman Chalisa in front of the CM's residence with this.
In response to this, the police said that a big plot was in action during the time. A plot to create a challenge for the law-and-order situation. And to the maintenance of law and order by the government established by the rule of law was at stake. The collapse of law and order can be pleaded and the recommendation for dissolution of the government can be made.
The reply also added that the opposition Bhartiya Janta Party (BJP) leaders were deprived of power after the formation of government by the Shiv Sena, National Congress Party (NCP), and Congress. The opposition is strongly opposing the administrative policies and criticizing the government for its stand on Hindutva. Witnesses have said the opposition and the independent leaders are alleging that the CM is against Hindutva. This has caused dissatisfaction against the government.
The announcement of recitation was intended to breach the peace at the CM's residence. The residence is treated as a sacred place by the followers of Sena; Sainiks. An attempt was made to show that the government is anti-Hindu. To increase hatred for other religions to cause a rift.
The police claimed that the couple pleaded that Hanuman Chalisa reciting is an act of prayer of God. It is like remembering the Lord and calling him for help. And that this pure act was turned into an offense by the present ruling government in Maharashtra.
A complaint filed by the police stated that the couple's interviews with the media personnel dated between April 20 and Apr 23 have crossed the limits of fair criticism permitted by the law in a democratic country. And that the couple is subjected to section 124A, sedition law of the Indian Penal Code (IPC).
On Friday, the police filed a reply bail plea moved by the Rana's earlier this week. The plea was moved by Public Prosecutor Pradip Gharat. It is scheduled for hearing on Sunday afternoon.
The legislators arrested last Saturday were produced before a Holiday Court on Sunday. They are sent to Judicial custody till 6 May, 2022.
---
Published by – Mohit Maurya
Edited by – Sonu M kothari