The Region of Kherson, which Moscow unlawfully annexed last month, will be assisted by Russia in its evacuation. Vladimir Saldo, the newly-installed Russian leader of Kherson, has advised civilians to leave.
Marat Khusnullin and Governor Vladimir Saldo's notice to civilians
Following a request for assistance from the Kremlin-backed governor of the province, Russia said on Thursday, that it would assist citizens in leaving Kherson. Moscow annexed the southern Ukrainian territory last month, completely violating international law.
Marat Khusnullin, the deputy prime minister of Russia, said on television "the administration decided to assist the evacuation of people from the (Kherson) region. We will provide everyone with free accommodation and everything they need."
The regional governor of Kherson issued an evacuation order, indicating that Ukrainian forces are still advancing in the area. Kyiv (Ukraine) said on Wednesday that it had retaken five Kherson villages. Ukraine denies the claims that it deliberately attacks its population.
Governor Vladimir Saldo stated on Telegram that "we have requested all citizens of the Kherson area to evacuate to other regions to protect themselves from missile attacks." "In addressing the country's leadership (Russia), I beg you to assist in organizing this task." Saldo also added that "severe damage" has been done to the area as a consequence of an increase in missile strikes.
Evacuation plan of Russia
According to the Russian state news service, Tass, the first group of Kherson residents will arrive in Rostov city, Russia, on Friday. Rostov governor Vasily Golubev said, "Anyone who wants to come to us from the Kherson region will be accepted and accommodated in Rostov.
Kyiv has been successfully utilizing US-supplied Himars rocket systems, targeting important military installations under Russian control, Ukraine has threatened to cut off the majority of the occupying forces on the west side of the Dnieper river and has targeted important Russian-held military targets (known as Dnipro in Ukraine).
Ever since Moscow's invasion started on February 24, only Kherson has been seized by Russian forces. Regarding the Russian army's gains in the crucial border area of Crimea, the southern Ukrainian peninsula Moscow captured in 2014, the Ukrainian military has kept quiet.
The Kyiv region was hit by Iranian-made drones: Oleksiy Kuleba
According to Oleksiy Kuleba, the Regional Governor, Iranian-made "Kamikaze" drones hit areas near Kyiv, the capital of Ukraine, early on Thursday morning. As per Kyrylo Tymoshenko, the Deputy Director of the Presidential office, "Important infrastructural facilities in the region have been damaged".
Later reports claimed that Makariv was attacked, a tiny hamlet around 55 kilometers west of the city. There were no casualties reported.
Before Monday's enormous missile strikes by Russian forces against civilian targets all around the nation, Kyiv has witnessed many attacks in recent months. The area has heard air raid sirens every day. According to the mayor of Mykolaiv, the Russian military also "massively bombarded" his city overnight.
In a message posted on social media, Oleksandr Sienkovych said, "A five-story residential structure was hit; the top two stories were entirely demolished, while the remaining floors were nothing but rubble. On the site, rescuers are at work. " It was unclear whether there had been any casualties or not. The port city has endured continuous heavy bombardment from Russia.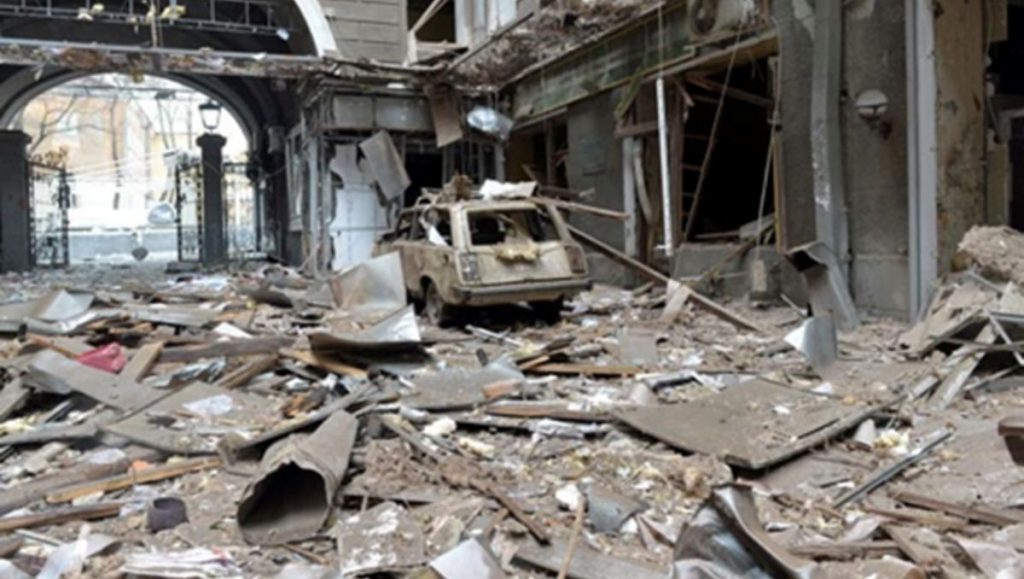 Major developments that took place on Thursday
All of Ukraine, except Crimea, was on air raid alert for a while and reports of Russian missile strikes on energy and military sites in the Kyiv region and Lviv were made during that period.
Russia accuses Ukraine of striking a building in Belgorod, a city on the border with Russia.
According to statements from both ToKyiv and Moscow, 20 Ukrainian servicemen were exchanged for 20 Russian soldiers.
Mykolaiv, a city in southern Ukraine, saw shelling that resulted in the deaths of two people. The footage showed a small kid being pulled from the wreckage of a demolished house, although he eventually passed away, according to officials.
the combat Iranian and Russian drones, NATO said that it would give Ukraine a handsome number of jammers that interrupt transmissions.
Following issues with the Nord Stream pipelines, Russian President Vladimir Putin proposed to build a gas hub in Turkey during a meeting with his Turkish counterpart, Recep Tayyip Erdogan.
The head of the military alliance, Jens Stoltenberg, said that the members have decided to bolster security of important infrastructure due to the alleged "sabotage" of the Nord Stream pipelines.