Russia hit Ukraine with yet another missile attack on Friday. These missiles hit critical infrastructure, knocking out power across various cities of Ukraine.
Ukrainian authorities announced that at least three cities were hit with the explosion, further adding that Russia has launched a major missile attack on the facilities and infrastructure.
"Loud explosions echoed through Kyiv" reported one Reuters witness present in Kyiv "Air defences system were in operation across Ukraine"
Deputy head of the president's office, Kyrylo Tymoshenko, said that even a residential building in central Kryvyi Rih was hit. People in and around the building were trapped under the remains. Authorities alerted people of this attack via social media. They said that the explosions took place in the capital Kyiv, southern Kryvyi Rih and northeaster Kharkiv. The local authorities also sounded an air raid alarm across the country to alert the citizens of Russia's latest attack.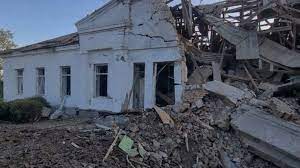 Russia's Attack on the Infrastructure
Following the attack, Kharkiv, the central city of Poltava, and parts of Kyiv were left without electricity. Water supplies were also disrupted across the capital.
Kyiv's mayor, Vitali Klitschko said "Due to damage to energy infrastructure, there are interruptions to the water supplies in all areas of the capital,". On social media, he told the residents of Kyiv that "metro traffic is temporarily stopped on all lines."
Local officials said infrastructure had been hit in the eastern region of Kharkiv, the Black Sea region of Odesa, and in Vinnytsia in west-central Ukraine in the latest big wave of missile strikes since October.
Moscow defended these attacks on Ukraine's infrastructure saying that attacks on infrastructure is militarily legitimate. Ukraine on the other hand claimed that the sole purpose of these attacks is to cause civilian misery and so it is a war crime.
Reasons for Attacking Ukraine's infrastructure
Russia has been attacking Ukraine's energy struture since October 2022, which has lead to power outarges across the country at the dawn of winter. Ukraine believes that the attack on power infrastructures is Russia's lastest strategy to freeze Ukrainians into submission after Russia lost quiet a few battles in the recent months.
Oleksiy Kuleba, governer of the Kyiv region said " There has been no immediate word of casualties and it was not clear exactly what critical infrastructure had been hit yet" .
Also read: 'Make in Pakistan terrorism has to stop', India slams Pakistan in UN.