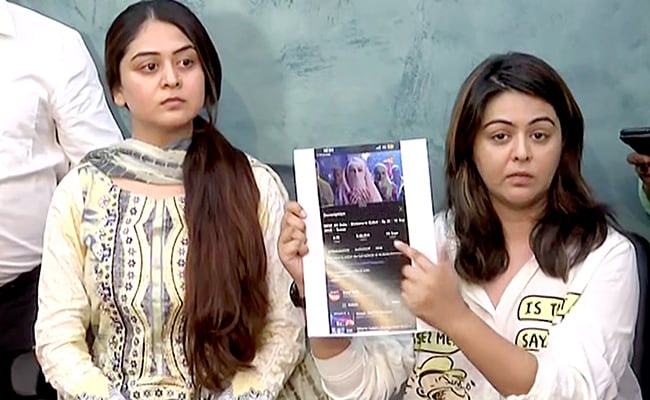 Addressing a press conference, Khan's mother and two sisters said Sharma was "like their family member" and alleged the deceased actor's mother used to force her to work even as Tunisha wanted to enjoy life. Accompanied by Sheezan's lawyer, Shailendra Mishra, his sisters Falaq Naaz, and Shafaq Naaz, and his mother shared details about Tunisha's past when she was allegedly mistreated by her family. They refuted the claims set across by Tunisha's mother, Vanita Sharma, about Sheezan having a 'secret girlfriend' and that Tunisha was 'forced' to wear a hijab.
Tunisia's mother allegedly accused Sheezan of slapping her daughter, forcing her to convert to Islam, cheating on her, demanding expensive gifts, and many more. Sheehan's mother, sisters Falaq and Shafaq along with their advocate in a recently held press conference today (January 2) and revealed that Vanita was very much included in all their family matters and Tunisha had worn hijab only for the show. Sheehan's sister said, "Tunisha loved being surrounded by family and we were planning a surprise birthday for her on January 4."
At the press conference, Mishra stated, "Tunisha's so-called uncle Pawan Sharma was her former manager, he has fired 4 yrs ago because he used to interfere a lot & behave harshly with her." He went on to say, "Tunisha & Sanjeev Kaushal (an uncle in Chandigarh) had terrible relations. Sanjeev Kaushal & her mother, Vanita used to control Tunisha's finances. Tunisha often pleaded in front of her mother for her own money."
Addressing the accusations set across by Vanita, Sheezan's sister Shafaq Naaz said the photo of Tunisha in hijab was actually from the show, not real life. She said, "The picture of Tunisha in hijab being circulated is from the set of the show which was part of the shoot. It can be seen. We never made her wear hijab, it was from the channel."
Tunisia, who was only 20, was found dead on December 24 on the sets of her TV show Ali Baba: Dastaan-E-Kabul. Her co-star and ex-boyfriend Sheezan was remanded in judicial custody for 14 days on Saturday.
Read More:- Mamata Banerjee refutes land encroachment allegations