Shehnaaz Gill celebrated Sidharth Shukla's birthday by cutting two cakes and she posted his picture on Instagram and added an emotional message for the late actor on his birthday.
Shehnaaz Gill recalled the late actor Sidharth Shukla at midnight, and an emotional post was uploaded on Instagram with photos of the two of them together and two cakes. After getting close during their time competing in Bigg Boss 13, which Sidharth won, the two were said to be dating. Sidharth would have turned 42 today, but he died in a gruesome way on September 2 after suffering a cardiac arrest. She shared a picture on her Instagram post captioned, "I will see you again," with a heart and an angel emoticon, and afterwards wrote 12 12.
Siddharth Shukla and Shehnaaz Gill's connection in Bigg Boss 13 was loved by the millions. Their fans were eager to see the mutual confrontation between these two. Because of them, Bigg Boss 13 is to be the most successful show in reality show's history. Noticing this developing relationship between Siddharth Shukla and Shahnaz, Salman Khan also gave them advice about their relationship. Today, i.e., on December 12, the day of Siddharth's birthday, the fans are missing him a lot.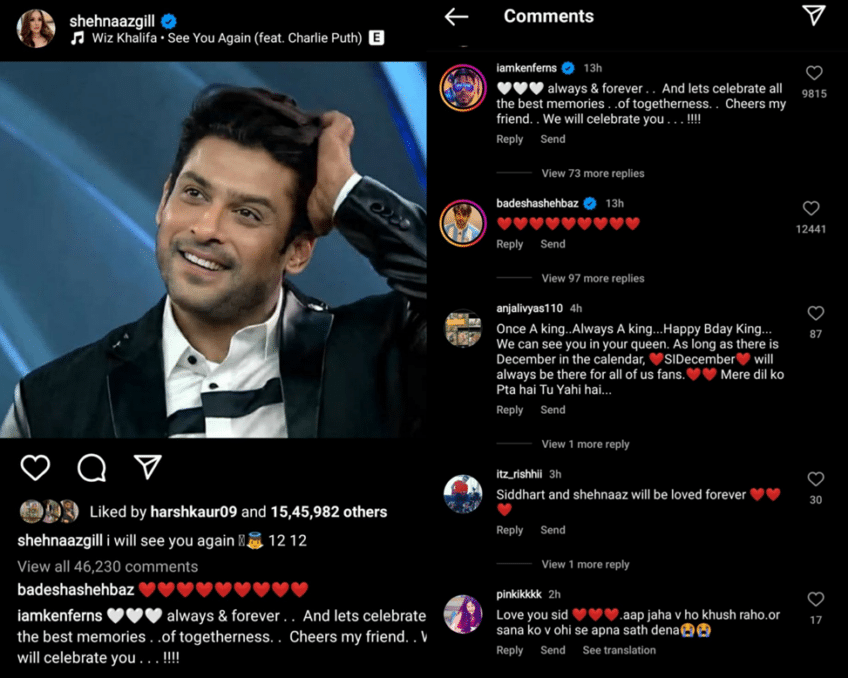 Shehnaaz Gill post left fans emotional
Shehnaaz's brother Shahbaz also remembered Siddharth Shukla in the post. He posted a red heart emoji, and other celebrities also wrote that Siddharth will always be alive in our hearts. The fans got emotional upon seeing Sid's photos. Fans have left many comments on Shehnaaz's post. One fan wrote: "Sidharth Shukla we miss you and miss those beautiful days. Please meet us again as brother…", another wrote on the same post, "Sidharth Shukla will always be remembered." Shehbaaz Badeshah, her brother, also posted a picture of Sidharth, wishing the late actor a happy birthday. captioned it "Happy Birthday to Sher." let us remind you that after the actor's demise, he tattooed Sidharth's picture on his hand and also wrote Shehnaaz's name below it.
Sidharth Shukla died last year
He died on the night of September 2, 2021, Siddharth was no longer with us. It took a long time for Shehnaaz Gill to recover from this shock. last time, on the death anniversary of Siddharth Shukla, Shehnaaz neither posted anything nor attended Shanti Puja with Sid's family. People also trolled her a lot for this.
Shehnaaz gave tribute to Sidharth
This year she also gave tribute to Sidharth while receiving an award at the Filmfare Middle East Achievers night in Dubai. After accepting the award Shehnaaz included Sidharth in her speech said, "Main ek bande ko thank you bolna chahti hun… thankyou mere life me aane ke lie or mere pe itna invest karne ke liye ki mai yaha tak pohoch gayii.. This is for you Sidharth Shukla."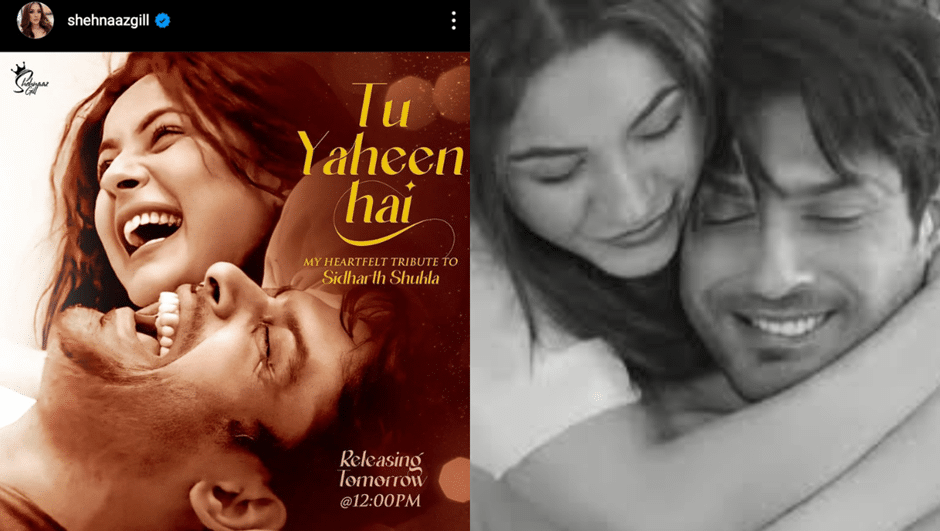 They both met on a reality show called Big Boss Season 13 where they both had a great friendship, which eventually turned into a love angle from Shehnaaz's side. After winning the Big Boss show. Allegedly, they were considered a couple, and they were photographed so many times together as well. After the demise of Sidharth Shukla, Shehnaaz was feeling dejected, and she deactivated herself from social media and the outer world.
Shehnaaz needed some time to recover and took a vacation from grieving. She created a song video for Shukla called "Tu Yahi Hai" in his honour. After disappearing for so long she is back on track with her career. She has been spotted recently on the sets of Big boss season 16. She was there for promoting her new featured song with MC Square. The song's name is "Ghani Syaani." The video crossed over 76 lakh views on youtube last week.