Portuguese side Sporting Lisbon defeated Tottenham Hotspur 2-0 on UEFA Champions League matchday 2. Injury-time goals from Paulinho and Arthur inflicted Tottenham its first loss of the season. Sporting Lisbon played a superb neck-to-neck match to deny Spurs any chances. Both the teams had a minute's silence before the match to pay tribute to Queen Elizabeth II.
Paulinho headed the first goal for Sporting in the 90th minute from a Pedro Goncalves corner. 3 minutes later Arthur struck a low strike from Paulinho's assist to score the hosts' 2nd goal of the night. The win puts Sporting Lisbon on top of Group D with 2 wins in 2 matches. They defeated Eintracht Frankfurt in the Champions League opener by 3-0.
Tottenham is placed 2nd on the table with 1 win and defeat each and may have to face a tug-of-war with defending Europa League champions Eintracht Frankfurt who defeated Marseille 1-0.
How Sporting Lisbon defeated Tottenham Hotspur
For the first time in the season, Tottenham was unable to find a goal in a match. Summer signing Richarlison who scored 2 goals in Spurs' victory against Marseille last week was unable to convert good chances. During the first half, he put the ball in the net but was given offside when fetching for Harry Kane's pass. In the second half as well he shot wide twice to waste important chances.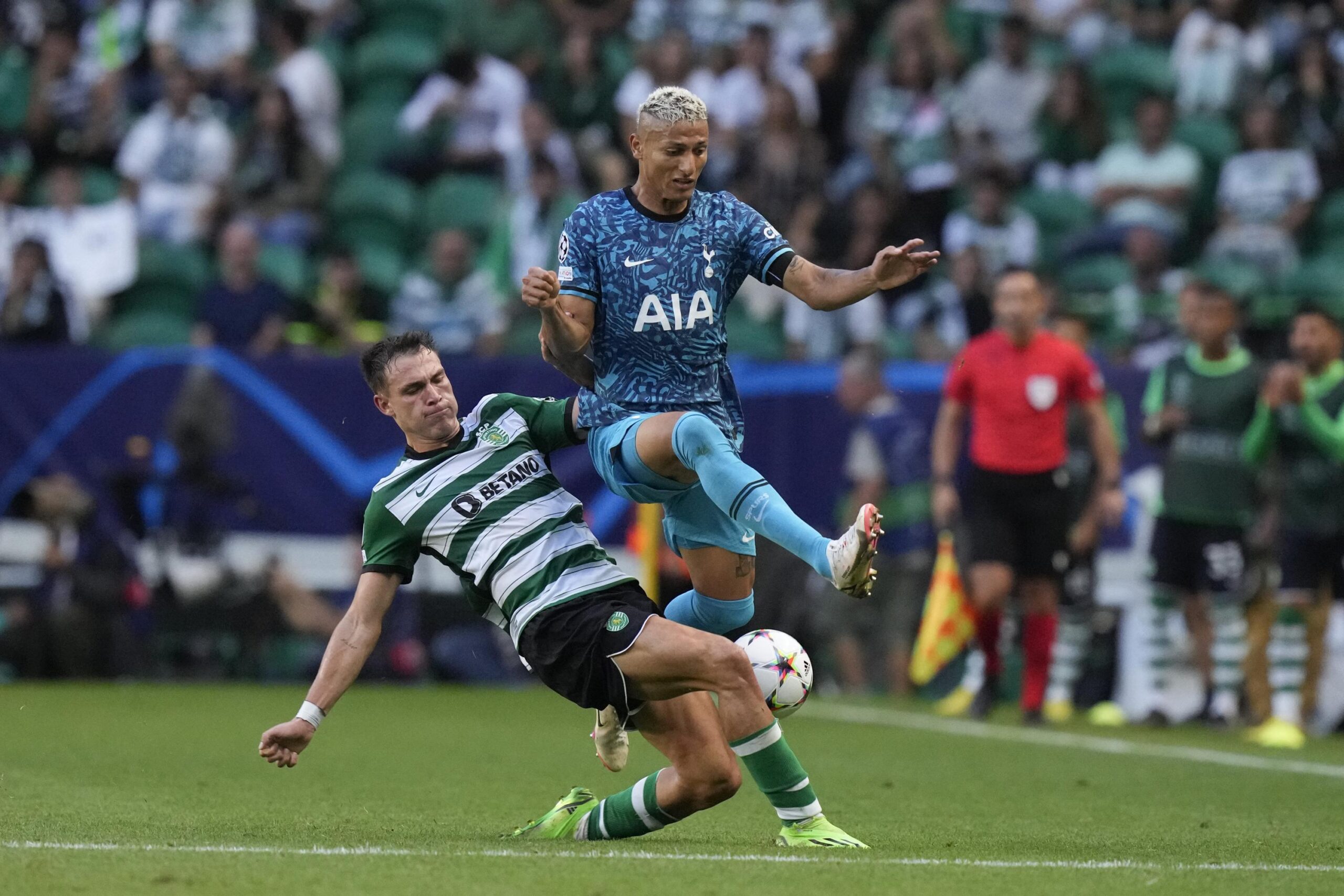 Tottenham visibly dominated the second half against the hosts who are 7th in the Portuguese national league. Midfielder Emerson Royal's 2 shots were saved by Sporting goalkeeper Adan. He also fend off Harry Kane's angeled strike by making a full stretch. Ivan Perisic, another signing Tottenham made this year saw his header go wide but later on produced a good low cross to which Kane could not get to.
Crucial misses all match ultimately proved costly for Tottenham when Sporting smashed twice in injury-time to secure all 3 points. The Sporting team included an ex-Tottenham player, 23-year-old Marcus Edwards. Edwards scored one and assisted one during the side's 3-0 win against Marseille in the opener. He made his mark against his former club in just 7 minutes when he made a pass to midfielder Pedro Goncalves, whose shot was blocked by Spurs goalkeeper Lloris.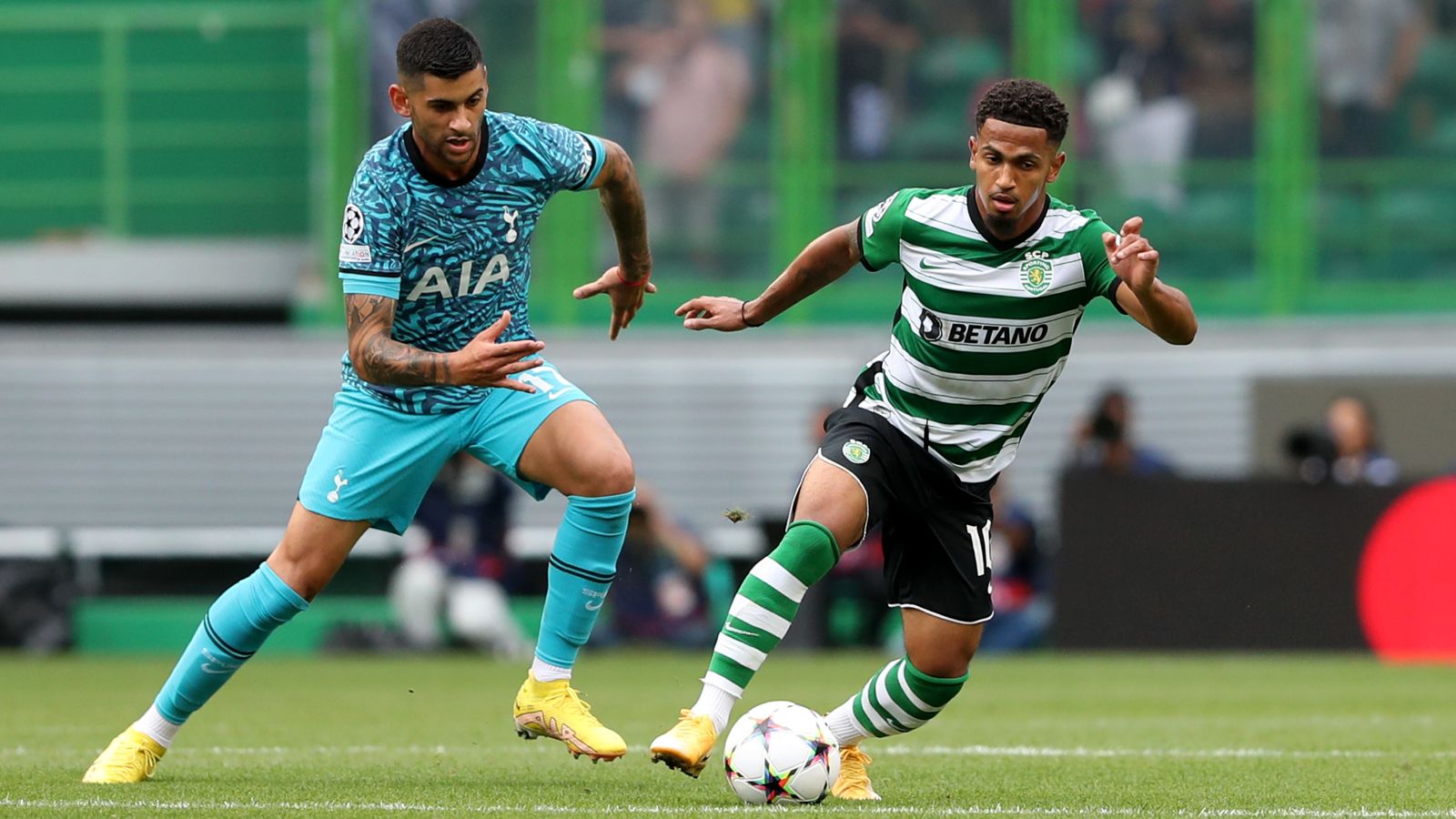 He made another good run in the first half injury time going past several defenders before Hugo Lloris made another brilliant save. Edwards was subbed off later but late goals ensured he win against his former club.
Reactions from Tottenham manager after the match
"Difficult result and when you lose the game you're not happy," said Tottenham Hotspur manager Antonio Conte. "We could've scored, and we tried to win the game, then in the last 10 minutes we can do much better.
"It's a pity but it was a difficult game. We tried to get a win but in the end we lost the game. We had two or three situations that we can do much better in but now we have to rest and think about the next game in the Premier League."
Antonio Conte has now lost 9 out of his 19 Champions League away fixtures.
Tottenham Hotspur will next host Leicester City on 17th September and will look to extend its unbeaten Premier League record this season against the struggling side.