08/05/2022,Suman Sengupta, sports, Asiana Times
Saturday's game at the Anfield stadium between Liverpool vs Tottenham has led to a draw. Tottenham's Son Heung Min opened with a goal followed by Luis Diaz's equalizer from the Reds. The results impacted the ambitions of both teams.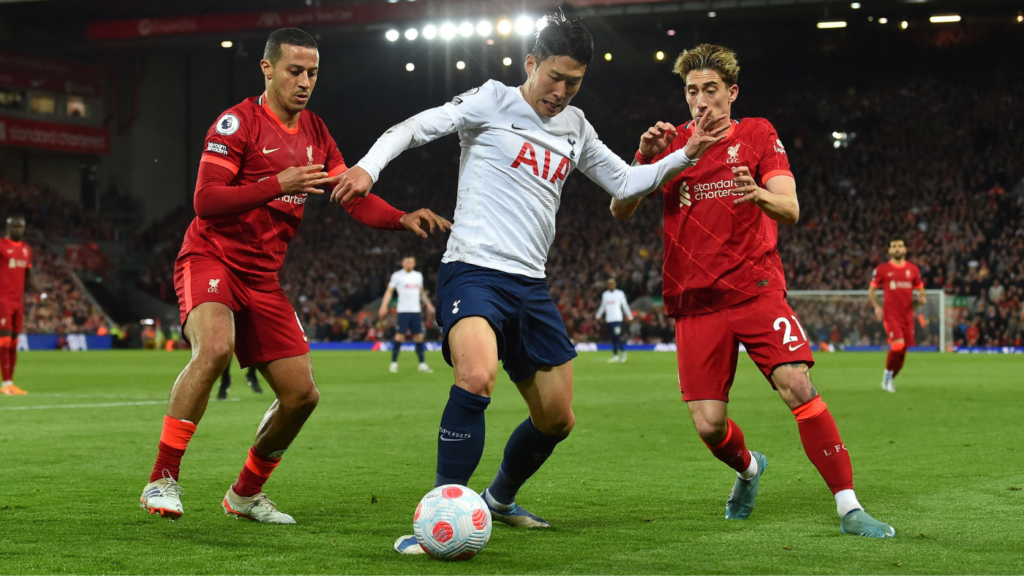 Highlights
Liverpool vs Tottenham: Liverpool has so far won 12 games in a row at Anfield. A loss yesterday would have dented that record.
Tottenham last won at Anfield in 2011. Could this be history for the Spurs?
Liverpool 4:3:3 vs Tottenham 3:4:3
Tottenham Hotspurs –Heung Min Son 56 (1) , Liverpool-Luis Diaz (1)
Saturday's match at Anfield saw Liverpool contending with a Tottenham eager to level up to the fourth position in the English Premier League. Liverpool, on its part, would have aimed to firmly secure the league title. So far both Liverpool and Manchester City have 83 points.
The Game
A decisive win would have given Liverpool a lead over Manchester City. Instead, the match with Tottenham was the park for Jurgen Klopp and ended with a draw. With a 63% possession of the ball, Liverpool dominated the match forcing the Spurs to play defensively with a change in formation. Even then, Tottenham's resilient defence made them hold out longer. In the eleventh minute, Mane assists Mohamed Salah who deflects the ball instead of scoring a goal, earning the Reds a corner kick. In the next minute, the Spurs were on the offensive with Højberg passing a long ball to Harry Kane on the left flank. Kane delayed his shot which gave Henderson the time to block it. Later Liverpool went on the offensive with Luis Diaz trying to score against the defenders only to get deflected. In the 38th minute, Virgil Van Dijk struck a lethal header from a corner. Alexander Arnold tried to materialize this into a goal but failed.
Tottenham strikes
This was soon followed by Kane, Son, and Højberg attempting to penetrate Liverpool's defence. Højberg attempts a long-range shot yet fails to score a goal. Soon Sessignon assisted Son to strike a phenomenal goal for the Spurs. It is worth mentioning that these two were effective opportunities for Tottenham to seal its victory in Anfield. It had been more than a decade since they had won their last victory there. Højberg's miss would remain as a "what if" in the minds of many Tottenham fans.
Liverpool's Return
Minutes after Tottenham's first goal, Liverpool continued to press the Spurs to close on their slender lead. For a brief moment, the positions of the EPL had altered to allow Tottenham the fourth place. All that came to an end with Luis Diaz equalizing a much-needed goal for the Reds. Liverpool pressed on further, but failed to score another goal and effectively lead in points. On the other hand, Tottenham failed to secure the fourth position and currently has to be contented with its fifth position in the league.
Managers speak
After the match, Jurgen Klopp seemed to have praised his team's performance. He said to BT Sport: I am really happy and proud of the mentality we showed against an incredibly good opponent with a game plan". He further opined: "They scored a goal and we had to keep our calm but we got an equalizer, so it's not the result I wanted nut I am very happy with the performance".
On the other hand, Antonio Conte too seemed to applaud his team's performance. He said to BT Sport: "It is not easy to play at this moment against a great team like Tottenham" (he meant Liverpool). "It was very difficult to have a lot of noise around them but I think we played a good game". While both of the managers seemed content, the results of the match didn't appear to be decisive enough to fulfil any of the team's objectives. It was a stalemate, even though a rather exhilarating one.
What Now?
Yesterday's results make it easier for both Manchester City and Arsenal's prospects in the game. Manchester City, so far chastened by their 3:1 defeat against Real Madrid in the UEFA Champions, has an opportunity to redeem itself against Newcastle. A victory against Newcastle would allow them to overtake Liverpool in the first position. Simultaneously, it's also worth observing how Arsenal fares against Leeds United. Whether or not Arsenal occupies the third position by displacing Chelsea is also a question.
(Inputs from the Guardian)
Read More – Liverpool Manager Jurgen Klopp Signs Contract For Extension Of His Term Till 2026