According to six informed sources, including Syrian security officials, individuals near deployed Russian forces, and regional officials, authorities in Syria and Russian military commanders swiftly implemented a series of measures against local Wagner operatives during their attempted mutiny in late June. These measures were aimed at preventing the uprising from spreading.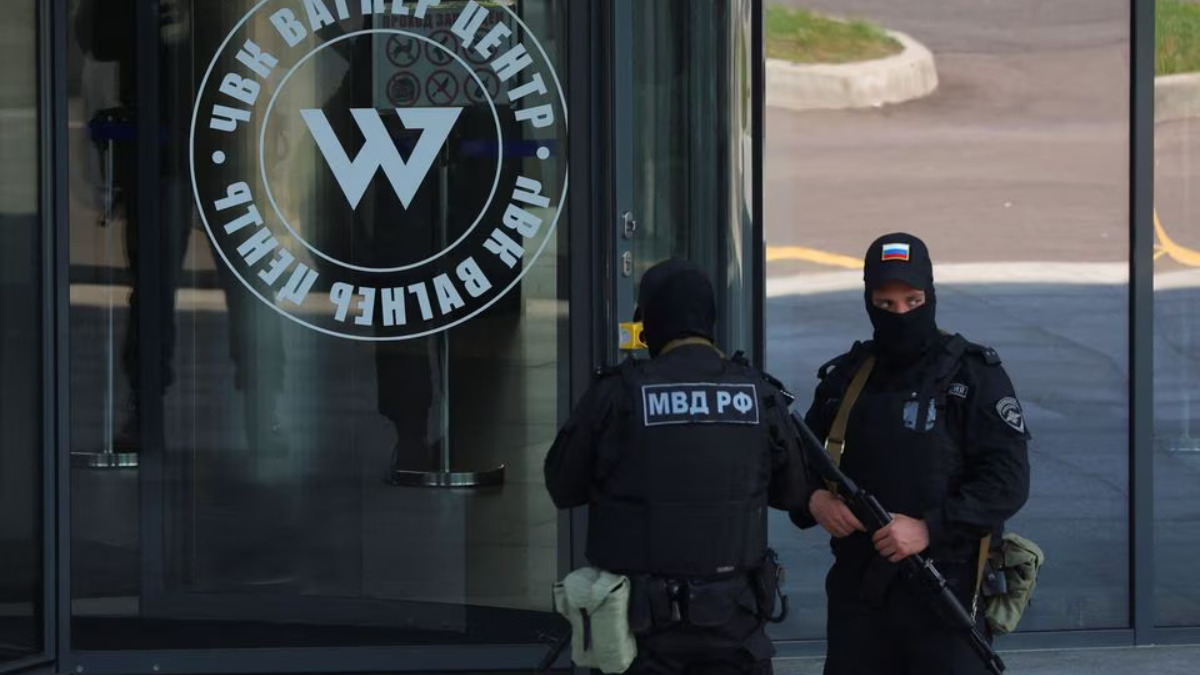 The undisclosed crackdown involved actions such as blocking phone lines, summoning approximately twelve Wagner commanders to a Russian military base, and giving the mercenary fighters an ultimatum to either sign new contracts with the Russian defense ministry or leave Syria immediately. The sources preferred to remain anonymous due to the sensitivity of the military information. Requests for comment from Syria's government, Russia's defense ministry, and Wagner in Russia went unanswered.
Based on information from two Syrian sources knowledgeable about the deployments, the prompt actions taken by Syrian authorities to assert control over the mercenary force highlight their concern that their crucial military partner, Russia, was preoccupied with domestic affairs.
These sources emphasized that Syrian authorities acted swiftly to prevent the Wagner mercenaries from causing further disruption. Nawar Shaban, a researcher at the Omran Center for Strategic Studies, stated that Wagner's role in Syria, as it had previously operated, is now terminated. He further remarked that, given the events, their relationship with the Syrian defense ministry is effectively severed.
While the Damascus government has not made any public statements regarding the Wagner mutiny that occurred on June 23-24, during which the mercenary leader Yevgeny Prigozhin ordered his men fighting in Ukraine to march on Moscow, a subsequent deal mediated by Belarus resulted in their return and the exile of many individuals. Senior Syrian military and intelligence officials expressed private concerns about the potential disruption that the mutiny could cause to the longstanding Russian military presence in Syria. This insight was shared by a senior Syrian Republican Guard officer and a briefed Syrian source.
According to the two Syrian sources, the Wagner mercenary group has a relatively small presence in Syria, consisting of approximately 250 to 450 personnel. This number accounts for roughly one-tenth of the estimated Russian military strength in the country. It's important to note that there are no official figures on the exact staffing of the group, as these numbers can fluctuate over time.
Russia deployed its military forces, including its airpower, to Syria to assist President Bashar al-Assad in repelling rebel forces aiming to overthrow him in 2015.
Following Russia's intervention, the Wagner mercenary group became actively engaged in combat missions and providing security for oil installations in Syria. Reports of the first suspected Wagner casualties in Syria emerged as early as 2015.
Initially, Moscow denied any affiliation with Wagner, but the group has gained significant public attention due to its involvement in Russia's conflict in Ukraine. President Vladimir Putin acknowledged that his government provides funding to the group following the mutiny incident.
Following Yevgeny Prigozhin's announcement of the uprising, a team of Russian military officers was rapidly sent to Syria to assume control over the Wagner forces stationed there. The information comes from a regional military source near Damascus and two Syrian sources familiar with the events, who did not provide additional specifics.
To disrupt communication between the Wagner mercenaries in Syria, Wagner in Russia, and their relatives at home, Syria's military intelligence took action overnight on Friday, June 23. This involved cutting off landlines and internet connections in the areas where the Russian Wagner forces were deployed. The three sources reported these measures.
According to a senior Republican Guard officer, a Syrian security source, and two briefed Syrian sources, by the morning of Saturday, June 24, Syrian military intelligence and Russian defense officials were closely coordinating their efforts to isolate and gain control over the Wagner operatives.
Approximately twelve Wagner officers stationed in various locations, including Syria's central province of Homs, were called to Russia's operational base in Hmeimim, located in western Latakia province. This summons took place during the early stages of the mutiny, as reported by the Republican Guard officer and one of the briefed Syrian sources.
New Contracts, Wagner fighters in Syria
According to a source knowledgeable about Wagner's deployments and two other sources familiar with the events, Wagner fighters in Syria were required to sign new contracts that made them directly accountable to Russia's defense ministry. Additionally, their salaries were reduced, as reported by these three sources.
Those who refused to accept these terms were transported out of Syria on Russian Ilyushin planes in the subsequent days, as stated by two of the sources. While the exact number of individuals who were flown out was not disclosed, one source mentioned that it was in the "dozens." This came as a surprise to Syrian officials who had anticipated a larger number of refusals, leading to those individuals going into exile.
Between June 25 and 27, Flightradar24 flight-tracking data indicates that at least three flights were made by a Russian Ilyushin plane between Latakia, Syria, and Bamako, the capital of Mali in West Africa, where Wagner also operates. However, Reuters was unable to confirm whether any Wagner personnel were onboard these flights.
Requests for comments regarding the flights and the potential redeployment of Wagner fighters from Syria to Mali were not responded to by Mali authorities.
According to Syrian analysts and a retired Syrian military officer familiar with Wagner activities, many experienced Russian fighters from Wagner were already withdrawn from Syria last year to participate in the full-scale invasion of Ukraine by Russia.
Wagner fighters played a role in securing Syrian oilfields, and there are indications of their connection to Evro Polis, a company that profits from these oil assets. In 2021, the European Union imposed sanctions on Evro Polis. The current status of these commercial interests following the Russian defense ministry's actions against Wagner in Syria and Russia remains unclear. Reuters' attempts to reach Evro Polis for comment through their website's contact address went unanswered.
The Hmeimim base, according to a Syrian security source and a Western diplomat in the region, has served as a logistics hub for Wagner fighters being deployed to Libya and other parts of Africa. The diplomat expressed interest in observing how the Russian defense ministry's actions would disrupt Wagner operations in these regions.
While Wagner's presence in other African countries is larger and operates independently from the Russian military, its role in the Syrian conflict initially garnered less attention as the Russian air power played a pivotal role in shifting the tide of the war.
The presence of Wagner in Syria gradually came to light, particularly in 2018 when reports emerged that hundreds of Wagner fighters were killed in a clash with U.S. forces near the Syrian city of Deir al-Zor, according to sources cited by Reuters at that time.
Following the Wagner mutiny, Syrian leadership promptly reaffirmed the significance of its military alliance with Russia in public statements.
In the days following the uprising, Syrian First Lady Asmaa al-Assad visited Russia to attend her son's graduation ceremony at Moscow State University. During her visit, a reporter asked her if she had any concerns about visiting Russia given the recent events. In response, she emphasized that just as their Russian friends stood with them during the Syrian war without hesitation, Syria would also stand unwaveringly with Russia during its challenges.