Tata Airbus will be manufacturing and launching 40 C-295 transport aircraft in Gujarat, India soon. The manufacturing will be done by a consortium of transport aircraft in Gujarat, India. The center officially announced the same on Thursday, October 27. According to the sources, Prime Minister Narendra Modi will lay the foundation stone in Vadodara, on October 30.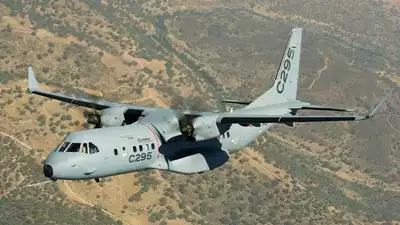 What features does tata airbus have?
The aircraft was approved by the cabinet committee which was held for security. There was a contract signed for the same. 56 C-295 MW transport aircraft will be delivered to India by the Indian Aircraft Contactor, TATA Consortium of Tata Advanced Systems Limited (TASL) and the Tata Consultancy Services (TCS) led by TASL.
According to the defense secretary, "For the first time, the Airbus C-295 aircraft will be manufactured outside of Europe". Along with Prime Minister, Narendra Modi, Rajnath Singh, Jyotiradutya Scindia (minister of civil aviation ), and Chief Minister of Gujurat Bhupendrabhai Patel will also be attending the function.
The transport aircraft C-295MW has contemporary technology embedded in itself. The base of the aircraft will be in Gujurat and will go in the air in the next four years – 7 years (2026-2031). The aircraft has a rear ramp door (which is required for a quick reaction), one para dropping of troops, and cargo. The aircraft is well equipped for short take-off/landing.
What did the officials say about the aircraft?
According to an official statement made, "the first 16 flies away aircraft will be made between September 2023 and August 2025. The first ever aircraft made in India will be going in the air from September 2026". As per the statement made, "This is the first project of its kind in which a military aircraft will be manufactured in India by a private company. Further adding to the statement, The total cost of the project will be Rs. 21935 crores. The aircraft can be used for civilian purposes as well.".
Where is the work of airbus going on?
96% of the work of airbus was previously done in the facility in Spain, but now, the same work will be done in the Indian facility, in Gujurat. It is made sure that the aircraft is having the indigenous content required in the airbus aircraft. The aircraft will be supplied between 2026 and 2031, said the officials.
As this aircraft will be launching soon in the Indian premise, it will make the Indian Air force the largest operator of C-295. However, the base of the aircraft will be in Vadodara. While the total capacity of the transport aircraft C-295MW is 5 to 10 tonnes with embedded technology.
C-295MW will be replacing Avro-748 aircraft which belonged to the IAF. The aircraft will be strengthening the capabilities of the logistics in the IAF.