Hidden Media, Zero Storage Usage, New Drawing Tools, Contact Profile Pictures, and More in the Latest Telegram Update
With the addition of a new set of capabilities for users everywhere, the instant messaging service Telegram is now smarter. Telegram has unveiled numerous new features for its app in its final release for 2022. The update is included in the app's 9.3 version on the App Store and Google Play Store.
The most recent upgrade to the encrypted messaging service Telegram features a new media editor with a tonne of new capabilities for enhancing or hiding some aspects of a user's images and videos.
The platform is reportedly adding a new blur feature that allows users to block off certain sections of a photo or video, according to The Verge, an American technology news website, as per a blog post.
Latest Telegram Update
Users may now further customize their experience with this instant messaging service by utilizing features like hidden media, zero storage use, new drawing, and text tools, contact profile pictures, etc
Hidden Media
They can use this to conceal sensitive information or obfuscate the faces of bystanders visible in the background. According to Telegram, you may use the eyedropper tool to match the blur brush's color to your image in order to make the blurred area of your photo blend in.
New Text And Drawing Tools
Telegram also allows users to change the text's size, font, and background when adding text to photos or videos. According to The Verge, Telegram also made it possible to rapidly add shapes like rectangles, circles, arrows, stars, and chat bubbles simply hitting the "+" symbol in the editor.
In addition to new picture editing capabilities, Telegram's most recent upgrade adds additional storage settings that enable you to exclude certain chats while automatically deleting cached material in private chats, groups, and channels after a predetermined amount of time.
Zero Storage Usage
On your smartphone, the app will hardly take up any room. For this, you may always download new versions of the files from your Telegram cloud account after deleting them from the device's storage.
Users may now specify unique auto-remove settings for cached material from Private Conversations, Groups, and Channels, with certain exceptions for particular chats, thanks to a recent upgrade. To verify, enter the new options and navigate to Settings > Data and Storage > Storage Usage.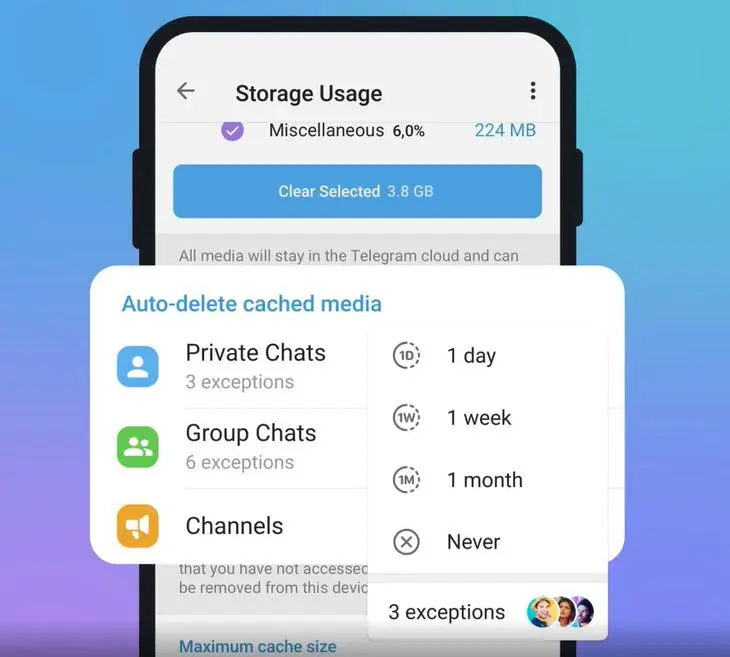 Public Profile Picture
If a user grants permission, only certain contacts can see their profile image. The user may in this instance establish a public image for everyone else. To enable this, select "Set Photo for" or "Suggest Photo for" from the Contact's Profile > Edit menu.
Hiding Group Members
The robust anti-spam option in Telegram's most recent upgrade includes tools to assist chat moderators to maintain big groups spam-free, although some may prefer to shield their users from unwelcome personal messages. Group admins who have more than 100 members can now opt to conceal the member list.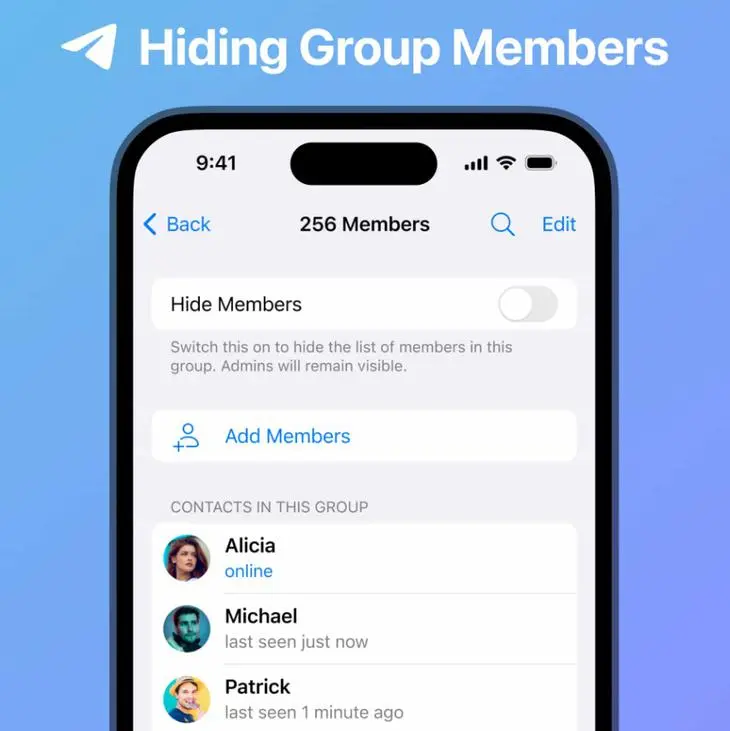 Other minor additions include the option for group administrators to conceal their member lists, freshly animated and interactive emoji, newly animated and interactive emoji, and settings that let you pick profile images for contacts that only you'll view.