In order to protect consumers from rising oil prices, Thailand will extend a tax break on the country's most popular fuel and subsidize select users' energy bills. This comes despite predictions that the country's sticky inflation may continue to rise over central bank projections next year.
According to government spokeswoman Traisuree Taisaranakul, the cabinet agreed to extend the excise tax discount of 5 baht per liter on retail fuel prices for two more months, through November 20. She estimated that the government will lose $551 million as a result of the decision.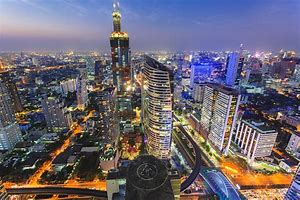 The second-largest economy in Southeast Asia has spent approximately $5.5 billion to subsidize diesel and power costs while contending with the greatest inflation rate in 14 years. Although there is a chance that chronically high inflation will impede an uneven economic recovery, given that power rates will increase starting this month and that the government has approved an increase in the minimum wage of nearly 5%.
Siam Commercial predicts that the receding government stimulus and slow and gradual lowering of inflation will put downward pressure on Thailand's consumption recovery.
From the cabinet meeting, more:
Between September and December, electricity subsidies will be provided at a cost of around 9.13 billion Thai Baht.
The project, which will be funded from the government's budget for the fiscal years 2021–2022 and 2022–2023, will benefit 21.5 million power users.
approving the three-month extension of the cooking gas subsidies for poverty card members through December
Following a decision by the committee of representatives from the government, employers, and labor unions approves a raise in the minimum wage beginning in October.
The cabinet also approved extending a relief of the excise duty on diesel and fuel oil used in the production of electricity for six months.
According to a statement released on Thursday by Mr. Sorapong Paitoonphong, Thailand's deputy minister of transport, about 25% of taxi drivers in Bangkok have been forced out of business in recent years as a result of the rate freeze that took effect in 2014 and which caused their earnings to lag behind the 7% increase in the cost of living during that time.
In order to ensure that any fare rise will not negatively affect users, who are also coping with an increase in prices, the Transport Ministry is now gathering opinions from various consumer groups, according to Mr. Sorapong.
As retail inflation sits close to a 14-year high, Thailand may permit taxi operators in the capital city of Bangkok to raise prices for the first time in more than eight years to assist drivers to cope with rising fuel and living costs. The rise was not given a specific timetable by the ministry.
According to Mr. Sorapong, the cost per trip for taxi drivers has increased, which has reduced their income as passengers now frequently hail taxis for shorter distances and make fewer excursions. According to him, this has reduced the 80,000 daily meter-taxi operations in Bangkok to just 60,000.
According to data from the Department of Land Transport, taxi drivers in the Thai capital, who were also severely impacted by the lack of tourists during the pandemic, account for nearly the whole country's fleet of 83,000 taxis.
If authorized, the price increase will come after recent increases in instant noodles—the first in 14 years—and the minimum wage, which has been frozen since January 2020. As Thailand fights rising inflation and excessive family debt, the country's daily minimum wage will increase nationwide.
According to the Labour Ministry on Friday, the daily rate would rise by an average of 5.02 percent as of October 1 to assist workers in keeping up with rising living expenses.
By focusing on high-spending groups like Indian wedding parties and honeymooners, Thailand expects to increase its tourism earnings to between 600 billion and 700 billion baht (S$23 billion and S$27 billion) by year's end, according to a senior tourism official.
Thailand, known for its white sand beaches and vibrant nightlife, seeks to capitalize on "pent-up demand" from the multi-billion dollar Indian wedding market, according to Siripakorn Cheawsamoot, deputy governor of the Tourism Authority of Thailand.
From January to August 28, 4.2 million tourists generated 186 billion baht in revenue, and 10 million visitors are anticipated for the entire year. The nation of Southeast Asia mainly depends on tourism as a source of economic expansion. Due to the Covid-19 pandemic, foreign arrivals fell to just 428,000 from a record high of nearly 40 million in 2019, when tourism accounted for 12% of GDP.
Following the removal of the majority of pandemic-related restrictions, the government now aims to generate US$11 billion in income during the second half of 2022. As they can take up to a week and involve everything from event planning to cater, decoration, and transportation, Indian weddings in Thailand can cost between 10 and 30 million. Due to pricey flights and limited availability, the government would also start extending some tourist visas from 15 to 30 days beginning in October, he said.