Indian weddings are unique because of their numerous ceremonies. There are an endless amount of exciting and special rituals and traditions.
There are Indian weddings and the rest of the weddings. There's a world of difference between the two when you're a part of one.
No offence intended, however Indian weddings are so much more carefree and energetic than any other wedding you'd attend anyplace else in the world – there's a lot of singing and dancing, there's every shade of colour you can think of, and then there's the never-ending parties and ceremonies for what seems like an eternity, and you ask if it gets tiring? Of course, it does, but it is well worth it for the type of enjoyment that an Indian wedding provides.
The Culture you Witness Nowhere Else
Every Indian wedding reflects the country's culture; thus, attending one is like visiting a different country. You get to sample everything in the Indian wedding extravaganza, from traditional food to attire to rituals.
It's a lot of fun because you'll be the guest and will be treated like royalty, with proper transportation arrangements, pre-booked accommodations, and a fantastic food menu selected in forward to provide you with the finest Indian cuisine.
Indian weddings are unique because of their numerous ceremonies. There are an endless amount of exciting and special rituals and traditions in an Indian wedding that you are likely to appreciate thoroughly, from applying turmeric on the bride and groom's faces to the bride's sister/s hiding the groom's shoes.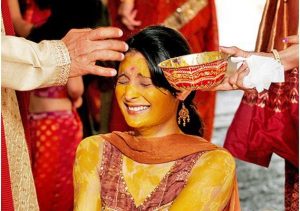 There is no disputing that Indians enjoy eating and preparing elaborate and flavourful food. When is the most fantastic time to try all of these delicacies? Of course, it's wedding season, when the hosts prepare the best of the region and famous Indian cuisine to provide an unrivalled gastronomic experience for their guests.
After all, food is an essential component of any Indian wedding. So, it isn't an exaggeration to suggest that an Indian wedding is essentially a cuisine tour.
Indian wedding ceremonies can last for months, which adds to the grandeur of the occasion. True, the wedding's last three days are probably the most thrilling, but the rituals that precede them have their allure since these mini-events keep everyone excited.
India, like other countries, has accepted the concept of the nuclear family, and the only reason to see relatives is to attend a festival or a wedding. As a result, long-term festivities allow loved ones to spend quality time together and renew bonds.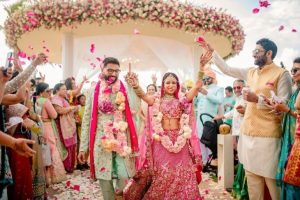 Indians' affinity for colour, as evidenced by the Indian weddings. Indian weddings are visual feast with men and ladies dressed in colours you may not recognise, but which combined look beautiful (period).
And the jewellery, oh, you'd fall in love with it since there's a decorative item for practically every body part, including the head, forehead, ears, neck, waist, feet, and arms; the elegance is something you'd fall in love with.
The most delicate part is that you are not required to do so and go from place to place to receive all of this knowledge; it will always come to you when you attend an Indian wedding. You can discover little facts about one of India's richest/rarest cultures from the comfort of your couch or the discomfort of your mat!
Indian weddings are full of exciting and sometimes less exciting experiences. You'll need a good sense of humour to deal with it all since no matter what occurs at an Indian wedding; it always ends in complete peace and harmony.