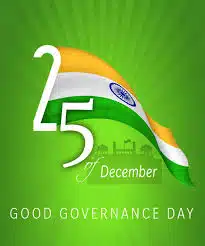 The birth of Good Governance former PM
The birth anniversary of former Prime Minister of India, Atal Bihari Vajpayee is regarded as Good Governance Day.

NDA's government announced in 2014 that 25 December which is the birth anniversary of Shri Atal Bihari Vajpayee would be celebrated as Good Governance Day, though the opposition widely criticized this move since it overlapped with Christmas.

A short brief on the life of Shri Atal Bihari Vajpayee

Born on 25th December 1924, in Madhya Pradesh's Gwalior province, a poet turned politician's life journey is quite interesting. Shri Atal Bihari Vajpayee became a member of RSS—Rashtriya Swayamsevak Sangh in 1939 and with the passage of time in 1947 was enrolled as a full-time pracharak.

As a result of good education and command over language, Shri Atal Ji started to work under Sang Parivar's head Deen Dayal Upadhyaya on various literary publications. After the demise of Upadhyaya, Shri Atal Bihari Vajpayee took charge as the national president of the Jana Sangh, considered to be the most eloquent speaker; Shri Atal Ji demonstrated to be a good administrator as well.
Shir Atal Ji served the nation as the External Affairs Minister during the tenure of Morarji's Desai's government post-1975, though the span of government was only two years; Shri Vajpayee had made a remarkable presence in the UN General Assembly with his speech in native Hindi language, drawing praise from all quarters of the globe.

In the year 1980, the emergence of a new nationalist political party BJP coalesced with Vajpayee as its leader. Shri Atal Ji was given a chance to prove his administrative capabilities in 1996 for 16 days but later in the following years, 1998-1999-2004 Shri Atal Ji left a lasting impact on the country. Vajpayee while efficiently governing balanced the fulcrum of hardline Hindutva and moderate Hindu Nationalism, it was during his tenure that India emerged as a nuclear state despite criticism from the west, his tenure saw massive welfare projects such as Serva Shikshya Abhiyaan, PM Gramin Sadak Yojana and open the doorway to international relations and foreign investments, especially with the US and Europe.


Formation of Good Governance Day

PM Shri Narendra Modi had announced that "Good Governance Day" will be celebrated due to two main reasons, Firstly to commemorate the life of Shri Atal Bihari Vajpayee, who was at that time gravely sick and Secondly," He was a pioneer in raising the awareness of government service and government accountability to the people which inculcated good governance."

For this Governance day, Pm Narendra Modi tweeted that "countless people have been motivated by the work and vision of the Shri Atal Ji who strived for all-round development of the people and the country".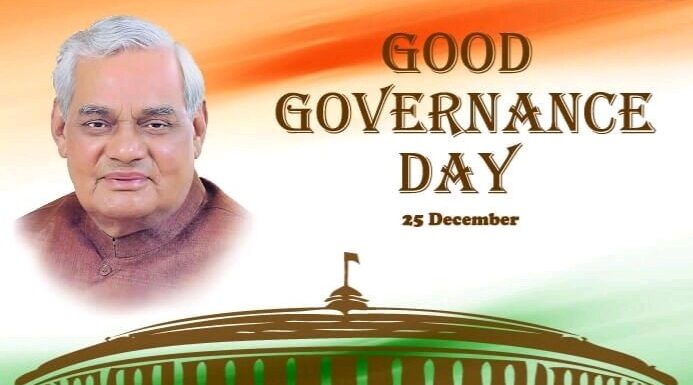 Also Read : Jharkhand: Mamta Devi lost her membership post-conviction